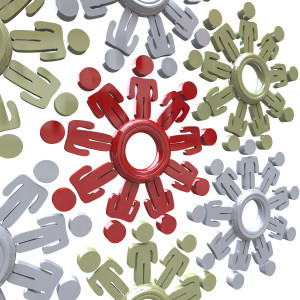 Business would come to a complete halt if it weren't for communication. It comes in many forms including verbal communication, body language, digital communication, written communication and video.  All are ways humans communicate and how we communicate with one another is how we get things done. But without effective communication strategies that strengthen your leadership communication skills, communication can quickly fall short.  This means that projects, teams and relationships can suffer. As a leader, it's vital that you take the time to learn and implement team building communication strategies that  improve communication among your team members that also build relationships to ensure long-term workplace success.
Team building communication strategies

Create a communication strategy.
While effective communication seems obvious, many businesses actually fail because of poor communication. This means that building an effective communication strategy takes into account team member communications that come with well-known ground rules and group norms that keep communication constructive and helpful.  This extends to how department leaders communicate, how customers are communicated to that enhance customer relations and internal and external marketing strategies.  The best communication strategies are dialogues, so it's important to remember that effective communication involves both sharing and listening. In self-focused work cultures,  the listening side of communications is often overlooked.  This means that people are more worried about their own response and being "right" than seeking to understand what the other person is actually saying. Therefore, to strengthen your leadership communication skills, build and deliver a communication strategy that focuses on sharing content, receiving feedback and making changes based on what others have to say and your comprehensive understanding of that.
Create a culture of empathy.
As one of the six TIGERS(R) principles that build a collaborative work environment, empathy is  necessary for healthy communication, notes How To Promote Healthy Workplace Communication. Empathy is the ability to imagine what it would be like to be in another person or group's position. It is also the ability to relate to and understand differing points of view including thoughts, experiences and emotions. This is an important for the workplace.  When team members are empathetic with one another, they are more able to work together to create solutions that work for everyone. The desire and ability to understand diverse perspectives also allows team members to respectfully resolve misunderstandings. Focusing on creating a culture of empathy also results in a culture of respect, personal and physical safety and mutual understanding, which are the three pillars of effective communication.
Implement digital communication strategies.
Face-to-face communication is important for workplace success, but leaders who fail to effectively use digital communications are risking failure in the long run. Younger generations embrace digital communication strategies, sometimes as their primary sources for communication. As they enter the workforce in droves, they expect to use these strategies in their professional careers, too. Digital communication facilitates employee communications for employees located in different locations, across time zones and with language barriers.  Therefore, time, space and language are no longer an issue when digital communication prevail.  There are some challenges, too. Different workforce generations approach digital communication platforms differently. Therefore, to strengthen your leadership Communication skills, be intentional with the digital platforms you  choose. Likewise, be clear on your expectations on how your team members are to use the tools. With intentional strategies in place, digital communication can be an extremely successful form of communication in the workplace and with your customer base.
Make no assumptions.
One of the biggest pitfalls for effective communication is assumptions. As a communicator, you may be extremely knowledgeable about a certain subject. This can cause you to overshare or under-share. When you are very knowledgeable, you may go into unnecessary details that leave your listeners with glazed eyes, rather than answering the question that was actually posed. Or because you are an expert, you may skip over important details, assuming that others know what you are talking about. Both of these forms can be detrimental to effective communication, so it's important to be aware of your audience. You should also give your listeners a chance to ask questions without making them feel embarrassed or uncomfortable. By not assuming, you help to build an environment conducive to effective communication.
Communication strategies are important for the success of a team and a company. To strengthen your leadership communication skills, It's imperative to devote time to develop team building communication techniques, create a communication strategy, develop a culture of empathy; implement digital communication strategies; and avoid making assumptions.
Here are some additional resources that add value to this discussion:
Copyright TIGERS Success Series, Inc.
About TIGERS Success Series, Inc.
TIGERS® Success Series provides a comprehensive and robust system for improving both your work environment and profitability.  We specialize in workplace enrichment and employee re-invigoration management facilitation methods that builds workforce cooperation and high performance team dynamics. Scaled to grow as your organization and leadership performance grows, our proprietary Team Behavior Profile and  leadership training workshops are based on the six principles we have found to be the right mix to make this happen. The six principles are Trust, Interdependence, Genuineness, Empathy, Risk and Success. Born from our many years of business, psychology, and educational group dynamic research, and subsequent four years of independent evaluation, we instill and sustain behaviors that improve work group performance and talent retention for measurable ROI.
Since 1987, TIGERS has served committed leaders who desire enhanced cooperation among departments, teams, managers and individual employees. This heightened level of cooperation leads to improved revenue, purpose, commitment and impact. Employees quit companies because they don't get along with leaders and co-workers. Work culture refinement and behaviors that build strong relationships erase this trend remarkably fast.  For more information call 1+541-385-7465 or visit http://www.corevalues.com .