How would cooperation among your employees and collaboration between departments improve your business revenue and productivity?
We help you build and improve your work and leadership teams so your work environment is one employees enjoy returning to after a couple of days off. When your work culture supports behavior that is anchored by trust, interdependence, genuineness, empathy, risk and success (TIGERS®), cooperation and collaboration are natural outcomes. This drives goal achievement and improved productivity. Deploying our proprietary team development system through customized leadership team development retreats, 360 team behavior assessments, corporate team development consulting and team training and facilitation, we help you build engaged and accountable work teams. We can facilitate your team development goals or teach you to effectively achieve the same successful results time and time again.
How do the 6 Principles enhance your existing vision, mission, and values?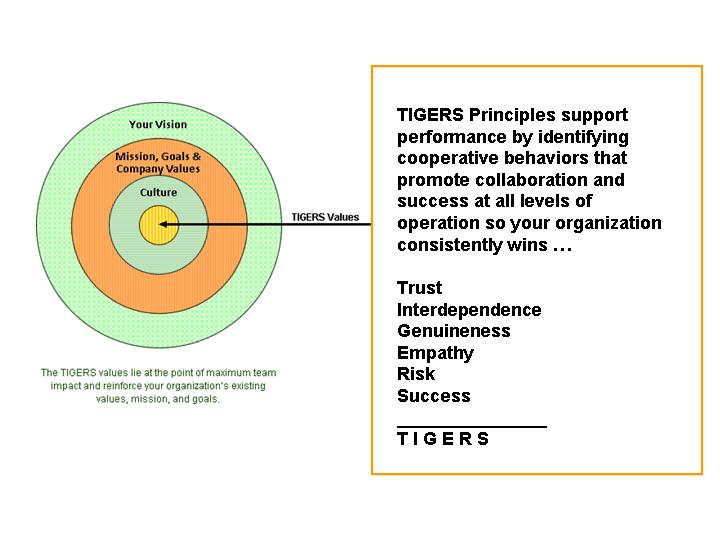 The principles are anchored by common sense behaviors your employees will stand behind. These behaviors improve cooperation, which improves team relationships and goal success. The principles can be tracked over time in your team dynamics assessment reports resulting in strategic information your leaders can use to improve both leadership and team success. This results in cost savings and productivity improvements that ultimately improve your bottom line. A good side benefit is that your organization becomes the type of organization talented people want to work for.
Measuring team behavior takes the guesswork out of team development.
Our 360 Team Behavior Survey takes all the guess work out of team improvement so you can achieve your workforce development goals. This is a survey you can run by yourself or with our assistance. Then our customized leadership team development retreats, corporate team development services, team improvement activities, and annual leadership training and team coaching programs help you achieve your strategic team and leadership development strategies. It is all done by identifying and leveraging positive human behavior to improve your revenue goals.
For you to effectively achieve leadership and team improvement, call us in Bend, Oregon to discuss whether our services are right for you. 
1 -877 -538-2822.
Team Certification and Licensing
Customized, Interactive Team Building Activities
Team Building Events and Training
360 Team Behavior Assessment
Leadership Team Development Coaching
Team Development Consulting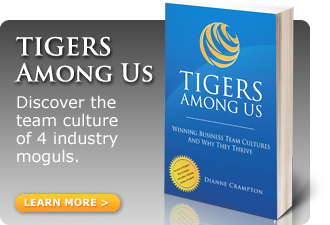 Discover the team  secrets of 4 respected industry moguls and how they reaped the rewards of optimum performance. Available in soft bound and e-book versions with quantity discounts. Get the details now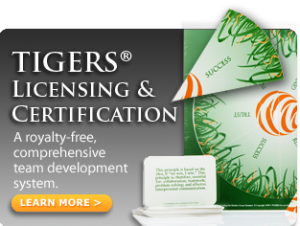 Become a licensed TIGERS Team Development expert. This turn-key system offers a full suite of team development resources from 360 team assessment to award winning,  team building activities!  Learn More