TIGERS Among Us Book Club Kit
Managers, Supervisors and Coaches … improve team behavior and connect remote workers to the work culture and intact teams through timely learning discussions designed to improve trust, interdependence, genuineness, empathy, risk resolutions and success in the workplace. Then, reap the rewards of employee generated ideas supporting a more productive, engaged and collaborative work environment.
How you connect you hybrid employees to your work culture while building and improving relationships is key for minimizing the loss of mid-career employees.  Improved employee connection and cooperation do drive improved productivity, retention, and success. The proof is measurable in your bottom line.
Engage your remote and onsite employees.
Team discussions can lead to improved communication, planning insights, improved engagement, and behavior improvement all while building trust and improved collaboration for your organization. For entrepreneurs, develop your collaborative work culture through founding team discussions before hiring employees.
What does the TIGERS Among Us Book Club Kit provide?
The kit is a turn-key leadership and coaching facilitation tool with training provided that improves how teams work. Included is how to create Learning Circles in your organization for training retention and employee development. Successful Learning Circles provide psychological safety in groups while engaging team members in productive team development conversations. Use and reuse this tool as often as you wish.
The TIGERS Among Us Book Club Kit includes:
Kit Investment: $99 (plus shipping and handling)
Order your TIGERS Among Us Book Club Kit materials today. Training is on-demand with training access for 30 days.
Schedule a consultation to learn about TIGERS Licensing.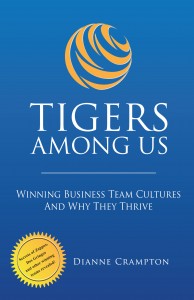 Consultant Experience: How the TIGERS Among Us Book Club Kit Made a Difference for a Nonprofit
"When I held a book club for a nonprofit collaborative, it created a powerful team-building experience. The experience provided personal growth, career growth, increased cooperation, and understanding of group culture that ultimately increased profitability and decreased turnover while providing job satisfaction. This type of experience demonstrates how a group of people can create a learning circle for optimal growth. I used the TIGERS Among Us book as an opportunity for growth and connectedness." — Megan Fries, President Frenzy to Freedom