TIGERS Collaboration and Engagement Platform
The TIGERS Collaboration Platform helps you engage your team and leaders for high-performance. Assess, Explore, Set Goals, Learn, Measure Administer.
Contact Us
Improve Collaboration
Take the guesswork out of workforce development.
TIGERS Platform makes it easy for managers to give meaningful, motivating feedback based on the TIGERS 6 principles, which are at the core of every successful and engaged team.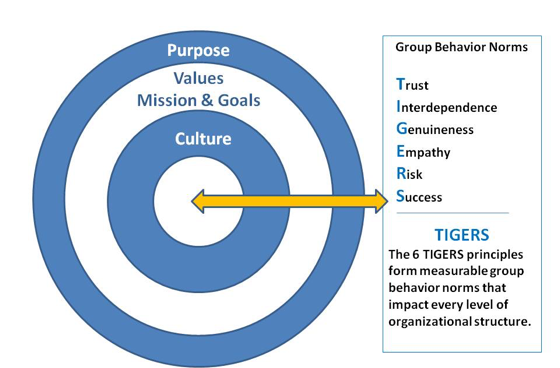 Predict Behavior, Prescribe Results
Identify Attitudes and Behaviors that limit collaboration and employee engagement. Prescribe an action plan to get results.
By their inclusion or omission, the TIGERS 6 Principles predict and prescribe with laser precision your best and most profitable course of action in correcting work culture and department behavior. This is important to your bottom line because poor behavior damages engagement, productivity and profitability. With the TIGERS Workforce Behavioral Profile™ you can measure the 6 Principles, identify problem behaviors that keep you from missing your target, and outline a precise course to change those behaviors so you can hit your target.
It's Simple.
Make employee collaboration and development part of your culture.
Give your employees a personalized, intuitive dashboard, to keep track of training.  Give your managers access to everything they need to keep track of survey results, team action plans and team behavior learning progress. Managers can even discover new management advice, every day, and advance with their own leadership development – all from one dashboard.
Leona Dater, Washington Education Association
"We found the TIGERS survey instrument incredibly accurate as a snapshot picture of team behavior. We used that information to provide direction for site councils in selecting future staff development training."
Survey
Workforce Behavioral Profile
Measure the TIGERS 6 Principles that predict engaging behavior. Gain insights. Prescribe Results.
Report
Gain insights, prescribe results
The data you need, at your fingertips.
Learn
30 years of expert TIGERS resources to support your learning and growth.
Access Articles, Videos, Downloads, Inspirations, Tips and Best Practices.
Train
Grow talent, improve behavior and increase revenue.
Engage in simple, effective micro-training courses for both team members and team leaders.
Action Plan
Be Accountable. Sustain actions over time.
Create, track and achieve goals and objectives.
Administer
Easy access to the tools and data you need.
One simple dashboard to adminster and track your own progress and that of your team members.
Solutions that Fit Your Company
Whether you are a company of 8 or 80,000, TIGERS system brings universal princples to teams of any size.  
Anywhere, Anytime.
Access your TIGERS platform from any device at anytime.
The TIGERS 6 Principles facilitate and improve team roles, goals and relationships.  The 6 Principles enhance group process by helping you develop behavior and process norms that improve how teams and employees cooperate. They help you tear down silos so that your departments work to benefit your organization.