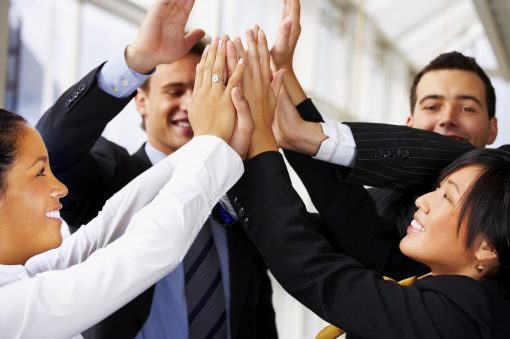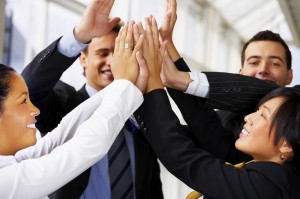 The saying goes …. no man is an island. People rely on family ties, coworkers, friends, electricians, doctors, etc for their social, physical, and economical well-being.
Well, the same goes for business. Organizations and companies depend on their employees, vendors, customers, and other stakeholders to thrive and grow. Without firm and committed business relationships, not only do team work and company loyalty fall apart…companies lose market share to competitors.
Since no organization is an isolated entity, a business culture of cooperation is necessary to drive creativity and innovation. Employees count on each other for correct information, to keep commitments on deadlines, and to work in a non-hostile environment. In other words, interdependence must be the backbone of a business in order for cooperation, transparency, and team cohesion to gel.
Without trust how can interdependence exist?
So how does a company encourage interdependence among employees and teams? As discussed in a previous blog, one key ingredient is trust. Without trust among fellow coworkers, team work fails. As my own team building research has shown, "one of the outcomes of team cooperation is accomplishment. There is more pleasure in working on challenging projects together than painful conflict. This happens when working relationships are (1) trustworthy and (2) demonstrated by behaviors that build trust. They are interdependent and rely on the diverse strengths of the group to achieve results."
One is better than two
As an example of interdependence, let's look at an actual case study where I facilitated a merger acquisition between two competing emergency response health care providers. My job was to bring the two companies together by creating a new one that was superior to the separate entities. Through interviews, surveys, and team building activities, I was able to bring the two competing companies together. I achieved cooperation and a thriving new organization through mutual interdependence among employees and leaders alike. This organization hit its stride in 8 months as opposed to the 3-5 year change transition period many organizations face.
The merger acquisition came about through a governing board.  Health professionals who occupied duplicate positions were culled with one of the duplicates being let go. This caused grief, competition, and outright anger among the surviving employees.
There was serious infighting over which business was the best suited to define the emerging culture.
Here is the step by step progression that occurred to combine two competitive companies into one highly successful, sustainable company:
The first step was to acknowledge the grief through confidential and personal leadership interviews where employees were able to safely vent and express their concerns. Employee concerns were recorded in a comprehensive report.
The second step was to survey the leadership team to determine the level of trust, interdependence, genuineness, empathy, risk and success within their existing work environment. This data was also added to the report.
The 3rd step was to take the leadership team through our proprietary TIGERS® team building exercise to teach them (1) behaviors that build strong teams and (2) behaviors that cause problems with regards to trust, interdependence, genuineness, empathy, risk and success. The results of the leadership survey were disclosed after the team exercise was completed and participants were debriefed.
The 4th step was to identify the gap between the awareness gained from the team building exercise and the previously completed report. The goal was to prioritize and focus on the most critical areas to begin building a new, and improved, collaborative and interdependent company culture.
The 5th step was to start working on the agreed upon critical area needing immediate improvement. The goal was to engage every employee who was supervised by a member of the leadership team to identify, in their own words, specific behaviors they believed would build more trust, interdependence, genuineness, empathy, risk and success company-wide. They were also asked to identify what the work environment would be like if those behaviors were achieved. This ignited the creative vision of what was possible and engaged all the employees to champion the change.
The 6th step was to compile the results of the collective ideas and report it back to the employees. The employees were also asked to prioritize those ideas they believed were critical to performance evaluations. With regard to the evaluations, the employees were also asked what type of training they would most benefit from so that their performance reviews resulted in stellar outcomes.
The 7th Step was to give the leadership team training in facilitative leadership practices and coaching to help employees make the shift with high levels of commitment and engagement to working in a mutually supportive, interdependent environment.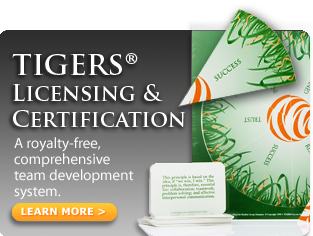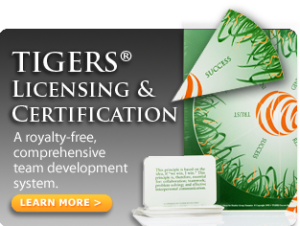 Business coaches or training consultants looking for proven resources to instill cooperation and interdependence in the workplace, why not consider certification as a licensed TIGERS facilitator.
I am looking for dynamic business coaches, internal and external trainers, facilitators, educators, and leadership consultants who are searching for proven resources and solutions to take their organization or consulting business to the next level.
With opportunities to "brainstorm" with like-minded thought leaders, utilize the proven TIGERS Team Wheel and an arsenal of team-building resource tools, the "royalty free" TIGERS Certification is the solution for the right candidates. Use proven, research-based resources and assessment tools that reveal behavioral issues, sources of conflict, skill sets, strengths, and weaknesses within a team or organization. If you are a consultant or trainer and fit this scenario, I would like to hear from you.
About TIGERS Success Series
TIGERS Success Series is a team development consultancy based on 6 core principles that anchor high performance team dynamics. These principles are trust, interdependence, genuineness, empathy, risk and success.
TIGERS offers licensing and certification to team building trainers and consultants interested in expanding their practice to serve organizational leaders from the break room to the boardroom. Learn more.