Copyright TIGERS Success Series
By Dianne Crampton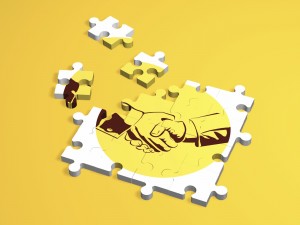 There is a lot of buzz these days about hiring the right employees and leaders to work in a team-oriented environment.
Could it be we are a society that has been badly burned by so-called stellar performers that practiced autonomy and was never held accountable to anyone? (Think Wall Street, Enron, etc) With a slowing rebounding economy, companies are more eager than ever to hire individuals and leaders that are accountable, highly collaborative team members with a collaborative team mindset. They must share the same values of the organization as a whole and go beyond "what's in it for me?"
While it is still true that individual innovation and strategic thinking are highly valued, an often-missing ingredient must be included – interpersonal skills. Without the ability to communicate, listen, build relationships, and collaborate with peers, these individual "star performers" stand to go nowhere. In fact, they often make enemies and can sabotage progress by withholding information or participating in power struggles. They can be competitive with other employees and have the attitude – no one can do this as well as I can. This leads poor communication and projects sitting in the "stellar" performer's inbox.
To further stress this point, I had the opportunity to facilitate the merging of two competitive air ambulance services in the Pacific Northwest. The expectation was that these companies would merge well as a team. The employees, however, were confused and upset and TIGERS Success Series was asked to facilitate. Instilling communication and team collaboration within three months, NW MedStar hit their stride in less than a year.
With the TIGERS Team Wheel game, I facilitated the merger of these two competing companies utilizing this team building activity. Not only did the game successfully cohere the two companies; NW MedStar uses the information gleaned from the game throughout their interview process of potential candidates. With organizational goals well defined, NW MedStar selects the finest health care practitioners in the country who will perform well within their existing team culture.
The Director of NW MedStar who was in charge of the merger, Pam Sheldon, had this to say: "TIGERS just saved our team the unpleasant mistake of hiring the wrong candidate. The work we did to define how Empathy supports our Patient Care Directive produced the right interviewing questions that took our selection process to a much deeper, more qualifying and satisfactory level."
Apparently, this ethic of collaborative team effort is catching on. Virginia Tech Carilion is adopting new policies on admitting potential medical students. Rather than evaluating and admitting students strictly on grades and standardized test scores, candidates are evaluated on how willing they are to work on teams. Virginia Tech Carilion's goal is to graduate physicians who can communicate with patients and work in teams. Hat's off to Virginia Tech Carilion!
Medical schools and organizations are realizing what the "elite" businesses have known all along. Being an outstanding individual contributor is about more than individual star quality and credentials. Organizations are learning to make their selections based on character, communication, and willingness to work in a collaborative team environment for the success of the organization as a whole.
Image by iStock