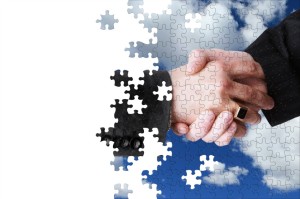 Team member engagement is one of the most, if not the most, important aspect to organizational success. Employees are companies' most important asset, and if they are not engaged in their work, then everyone suffers. The employees suffer because they are not performing meaningful work; customers suffer because they are not receiving the organization's best; and the organization suffers because it is not receiving or delivering quality work. With leadership teambuilding, leaders can learn to better engage their employees.
Employee engagement is a popular topic among business blogs. Some articles on the topic include:
With leadership teambuilding, leaders can learn to create a culture of engagement among their employees.
Be engaged. One key component to employee engagement is leader engagement, says As a Manager, Here Is How to Keep Employees Engaged. Leaders who are not engaged but instead rely on threats or coercion to keep their team members on track will experience higher turnover rates and lower engagement from employees. The attitudes that managers embrace will trickle down to the employees, leading to better performance.
Utilize technology. Technological advancements have led to many great tools that make it easier to track employee engagement, states 11 Best Tools for Analyzing Employee Engagement. With various tracking tools, leaders are able to gauge employee engagement on daily, weekly, monthly, quarterly, yearly or any other desired interval to identify employees that require additional training or attention.
Outline goals. According to The 5 Leadership Behaviors You Need to Boost Employee Engagement, clearly outlining goals and the desired result will lead to higher engagement levels. Employees who understand where they currently are and where they need to be will have an easier time engaging in daily tasks. And by understanding the overall goals of the organization. Team members can align their own goals with those of the company, leading to a better company culture.
Be transparent. Transparency within the organization is an important tool for inspiring team members to become more engaged. Employees who can see how their efforts help the organization as a whole will be more motivated to contribute and reach personal, as well as organizational, goals. To foster a culture of transparency, leaders should share important information, such as company financials or daily operations, with all employees. That way, employees feel as if they are part of something greater than their personal titles.
Strive to reduce stress. Stress is an engagement killer, states To Sustain Employee Engagement, You Must Manage Workplace Stress. Some common sources of workplace stress include unrealistic productivity demands, excessive workloads, lack of communication and poor rewards. When these elements are in place, team members feel more stress, which sucks away their engagement with their positions. To reduce stress for team members, leaders should focus on enabling team members to success by clearly defining roles and expectations, communicating effectively and allowing team members to be innovative in their roles. One of the best stress management self-study programs is Melting Your Stress Within 30 Days.  This training was designed for leaders and new supervisors.
Communicate effectively. According to Communication Is Key to Genuine Employee Engagement, communication is the most important element of keeping employees engaged in the workplace. Employees who feel that their leaders communicate effectively feel better about the company's reputation and future prospects as a whole. This trust leads to lower turnover rates and employees who are more satisfied with their positions, which are important elements of employee engagement.
Instill trust. Creating an environment of trust is another tactic for creating an engaged workforce, says What Your Employees Really Need To Keep Them Engaged. Employees who do not trust their leadership teams and are unwilling to or do not feel safe communicating with their leaders are far less engaged than employees who trust their leaders. While pay, benefits and office perks can help attract talent, the intrinsic motivator of trust is far more important at keeping top performers satisfied and engaged with their positions.
Invest in team behavior surveys. In order to invest in people in the organization and track progress, leaders should invest in professional team behavior  surveys. Team member surveys are tools that identify problem areas and offer actionable solutions to create stronger teams. The TIGERS Success Series Online Team Survey is one such survey that takes the guesswork out of team behavior management. The process consists of three surveys that act as a way to identify where the team is currently, offer suggestions, track progress and compare results over time.
Employee engagement is one of the most important aspects of a successful team. Organizations that strive to attract top talent and keep it need to implement leadership teambuilding strategies that focus on employee engagement. Leaders need to be engaged themselves, utilize technology, clearly outline goals, be transparent, reduce stress, communicate effectively, instill trust and invest in team member surveys to track and encourage employee engagement.
Copyright TIGERS Success Series, Inc. by Dianne Crampton
TIGERS(R) Success Series is an Oregon Team Development Consultant residing in Bend, Oregon. TIGERS(R) helps leaders build work cultures where cooperation among employees and collaboration between departments drives improved company revenue.  TIGERS also licenses and trains Strategic HR Executives in TIGERS award winning team development and facilitation resources.  Get more information here.