There is no "after this", say commentators, analysts, and medical experts. They are referring to the COVID-19 crisis. Comments like this leave people wondering just what is next? Are there some remote work tips for managers who are skilled in supervision that can be adopted during lock-down?
When your city's lock-down is finally lifted, everyone will need to navigate a new reality. There might not be hugging loved ones right away nor could there be a completely safe way to sit side by side with friends at the movies. With COVID-19 numbers still on the rise, one thing's for sure … when the curve flattens out, nothing will ever be the same again. New protocols, as well as novel measures will be imposed to prevent another outbreak of this magnitude. Team leadership skills in the "workplace" will change as well.
The problem facing HR practitioners.
HR practitioners see the need for companies to unlearn and learn. Anyone and everyone who manages a team might have to dispense with established ways of doing business and embrace controversial approaches. And we aren't just talking technology and shifting to a work-from-home arrangement. We're talking a different set of protocols for accountability, group behavior management, problem-solving, and communication that emphasize the need for remote work tip for managers. These are skills and protocols that leaders skilled in collaboration and work group cooperation have already embraced.
How different will it be now that a remote work arrangement is here to stay? Anyone who manages a team must expect a shift from a supervision-style management process to project-and outcome-focused management. Here's why.
The difference between supervision and agile, outcome-focused management.
Supervision is an extensively misunderstood term. It's often thought to be a concept applicable when overseeing and training entry-level workers. But in practice, it often includes organizing teams, designing new job roles as needed, hiring, training, performance management, and basic management skills such as delegation and meeting management, planning, problem-solving.
A supervisor's job is dynamic. Depending on the culture of an organization (and complexity of the company's goals), their job requires them to wear different hats – boss, advocate between upper management and front line employees, and controlling work.
Project-and-outcome-focused management, on the other hand, takes an outside-in approach. It's about making a difference vis-à-vis achieving results that have been internally defined. To be more concrete, it's bringing all the stakeholders together (team members and collaborators) into alignment for achieving goals with specific roles, individual goals and relationship perimeters defined. This ensures that work rolls out smoothly and is completed with excellence whether some team members are working remotely or not. In outcome based management, the manager or team leader is now more the facilitator of work rather than the controller of work.
Many outcome-focused organizations have developed facilitation expertise. This promotes real dialogue, knowledge-sharing, and break-through innovation. They also tend to embrace paradox and different perspectives of an issue. They are observant with pattern identification and are quite open to contributions from all the parties involved.
So what does this mean for team leaders or managers who now find themselves in a remote work arrangement? How do you effectively manage remote projects with this objective in mind?
Remote tips for managers that can jump start your road to economic recovery.
Here are three tips that will get you out of the gate.
# 1 – Trust: Don't micromanage. Rely on employee empowerment.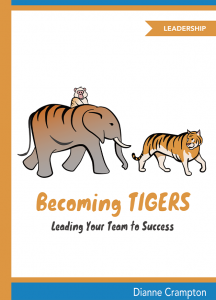 Micromanagement is a style characterized by excessive attention to detail and control over the work of team members. It also causes leadership trust issues where the manager often appears more untrustworthy than the team.
In our new book, Becoming TIGERS – Leading Your Team to Success (Three-Creeks, 2020) that will be available in June but available now for pre-order on Amazon, the book's protagonist is a micromanager. What he learns through this entertaining story illustrates the behavior principles that are required in the new world of remote and outcome-based team leaders.
Micromanagement is a top-down decision-making process where subordinates follow a "do as I say" methodology. The danger lies when the manager focuses on details rather than the end product (the realm of the outcome based manager). In the long run, it demoralizes. People are less likely to be engaged and will keep their comments and suggestions to themselves. As a result, this dependent-based management style forces employees to depend on their managers and are less productive, which is exactly what you do not want when people are out of sight.
What trust behaviors discourage micromanagement?
Behaviors that build trust are those that are reliable, honest, have integrity and are perceived to be fair.  Examples include:
Doing what you say you are going to do.
Being competent in what you do.
Striving for what is predictable and consistent.
Striving to do the right thing.
Striving for sustainability.
Practicing transparency.
Providing equal opportunity for advantages and consequences.
Keeping confidences.
What to do that reduces micromanagement to increase trust? Trust your team members to self-manage. Communicate what needs to be done in a clear and timely fashion. Encourage to-do lists. Delegate. Ignore minor errors and believe in the qualifications and experience of the team.
# 2 – Interdependence: Get the right team.
Remote work isn't for everyone. But at this time, it's the better option. One remote work tip for managers is to build  a group whose team members complement each other. Commitment, accountability, and communication skills are crucial – now more than ever. An outcome-based manager who understands human performance requirements, as well as the technological management tools needed, is needed now more than ever. This is especially true for those leaders who have mastered team interdependence.
Interdependence is the universal collaborative principle that grows and develops from sense of community and the spirit of team support. It produces synergy which enhances team effort beyond the simple sum total of the team members' individual skills.
The characteristics of a team with high interdependence include high levels of team member information sharing and service to one another's success.  It also includes:
Respect for diversity.
Respect for the skills each team member brings to the table.
Emotional maturity and positive self-esteem.
An attitude of servant leadership.
Openness and acceptance of others.
Confidence that team members have your best interest in mind.
Cohesiveness.
Therefore, outcome based managers who incorporate behaviors like these into their leadership style build teams that can do much more with less.
#3 – Genuineness: Take full advantage of respectfully sincere, frank and forthright communication through technology.
It isn't unusual to find managers more stressed working from home – simply because they feel like they've got more balls to juggle! If this sounds like you or someone you know, encourage the use of a communication plan that is launched through paid apps to track emails, tasks, weekly calls, and meetings.
Team communication is key. We can't emphasize that enough. One remote work tip for managers is that the tiniest miscommunication can be fatal. You could lose customers, employees and then struggle to get their loyalty back. This is especially true when working through a remote workforce. This means that communications can take longer because you want to be sure that what was communicated to an employee was received in the way you intended.
Communication that is anchored by the TIGERS Principle, genuineness, builds employee skills that are respectfully sincere, frank and forthright. Employees and team leaders who deploy genuineness both at work and at home, experience greater emotional safety and acceptance at work compared to those who do not.  As a result, they are able to focus their attention and enthusiasm on the success of the team and the company. They have greater capacity for creativity, commitment and happiness when at work.
Outcome-focused team leaders exhibit specific behaviors that anchor genuineness in the workplace. They include the following:
Respect for self and others.
Generosity expressed through service to others.
Concern for the welfare of others.
Concern for the welfare of the organization.
Sharing solution-oriented concerns without fear of repercussion.
Cause and effect thinking.
Confrontation and feedback skill development.
Commitment to sharing the truth from your unique perspective and known facts.
Self-awareness.
Therefore, an effective communication plan takes into consideration these bulleted behaviors and how those are addressed when implementing the plan and communicating with team members.
Conclusion.
Outcome-focused management is an agile team leadership style. It feels like you give up a lot of control. And you constantly worry about having to redo parts of the process. But with the shift to remote work, it's the most suitable management style that returns excellent results.
Remote work is uncharted territory for many organizations. If you feel like you've got everything and yet something is amiss, let the team at TIGERS Success Series introduce you to virtual training tools such as the TIGERS Leadership FUNdamental course. This simple, flexible and cost-effective solution helps you  improve cooperation among team members, collaboration between departments, and engagement with employees, all while increasing revenue and productivity. Check availability HERE.
Care to dig deeper into Remote Work Tips for Managers?
Here are some previous articles and references worth exploring.
Copyright TIGERS Success Series, Inc. by Dianne Crampton
About TIGERS Success Series, Inc.
Why guess what is needed for workforce development when it is completely unnecessary? Our mission is to uplift the world one team at a time. We accomplish this with a researched and validated comprehensive, robust system for improving both your work environment and profitability. And we make these tools available for both internal and external workforce development consultants.
We specialize in developing high performance work cultures and partner with you in your success. Scaled to grow with you, our proprietary Team Behavior Profile, consulting and group facilitation services, and online TIGERS micro training packages are based on the six principles we have found that convert adequate organizations to truly exceptional ones. Secure a time to learn more.