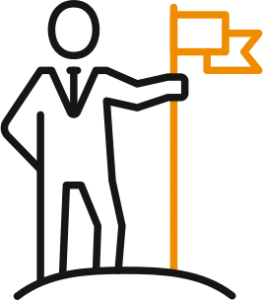 Project management. We've all heard the term so many times that it seems obvious.
Do you want to be organized? Everybody does. But when it comes down to it can be overwhelming. Especially when it includes multiple people with diverse strengths, talents and thinking styles. It can be hard to juggle all the different projects – personalities – and goals that are all high on the company priority list.  Planning and organizing projects that achieve your team's specific goals can be time consuming, draining, and confusing, which is why you need a strategy. The following six steps provide tips for project management success. 
Step one project management: Identify your projects.
The first step to implementing strategic project management is distinguishing between the actual, physical projects and the overall vision of the company. The goal of project management is to fulfill the company vision. So before anything else, define what your company's vision is. Why is this important? Knowing the company vision will help you clarify which projects are pure busy work and which ones positively affect the organization.
Step two project management: List all your projects.
That being said, the next step to be successful at project management is to figure out what projects need to be done. List them all and write them down. This should include everything from the little projects to large scale ones, short term to long term.
Every project counts with this list, so depending on the size of your company, go around and ask different team members what projects they are working on or need to be completed. Not only will this give you a better idea of what projects need to be prioritized,  it will also help improve communication in the workplace.
Step three project management: Sort and revise your list.
However, after you complete the list, it must be revised according to the company vision. This can be completed by you or together with your team. There will always be tasks that need to get done, but only the ones that further the vision of the company should make it onto your priority list.
Why?
Because so often, work can become so cluttered with everything that is begging to be organized or managed, resulting in loss of business or poor results. Focus on your vision, and prioritize the projects accordingly.
Step four project management: Develop your resource strategies.
After narrowing down your list for project management, the next part of your strategy should be to locate your resources. Make sure to identify all aspects of the project. Some things to take into consideration can include the type of work, assets, key challenges, budgets, and people.
What tools are available presently that will help deliver this project on time? What resources need to be gathered? Who will be working on this project? Will they need additional help? Being detailed in this area will give a everyone involved a more realistic expectation of how the project will be completed.
Step five project management: Develop your  timelines.
Having located and organized your resources, a crucial part of project management is creating a timeline. Understanding what resources are available will give a better idea of how long the project should take. This is a simple, but critical step. If an employee is executing this specific project, schedule a meeting to discuss the timeline and milestones that will help guide the project to completion.
Try to make the milestones as specific as possible. Keep in mind S.M.A.R.T. goals. Are the milestones you created Specific, Measurable, Attainable, Relevant, and Timely? Using these criteria will make sure your goals are clear and attainable.
Step six project management follow through
Finally, make sure to follow through with your project management! Be present throughout the projects and be prepared to encounter a few contingencies. Sometimes, priorities will shift or problems will arise that might compromise the work. In this case, reevaluate the project and S.M.A.R.T. goals, and then move forwards. Commit to the process agreed upon and continue to be accountable.
Although it can take a lot of work, planning the plan will result in better project management.  Keep in mind that whether or not the project succeeds depends on both the effectiveness and quality of the work. For some projects, these results are not obvious until after the project has been completed. Other results can be seen even while the project is being completed. In either case, make sure to determine how often progress reports should take place and who will hold these responsibilities.
Accountability is critical to project success and helps guarantee that projects are not overlooked or forgotten. Project management takes time, technique, and can be a daunting task.
Project management team leader resources.
TIGERS® Success Series offers consultation and micro-training in soft skill communication development to aid more people in learning how to be successful project manager communicators and team leaders. It is important for both the project manager and team members to be accomplished in conflict resolution, planning, decision making and communicating. This is especially true when stakeholders are involved.
This in depth training that leads to TIGERS Certification helps committed leaders and managers build work environments that support commitment, success, and cooperation. This creates the project work  environment where every employee helps achieve the company's vision.
Care to dig deeper into this conversation about project management?
The following articles deepen your understanding:
Project Management: How to Develop a Strategic Plan
Copyright TIGERS Success Series, Inc.
About TIGERS Success Series, Inc.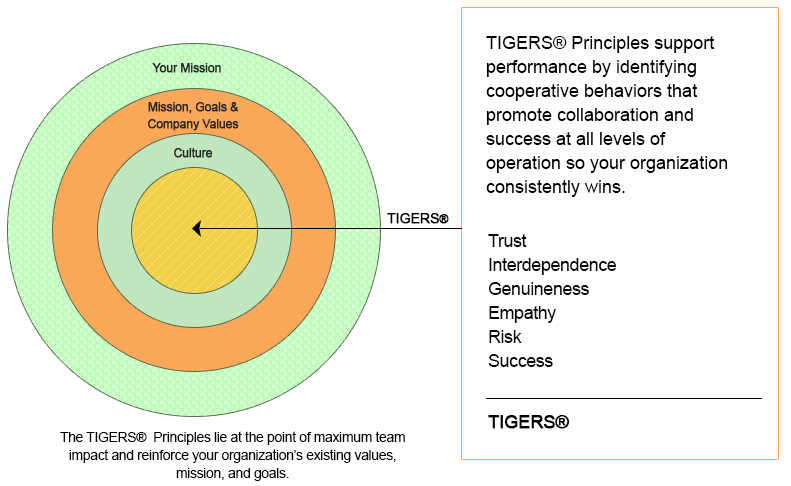 TIGERS® Success Series provides a comprehensive, multi-pronged and robust system for improving both your work environment, profitability and project management team leadership success.
We specialize in training your managers in group leadership skills that build workforce cooperation and high performance team dynamics. Scaled to grow as your organization and leadership performance grows, our proprietary Team Behavior Profile, Management and Project Team Leadership  training workshops, and coach/consultant licensing are based on the six principles we have found to be the right mix to make this happen.
Collaborative Work Culture Consulting, Board Retreat Facilitation, Work Behavior Assessment and Micro-training Services located in Bend, Oregon. 541-385-7465