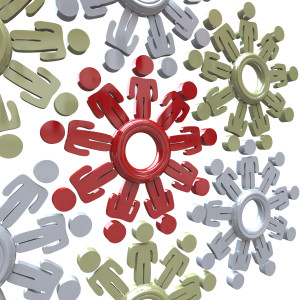 How does poor leadership behavior impact your work culture? Employee engagement, goal achievement, productivity, civility, workplace bullying and your bottom line are all impacted by poor leadership behavior.
That said, changing poor leadership behavior is possible when executives measure change in department attitude and performance. The problem is that a few employees will copy poor leadership behavior so the problem frequently becomes bigger than you think.
According to the Warble's 2018 Workplace Experience Study, 63 percent of employees are scared to report bad behavior. If that's the case, what can be done to drive a successful work culture?
To achieve the best results, organizations must invest in leadership support and training in communication and other soft skills once considered too wobbly to take seriously. Behavior that supports six principles required for high performance organizations — trust, interdependence, genuineness, empathy, risk resolution and success (TIGERS®) — in the workplace are measurable. The outcome of improving behavior that supports these six principles is measured by employee opinion as well as through cost savings and productivity improvements in your organization's bottom line.
However, training is only as good as the leaders who take it seriously and modify their behavior. Leaders who think their behavior is inconsequential or who refuse to change through performance coaching and training are a financial liability. Just like a faulty part in a piece of machinery, when the part goes bad, it is time to replace it.
The leaders who do improve poor leadership behavior set an example for everyone else in the organization. They drive the rest of the employees to succeed through productive behavior, too.
Poor leadership behavior VS what drives people to love their job these days?
The Society For Human Resource Management (SHRM) released a employee job satisfaction and engagement report in 2016. The study found that over 88 percent of respondents were satisfied with their job position. This marked the highest level of employee satisfaction in 10 years.
Those numbers didn't come without hard work. Even with those statistics in mind, there's always room for improvement. Some of the top contributors to overall job satisfaction in the workplace had to do with positive behaviors from both employees and their leaders.
As stated earlier, visible behaviors to adopt include behaviors that support trust, interdependence, genuineness, empathy, risk and success  throughout every department. Measuring the work culture as a whole demonstrates how employees feel about the company in general. Measuring department behavior illuminates how departments are doing. This performance is lead by managers.
The report indicated what employees want.  What they want is measurable and transforms poor leadership behavior:
Proactive and positive communication;
Respect at every level of operation; and,
A successful work culture.
Effective group leaders and work groups drive a successful work culture. When you desire improved work culture behavior, it is important that what you train to is fully integrated into improved behavior – from leaders to their employees.  Yes. Everyone.
The outcomes further department goals. Improved behavior improves work relationships. Together they form the perfect storm for improved productivity and better retained earnings.
Companies are investing in detecting poor leadership behavior to build successful work culture.
With sexual harassment and other corporate misconduct prevalent in the news lately, the majority of companies (77 percent) are now paying attention to problematic behavior. This is  according to a survey conducted by Consilio, a global leader in risk management and legal consulting services.
It's not just about harassment and discrimination. There's also fraud and other forms of crime to think about. In fact, experts say that workplace crime unfortunately costs U.S. businesses $50 billion a year. What other ways are there to combat this?
Running internal investigations through a compliance department, investigations department, law firms or third-party consultants has been found to be helpful, according to Consilio. And 62 percent of companies feel that they are addressing the issue of bad behaviors properly. Seventy-four percent of respondents insist there are measures in place to enforce a positive work environment.
However, there's always room for improvement when you want to sustain a successful work culture. Detecting problems quickly and eliminating them before they become a festering wound is the best way to avoid reputational, legal and financial damage, the study says. The second poor leadership behavior is taken seriously, a company can look forward to a brighter future.
If leaders are promoting a productive workforce, that consistency is also found in their employees.  Supporting leaders to guide employees to their full potential is something that every company needs to invest in. Once they do, poor leadership behavior will change for the better.
Diversity helps curb poor leadership behaviors and promotes successful work culture.
When there's diversity in leadership, it makes a big difference. Having different perspectives and skills within the leadership ranks promotes a safe work culture. It also promotes a successful work culture.
Haven't most companies made strides to build more diversity and inclusivity in the workplace? In reality, there's still more that needs to be done.
While there's ample numbers of women working, the women who make it to higher executive positions is unsatisfactory.  This is a finding from a  new study by Korn Ferry.
Many believe that there isn't enough trained women to fill leadership roles. But when companies focus on training every employee with leadership skills, women show as much skill as men. More introverted people also show their leadership potential. By training everyone, executives  properly prepare women and talented employees who are drawn to management for future responsibilities. And in the end, no one is getting left out.
This helps further the development of a successful work culture. Simply training executives is proven to be counterproductive. Filling the leadership pipeline by training everyone shows employees you are serious about developing skills that result in improved behavior throughout the organization.
By going against the status quo left behind by decades of patriarchy, companies that invest in the diversity of their leaders also invest in building leadership skills. By providing training that supports trust, interdependence, genuineness, empathy, risk and success behaviors, it's possible to instill long-term positive leadership skills and habits.
On top of adding diversity and inclusivity into what makes a successful work culture, there's more that leaders can tackle. For example, as a leader, how approachable you are makes a difference.  Employees need to feel comfortable speaking to those that are in charge. At the same time, it is important to be stern in addressing both poor leadership behavior and employee behavior.
How to handle poor leadership behavior without upsetting the cart
It's not possible to prevent every instance of poor leadership behavior, but it's possible to handle it professionally. The Society for Human Resource management (SHRM) created a list of unsavory behaviors that leaders can address:
Gossip – While it might seem harmless at times, gossip creates a psychologically unsafe workplace. Whether rumors are factual or not, they're highly disruptive to productivity. Leaders should enforce that gossip is prohibited.
Displaying general incivility and bullying – It's understandable that not everyone an employee works with is going to like them and be their friend. But that doesn't mean that it's okay to make matters worse by being uncivil. Lack of respect for coworkers is counterproductive. It makes the work environment psychologically unsafe. This type of behavior includes rude, disrespectful speech and physical intimidation. It also includes any form of abuse. Leaders should never engage in bias behavior and should always address negative situations before they get worse.
Exhibiting insubordination – If an employee refuses to listen to an employer's reasonable requests on any level, then it's something that a leader needs to address professionally. As a leader, don't let repeated warnings go unheard. Taking appropriate disciplinary action when needed is the best course of action.
Leaders can only handle disruptive behavior if they understand where the animosity is coming from. Once that is identified and removed, the improvement is long-term.
How does poor leadership behavior impact successful work culture?
Poor leadership behavior impacts employee productivity. It also impacts performance, employee commitment and company reputation. According to SHRM, employee turnover, costs use of sick leave, disability claims and legal expenses all increase due to poor leadership behavior.
But companies aren't paying enough attention to everyday unethical behavior, says Harvard Business Review. What happens when leaders stop paying attention, or never cared in the first place?
When one person becomes disruptive, more people follow. In the end, you're going to have a workplace with employees who refuse to listen to one another.  But if each leader listens and acts accordingly, this problem is reduced company-wide.
A 2016 survey conducted by Weber Shandwick and entitled Civility in America VII: The State of Civility found that a third of managers have threatened or actually fired someone for behavior that failed to meet company standards. At the same time,  almost a third of employees (25 percent) have quit a job due to a negative work environment.
Leaders must dig deeper by giving direct feedback to employees who are not civil says HBR. Explaining the consequences before they happen is a great way to help curb a problem. When an employee knows what the consequences are in advance, they generally stop bad behavior.
Not addressing this problem, on the other hand, means that a hole is going to be dug that's too deep to get out of. At some point, it's important to accept that not every toxic employee is capable of turning a new leaf. Some people are simply set in their ways. If that occurs, it's time to separate them from the rest of the work crew and document everything.
Good leaders aren't afraid of hard conversations.
The best way to take a crack at a high turnover is through hiring and promoting leaders who aren't afraid to have hard conversations. While no one wants to be the person that has to confront someone about their bad behavior, it's something that needs to be done for the good of the workplace. Being direct and nipping things quickly are the best way to promote a safe workplace.
Short of employee theft, a leader should never fire someone on the spot. Bullying, incivility, and poor leadership behavior must be well documented. Other employees will notice this and appreciate it.
This is why it's important to take preventative measures to protect the work environment. Poor leadership behavior is picked up by employees.  Poor employee behavior is a serious business liability.  The alternative is to create a community with enforceable group behavior norms, strong values and consistent reinforcement of expected high performance leadership behavior.
Care to dig deeper into this poor leadership behavior conversation?
The following articles, studies and resources take this conversation deeper:
Executives Say Gender Parity in Company Leadership is Significant Issue
Majority of Companies are Increasing Investment in Detecting "Bad Behaviors
Copyright TIGERS Success Series, Inc.
About TIGERS Success Series, Inc.
TIGERS is a Bend, Oregon collaborative work culture consultancy that promotes behaviors that support six principles necessary for high performance work groups. These principles are trust, interdependence, genuineness, empathy, risk and success.
TIGERS offers assessments, micro-training, facilitation and consulting services that transform adequate work groups into high performance work cultures. Schedule a conversation to learn more.