Your company is growing. Your customer base is increasing and your existing team members are stretched as far as they can go. Now it's time to develop new positions and bring on new employees.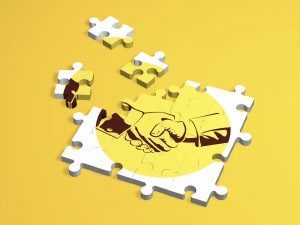 While this is an exciting time for any company, it can also be a time of high risk. For leaders whose start up strength was driving a new concept into the marketplace, creating your work community takes strategy and the development of a new system. Not only is hiring right important because high turnover leads to low productivity, it also initially drains your precious time and financial resources when you would rather be doing something that you already do well.
Filling the right seats with the right candidates who could not imagine working anywhere else and who stick with you for the long haul requires a good plan.  An exceptional plan will take into account an investment of your valuable time, system development, culture identification and the strategic use of resources. A lot goes into growth. the good news is that the right leadership team building strategies result in finding the right fit that save you money, time, resources and worry.
Team building strategies to hire right for your company's culture
Building your work culture so that it attracts and retains talented new employees is much preferred over the revolving door. Therefore, consider the following three tips to get you started in the right direction.
Benchmark the full cost of a new employee.
If you're hiring a new employee to replace an old one, you likely have a budget already in place.  However, when you are expanding your business and bringing on more team members,it is important to take into account all of the costs associated with each employee.
The selection and screening of new employees is only one piece of the puzzle, which is time consuming.  If you use a hiring service, there are fees to be paid.
Building a budget for each employee's salary, social security tax, as well as federal and state taxes must be accounted for.
After determining the annual employee budget, consider what benefits to provide, including health insurance and paid time off, and initial and long-term training costs. This must also be figured in.
It might seem like a cost-saving solution to skip in-depth training and onboarding, but this will cost more in the long-term because good

onboarding

and employee training creates more loyal employees. Without properly training your employees in the beginning, you will experience lower retention and decreased productivity, which is more costly for employers than the costs associated with proper onboarding.
And as your employees stay with the company, you will want to invest in training opportunities to improve their skills.
When you add up these costs, it is not uncommon for the cost of rehiring another employee because of a poor selection of a previous one to total $8,000.00 for an entry level employee. It is much more for a manager. This means that if two entry level employees leave your company for greener pastures elsewhere, the hard cost of rehiring those two employees can easily be $16,000. It adds up and reduces profits.
Focus on skills and culture fit.
For the most part, skills can be learned or improved through proper training, but how an employee fits in your company's culture is more difficult to change.
If you outsource recruitment, the recruiter must understand your culture and work climate to screen for the best candidates.  If your group norms have not been developed, no one will know what the correct cultural fit target is and hiring blind often leads to increased turnover and those hiring costs we discussed earlier. Likewise, your company's values (which are not the same as your group norms) and long-term goals should be considered every time you hire a new employee.
Each new employee should align with those values and goals in some way. When starting the search for a new employee, you will also have a long list of required and desired skills for the job, but it's most likely hopeful thinking that you'll find an employee who possesses all of these skills. So while it's OK to ask for a lot, you should prioritize the skills that are most important to perform essential job functions and provide additional training to meet the rest. Skills can be assessed through screening tools and tests during the hiring process.  And, never under estimate the value of an motivated, untrained employee who is an excellent work culture fit.  People who are looking for opportunity to build skills are often the most engaged and motivated to work hard to receive training reward and are more likely to develop a career path with you when their career opportunity is clear to them.
Look for passionate employees.
People are most productive when they are passionate about what they're doing. There is no reason why passion cannot spread to every employee.
Ideally, candidates will apply for positions that they're passionate about, and employers will hire people based on their passion for the work and culture fit.  Sometimes you'll be able to offer top pay and desirable benefits for your employees, but sometimes a long-term dream will be the most exciting aspect that you can offer. As long as the pay and benefits aren't insultingly low, passionate employees will be able to see the potential in their positions and in your company and will work hard to create a better company for all. When you offer gain-sharing as a reward for productivity, it is a win for everyone.  To find the passionate, ask open-ended questions during the interview process and look for candidates who already have a strong sense of your company's culture and where you are headed in the future.
Provide a productive orientation experience.
The hiring process isn't quite complete until your employees have completed some sort of orientation, as some employees may realize right away that they are not a good fit for the company. And as the first step toward effective onboarding, you want to make sure that orientation provides employees with all essential information about the company and their new positions, but not overwhelmingly so.
There is no reason why learning about the company culture and group norms of behavior would not take a month to learn including talking with team members and employees from different departments during lunch and learning the company story in micro-training sessions. Orientation should preferably be held over several sessions, rather than two days of long and boring meetings. For example, paperwork can be completed at different times. The benefit of providing a productive orientation experience is that all employees work better together when they know one another on a semi-personal basis, rather than becoming isolated and trapped within silos.
Your growing company provides an opportunity to focus on culture, and as you add new team members in the mix, you have the opportunity to refocus and revamp the status quo. While looking for candidates, you can implement three team building strategies to hire correctly the first time. Strategies to include are: considering the full cost of a new employee and establishing a budget.  Look for skills and culture fit. Search for the most passionate employees; and provide a productive orientation experience spread out over several sessions. With these team building strategies, leaders can make the most of the hiring experience and bring aboard the best candidates for the company.
Want to dig deeper?
Check out the following articles and training for additional ideas:
5 Oh-So-Simple Ways to Make Orientation So Much Better
Copyright TIGERS Success Series, Inc. by Dianne Crampton
About TIGERS Success Series, Inc.
TIGERS® Success Series provides a comprehensive and robust system for improving both your work environment and profitability.  We specialize in workplace enrichment and employee re-invigoration management facilitation methods that builds workforce cooperation and high performance team dynamics. Scaled to grow as your organization and leadership performance grows, our proprietary Team Behavior Profile and  leadership training workshops are based on the six principles we have found to be the right mix to make this happen. The six principles are Trust, Interdependence, Genuineness, Empathy, Risk and Success. Born from our many years of business, psychology, and educational group dynamic research, and subsequent four years of independent evaluation, we instill and sustain behaviors that improve work group performance and talent retention for measurable ROI.
Since 1987, TIGERS has served committed leaders who desire enhanced cooperation among departments, teams, managers and individual employees. This heightened level of cooperation leads to improved revenue, purpose, commitment and impact. Employees quit companies because they don't get along with leaders and co-workers. Work culture refinement and behaviors that build strong relationships erase this trend remarkably fast.  For more information call 1+541-385-7465 or visit https://corevalues.com .