Loyalty. Workplace.  Retention.
Placing these three words side by side takes so much more than financial incentives and perks. More and more employees are jumping ship in favor of rewarding positions. Surprisingly, some are even accepting pay cuts in exchange for a job that offers personal fulfillment.
High employee turnover exhausts not just time and money.  It causes a serious dent on employee morale, as well. The good reputation that you've painstakingly built for the past couple of years could be tarnished only because people think your organization is a horrible place to work for. This is the hidden cost when retention heads south.
And it's an incessant replacement exercise for HR departments. So you ask:  What can I do to plug the exits and prevent them from leaving?
We at TIGERS® believe that the better questions are:
What must we do to make them want to stay? 
What strategy(ies) must our organization adopt to stay on top of our employee retention strategy?
Do you know exactly what's causing high employee turnover and poor turnover in your organization?
Employees join and decide to leave for many reasons – relocation, retirement, further education.  But if their reasons have anything to do with unhappiness at work or if you find that HR has to keep firing employees who underperform, then looking into employee skill development is worth pursuing.
Causes of employee turnover and poor retention.
Through the years, TIGERS® Micro-training courses have yielded these major reasons for high employee turnover:
EMPLOYEES ARE NEITHER GIVEN FEEDBACK NOR RECOGNITION.
Giving feedback isn't exactly a task managers relish.  But avoiding it altogether is akin to pushing your employees out the door.  Ensuring that your employees succeed entails honest timely feedback.  And, feedback isn't necessarily negative. It can be positive, too.
EMPLOYEES ARE MICROMANAGED UNNECESSARILY.
When you micromanage, you take away one of the most important aspects of employee satisfaction and productivity – DECISION MAKING. It's saying, "You can't do this.  You need me!" It also means, "I don't trust you."
And this is counterproductive on so many levels.  Micromanaging snuffs out the opportunity to be innovative and creative. It's this frustration, the feeling of having their hands tied behind their backs, that contributes to poor retention.
THERE ISN'T ROOM FOR GROWTH NOR PROGRESSION.
If an employee is trapped in what feels to be a dead-end position, they will definitely look to other companies for opportunities to improve their skills, income, or even both. Whenever these instances arise, we at TIGERS® Success Series observed that what was needed is a shift in leadership attitude. But not just any SHIFT in attitude.Employees needed to build skills that improve workforce behavior and make your organization a great place to work.
The power that micro-training has on retention.
TIGERS® Micro-Training is designed to reduce conflict AND improve skills that contribute to high performance work team outcomes — all while working towards the goals of improving trust, interdependence, genuineness, empathy, risk resolution, and job success.  We strive to make micro-training a breeze.  None of those all-day training affairs that leaves everyone in a frustrated stupor.  No scheduling conflicts, no backlog to keep up with.  And for your managers, this means no overtime pay for their employees to attend.
Desired workforce behaviour skill development is better developed when information is divided into chunks. This is training so focused it takes under 15 minutes to learn.  It's practical. Something that can immediately used on the job.
Once self-assessments and assignments are completed, game incentives are offered.  Managers are also welcome to pop in to check on employee participation and progress.
How is TIGERS® Micro-training delivered?
TIGERS® behavior skills micro-training development highlights the TIGERS® 6 Principles:
Trust – explore behaviors and studies that improve trust in relationships, between employees and with your customers.
Interdependence – learn skills that build workforce cooperation, tear down silos and focus on employee strengths and abilities.
Genuineness – learn skills for becoming respectfully sincere, frank and forthright. This includes giving and receiving feedback.
Empathy – learn the skills needed to resolve conflict while striving to understand one another whether you agree or not.
Risk Resolution – learn important decision making and problem solving skills and practices that transform your organization into a learning organization.
Success – learn success skills while balancing goal achievement with the employee satisfaction of getting the job done.
Micro-training segments that take less than 15 minutes to complete are the most effective means to transform employees into effective learners. And training is conducted at your employees' convenience.  Links to the training room are sent via email.  Training can be accessed by any device.  TIGERS® Micro-training consists of 52 lessons in 12 monthly segments of four trainings each.
Each training is based on one of the TIGERS® six principles selected.
How do we use TIGERS® Micro-Training to spark retention?
TIGERS® offers a training platform that gets everyone on the same page and headed in the same direction.  This means that everyone receives the same engaging material.
Learning is NOT disjointed because it's the same information, the same sources, presented in one consistent way.
TIGERS® breaks instruction into easy-to-digest portions.  Lessons are personalized – which makes for an effective e-learning experience.
Face-to-face meetings with managers, of course, are still conducted as needed.  In fact, we highly recommend such meetings in tandem with weekly updates.
The result?  Tangible behavioral shifts. Less conflict.  Less disengagement.  Improved productivity. And yes, a higher retention rate.
Indeed, employee skill development and retention share a directly proportional relationship.  Long-term commitment requires effort.
Robust organizations consider employees to be their most important asset.   Once your employees feel that they are valued, there will be little reason for them to leave. Your retention of talented employees soars.
Care to learn more about retention?
Retention and the importance of employee skill development and explained more with these helpful articles:
Copyright TIGERS Success Series Inc. by Dianne Crampton
About TIGERS Success Series, Inc.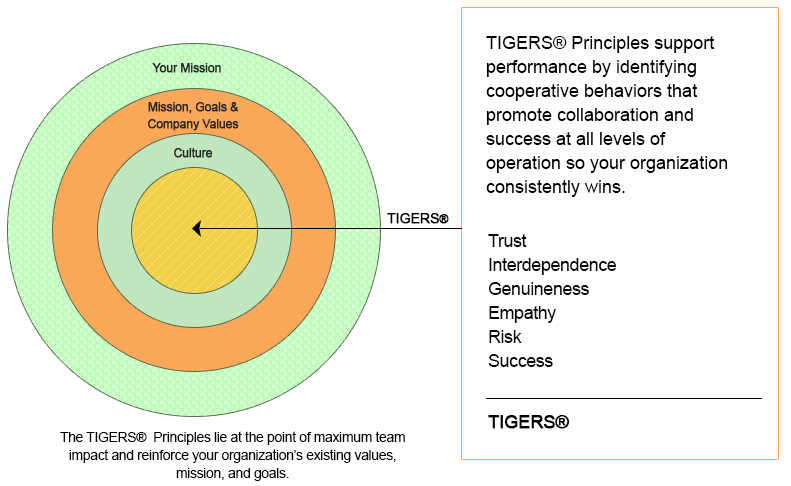 TIGERS® Success Series provides a comprehensive, multi-pronged and robust system for improving both your work environment, profitability and project management team leadership success.
We specialize in training your managers in group leadership skills that build workforce cooperation and high performance project team outcomes . Scaled to grow as your organization and leadership performance grows, our proprietary TIGERS Workforce Behavior Profile, Micro-Training technology that compliments your TIGERS Workforce Behavioral Profile results for high performance change management results, Management and Project Team Leadership  training workshops, and elite consultant/project manager licensing is based on the TIGERS 6 Principles(TM) that our extensive research found to be the high performance mix to make this happen.  Schedule a consultation to learn more.