I was in the Board room that day. Board members reviewed the organization's exit interview report because turnover was too high. Company sales were also stagnant with a falling performance line. The report findings, however, were illuminating. When asked why employees made the decision to leave, the most frequent response was lack of genuine feedback for job performance and no recognition for good work performed.
Do employees really care about receiving genuine feedback in the workplace? The answer is, yes, for this organization. Without it leaders fail to develop trust with their employees.  Does the same hold true for your organization?
Recently, IBM conducted a WorkTrends survey of over 19,000 workers in 26 countries. IBM ultimately found that employees who are engaged through positive feedback and  recognition perform nearly three times better than employees who do not receive recognition. In addition, those who are not given feedback and recognition tend to quit.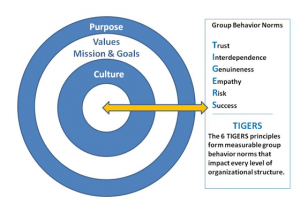 Giving and receiving genuine feedback starts from the top: CEO's, executives, managers, board members and leaders. From there, it trickles down to everyone else. This can occur by chance or intention. The superior route, however, is by intention with trained managers and employees who are skilled in delivering feedback based on the group performance principles Genuineness and Empathy.
Of the six TIGERS® Principles™,  skill development in Genuineness produces feedback that is sincere, frank, forthright and respectful.  Empathy skill development produces skills in conflict resolution and giving and receiving feedback that includes recognition. Together the two group dynamic principles form the foundation for critical conversations that enhance employee performance and build trust, engagement and retention.
This is more than theory. It is measurable with the TIGERS Workforce Behavioral Profile™  that identifies the quality of Trust, Interdependence, Genuineness, Empathy, Risk and Success in your departments and work culture behavior.
Why should leaders focus on giving and receiving genuine feedback?
Job satisfaction. Retention. Productivity. Longevity. These are some of the benefits that come with skill development in giving and receiving positive, genuine feedback. The effort is worth it when you focus on the emotional and mental needs of employees.
Experts from the Society of Human Resource Management (SHRM) and Globoforce conducted a  2015 study that found that when a company focuses on employee recognition, they create a stronger, more human work culture. They also found that while many companies strive to focus on employee appreciation, they still continue to fall short.
When you want employees to build high performance teams and work groups that can function with autonomy,  giving and receiving  genuine feedback will get you there.  It doesn't just apply between an employee and a manager. It also applies to group meetings and problem solving sessions, too. With strong Genuineness and Empathy skills, the results are measurable in both cost savings and productivity improvements through improved retention that makes your teams and work flow more sustainable.
What happens if you fail to deliver genuine feedback to your employees?
There's drawbacks to not  developing the employees and leaders you currently have. Some turnover is natural. High turnover, however, is not.
Losing quality employees  is costly. According to a Gallup study, about 67 percent of employees who receive positive feedback and performance coaching from their managers are engrossed and engaged in their work. Employees who receive negative reinforcement and criticism ( 31 percent) were less engaged and loyal.
The study also concluded that employees who experience disengagement from their leaders are less receptive to their job. This affects  their overall performance. In turn, they are less trustful of their peers and leaders.
TIGERS® research shows that talented employees who do not trust their leaders and peers quit for  better work environments. The trickle down result for lack of genuine feedback is a negative productivity trend line coupled with high turnover.
What happens when genuine feedback is your initiative?
Once you focus on bringing Genuineness skill development to the forefront of your organizational behavior improvements, employee trust improves, too. You'll also gain some traction with the other TIGERS Principles — Interdependence, Empathy, Risk and Success.
For example, according to another Gallup study, managers account for up to 70 percent of overall engagement in the workplace. As part of their score card, giving genuine feedback makes employees  better. Mistakes are corrected quickly. And, when recognition is given for good work performed, employees tend to repeat it. The results are measurable and well worth the return on your investment.
However, it's not just employees who require genuine feedback. Managers do, too. Therefore, when installing feedback initiatives consider the following criteria:
Measure your results and progress.
Set a course for a two to three year transition period.
Genuinely care.
Communicate a clear vision of the program with desired outcomes.
Communicate real-time examples of success in progress.
Train all your employees in skill development and consider micro-training for this purpose that is tied to your initiatives.
Be honest, transparent and credible.
Lead by example.
When everyone is skilled in giving sincere, frank, forthright and respectful feedback, it is timely. This is true whether the feedback is for correction or for appreciation and recognition.
Ideally,  communication should flow seamlessly between employees and employees and leaders. This means when things get tough, your teams are ready to solve any adversity put  before them.
When there's more openness and transparency in the workplace, people feel more comfortable working there. They know what to expect. They know their boundaries and quality expectations. They are also more resilient and forgiving when adversity arises. This is because your workplace feels safe, productive and trustworthy.
For your teams to evolve, your leaders must evolve tool. By being engaged and interactive with your employees, you build camaraderie that withstands time. That is how impactful genuine feedback is.
Care to dig deeper into this genuine feedback conversation?
The following articles and resources deepen understanding:
Copyright TIGERS Success Series, Inc.
About TIGERS Success Series, Inc.
TIGERS is a Bend, Oregon workforce development consultancy that improves your work culture cooperation while measuring the quality of six principles necessary for high performance work groups. These principles are trust, interdependence, genuineness, empathy, risk and success.
TIGERS offers assessments, micro-training, team leadership skill training, facilitation and consulting services that transform adequate work groups into high performance work cultures. Request a consultation to learn more.