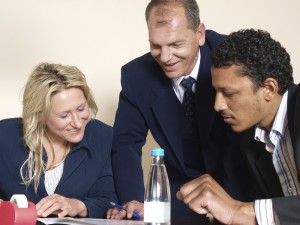 By Dianne Crampton
I love sharing insights about stellar, team oriented company cultures.
For example, Ultimate, a leading cloud provider of people management solutions for global businesses recently was named by Fortune Magazine's 100 Best Companies to Work For. 
There is a good reason for this.
Before growing beyond the 1,000-employee threshold necessary to be eligible for consideration on FORTUNE's list, Ultimate was ranked #1 on the medium-size company list of "Best Places to Work" in 2008 and 2009 by The Great Place to Work Institute, the same organization that evaluates companies for the FORTUNE list, and was ranked #3 in 2006 and 2007.
Good leadership is part of their success.
 "It has always been clear to us at Ultimate that treating our employees as our most important asset is the path to developing world-class products and services," said Scott Scherr, CEO, president, and founder at Ultimate. "It's simply the right way to do business, and our business results attest to the success of this philosophy."
When energy and enthusiasm is palpable in a company like Ultimate, this speaks volumes for their corporate culture. Treating employees right is good business.
Ultimate has seen continuous growth in its recurring revenues for the past 10+ years. From 2006 to 2010, Ultimate grew its employee population by 82 percent. During the same timeframe, annual recurring revenues grew by 167 percent – more than double its employee count increase.
"Over the years, Ultimate has been able to attract the most talented people in our industry," added Scherr. "They come with us because of our inclusive, family-like culture and our benefits plans that cover 100 percent of the premium for both employees and their families. They stay because of the respect they experience for their contributions and the fulfillment of working with other highly talented individuals in a team environment."
Ultimate employees have long been known to be unusually talented, team-oriented, and loyal. For example their long-term tenure translates into long-term customer relationships, knowledge retention, and low recruitment and training costs.
"I've been in this industry for more than 20 years, and I've never seen or worked anywhere that has the kind of culture and high-performing employees that Ultimate has. You can feel the energy and enthusiasm when you walk into the building," said Cecile Alper-Leroux, vice president of product strategy and development, who joined Ultimate 18 months ago after working at other leading technology companies. "Ultimate truly is a great place to work, and I think the success of the company is an indicator that happy employees really do benefit the bottom line."
For the last 18 months, Ultimate has been collecting data from employees and customers and evaluating these responses to determine the core values Ultimate stands for. From this research, Ultimate developed a new logo and branding message that went live on January 23 and coincidentally aligned with our ranking on FORTUNE's 2012 list. 
The core message of Ultimate's values is clear in their new tag line, People First, and reflects why team members are so happy at Ultimate. 
I will be sharing insights about other companies like Ultimate that made this list. Be looking for the full list of the best 100 companies in February when Fortune announces the list.
Image by iStock