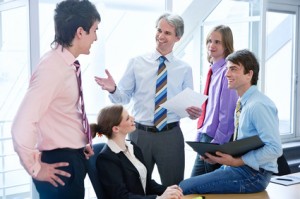 Due to the current economic climate, this could very well be a banner year for independent business team consultants, facilitators, and team building coaches.
Why? During the Great Recession, organizations downsized, merged, slashed budgets, and saw "customary business practices and policies" fly out the window. This, along with underdeveloped strategic planning on the part of these businesses, will prove that the right business coach and consultant will be worth his weight in gold.
What business coaches and consultants have to offer
Knowledgeable, seasoned coaches and consultants bring expertise, emotional intelligence, engagement, and extraordinary communication skills into the business arena to put companies back on the fast track to regrouping and thriving in the new economy.  These consultants understand how to instill accountability among employees and leaders to meet project deadlines and benchmarks. They bring a wealth of outside resources and tools that complement the company's visions to help them achieve their directives and goals.
The organizations that stand to gain the most from a business coach's expertise face challenges such as:
A looming merger or reorganization
Nonexistent  leadership training programs
On-boarding employees to champion change within the organization
Little or no growth in the recovering economy
With that being said…there will be a two-fold problem for business consultants coming into their own this year.
Are organizations ready to recognize independent consultants and facilitators as valued, collaborative partners?
The answer to the first question is both yes and no.  Successful, thriving companies know that a good business team is often comprised of external consultants and high-performing internal teams. These companies consistently rank as "preferred employers" and have created dynamic business cultures for their employees. These organizations are energized by fresh perspectives and the level of expertise brought from outside the company.
Undervalued and underpaid
However, a vast majority of consultants will also find that a large number of organizations do not fully appreciate the value of the service the consultant brings to the table.  These organizations all too often expect additional services beyond the scope agreed upon, have leaders uncommitted to the change process, break lines of communication with the consultant, and ignore accountability and benchmarks. This leaves a business consultant demoralized, underpaid, and undervalued.
This leads us to the second question:
Will consultants take it upon themselves to ensure they collaborate with quality clients who appreciate their worth?
The answer to the second question is also yes and no. The "seasoned" consultant has put into place sustainable practices to command respect from clients. They also possess a client acquisition and retention plan to ensure quality clients who pay well and bring the consultant back to work with other internal teams. In other words, these professionals know how to avoid the "feast and famine" cycle.
Responsibility lies with the consultant
Although experts in their niche, many consultants lack the knowledge to steadily grow their businesses.  They are unsure how to market themselves, how to grow their income, how to price their services, lack skills to negotiate with clients, and feel isolated as independent coaches.  It is the responsibility of both seasoned and less seasoned business coaches to take it upon themselves to hone these skills if they are to thrive in a competitive marketplace.
Many consultants and coaches have failed to avoid the pitfalls of being undervalued, underpaid, and under appreciated. Here are some of the common traps business coaches fall into:
Clients often pick their brain for free information
Allocate time unwisely by spending too much time with "looky loo" potential clients
Offer deep discounts to earn business and then find it difficult to raise their rates with that client
Undervalue their expertise
Don't clearly define deliverables, timelines, and benchmarks
Are uncomfortable with negotiating fees and the critical sales process
Organizations and business coaches that collaborate together are energized by the partnership. Results are achieved, profits soar, and teams are more cohesive. Consultants who align with companies that understand the consultant's worth will find themselves to be appreciated, well paid, and consistently booked.
Attention Independent consultants, business coaches, facilitators, and trainers
If you have a practice that is half full or less and consider yourself under paid, you won't want to miss my 90 minute "complimentary" webinar that addresses the 3 biggest mistakes that keep you from working with top quality organizations that pay well, understand your worth, and bring you back to work with more teams! Several classes are offered now through the middle of May. Apply immediate practical methods that will have you earning more and working with committed clients who appreciate your worth!
Copyright TIGERS Success Series by Dianne Crampton
TIGERS Success Series is a team development consultancy based on 6 core principles that anchor high performance team dynamics. These principles are trust, interdependence, genuineness, empathy, risk and success. TIGERS offers licensing and certification to team building trainers and consultants interested in expanding their practice to serve organizational leaders from the break room to the boardroom. Learn more by scheduling a business call.