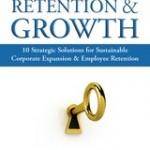 What is the definition of trust? According to the Merriam-Webster dictionary it is defined as having assured reliance on the character, ability, strength, or truth of someone or something.  A pretty straightforward definition with very little room for misinterpretation.
So why is trust so hard to come by these days to encourage team work in the business arena? According to "Building Trust in Business," an annual survey conducted by Boston-based Interaction Associates, trust in the workplace has declined every year (with the exception of a virtually stagnant 2013) since the 2008 financial collapse.  This means that as businesses slowly rebound and the economy starts to tick along, one key ingredient is missing from the formula for organizational success: employee trust.
In a recent blog I presented an overview of the importance of six researched based principles that produce collaborative teams and healthy work environments. These principles are trust, interdependence, genuineness, empathy, risk, and success (the acronyms of TIGERS Success Series). Today I delve deeper into the trust component of building and sustaining cooperation in workplace cultures emerging from a grueling and lengthy recession.
Some key findings in the "Building Trust in Business" survey points out how trust plays a major role in both high-performing and low-performing companies as follows:
High-performing organizations placed more value on customer and employee relationships and were better able to retain key employees. These organizations saw net profits grow 5 percent or more from the previous year.
Low-performing organizations, which were a staggering 65% of respondents, focused on cost-cutting instead of employee relations. Swift layoffs and cutbacks with little employee notice lead to a significant loss of faith in management. As employees competed against each other for positions, trust and team work among fellow coworkers eroded as well.
In retrospect, organizations and businesses that successfully emerged from the recession operated more transparently and less secretively than their counterparts. When the going got tough, they encouraged employees to provide input to solutions and have a say in brainstorming sessions and team building activities. Everyone had a stake in the organization's future and outlook.
According to Linda Stewart, CEO of Interaction Associates, "High levels of trust equals high performance. If you look at the lower-performing companies, in all cases they had lower levels of trust."
Trust is the cornerstone for collaborative and cooperative team work.  It is also essential for successful team building activities. Employees who trust their leaders and leaders who display trust in their employees reap the additional benefit of customer loyalty. A disgruntled employee with no faith in his company is not the employee you want dealing with customers, partners, and vendors. When companies are transparent and show strong, ethical characteristics, their employees will follow suit in all employee and customer interactions.
A healthy organization that exudes trust exhibit employees and leaders who are:
Accountable and committed to each other. There is no room for finger-pointing
Engaging in team building exercises  to strengthen commitment and relationship understanding
Respectful of each other opinions, creativity, differences, and thought processes
Increasing morale through positive feedback and coaching – not negative criticism
Committed to change processes to benefit the company and employees as a whole
Creating a safe work environment to encourage open exchanges of ideas, solutions, and processes
Loyal to each other and keep their word, promises, and commitments on projects and assignments
Expressing gratitude and appreciation openly to their coworkers
Striving to fully understand their job duties and the importance their position plays within the organization.
When businesses make trust a priority, there is higher morale, increased net profits, and more accountability in the workplace. As the Merriam-Webster dictionary stated, trust is the assured reliance on the character, ability, strength, or truth of someone or something. It all seems so simple and it takes vigilance.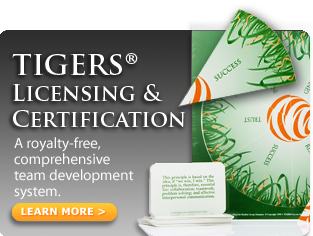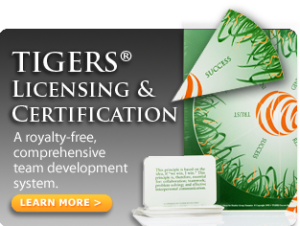 If you are a business coach or training consultant looking for proven resources that instill trust in the workplace, consider certification as a licensed TIGERS facilitator. I am looking for dynamic business coaches, internal and external trainers, facilitators, educators, and leadership consultants who are searching for proven resources and solutions to take their organization or consulting business to the next level. With opportunities to "brainstorm" with like-minded thought leaders, utilize the proven TIGERS Team Wheel and an arsenal of team-building resource tools, the "royalty free" TIGERS Facilitation Certification is the solution for the right candidates. Use proven, research-based resources and assessment tools that reveal team work behavioral issues that provide you with on target data for your training and workforce development solutions so you can minimize sources of conflict while improving team relationships so your team goals and roles stay on course.  If you are a consultant or trainer and fit this scenario, I would like to hear from you. Call (877) 538-2822.
Copyright TIGERS Success Series,Inc. by Dianne Crampton
Additional Trust Building Resources for Improving Team Work
1. TIGERS Among Us – Winning Business Team Cultures and Why They Thrive (Three Creeks Publishing 2010) Learn how companies from 10 employees to 1800 build trust on Teams
2. Complimentary Quiz – Do You Micromanage? – Micromanagement is a symptom of low trust and on the flip side speaks to whether leaders are trustworthy.
3. Complimentary Webinar – How To Build A Work Environment Where Trust and Cooperation Thrive 30 Minutes
4. Reserved For Members of the TIGERS Den –Trust Across America— 27 minute podcast Interview With Barbara Kimmel, Founder Trust Across America.

About TIGERS Success Series
TIGERS Success Series is a team development consultancy based on 6 core principles that anchor high performance team dynamics. These principles are trust, interdependence, genuineness, empathy, risk and success. TIGERS offers licensing and certification to team building trainers and consultants interested in expanding their practice to serve organizational leaders from the break room to the boardroom. Learn more.