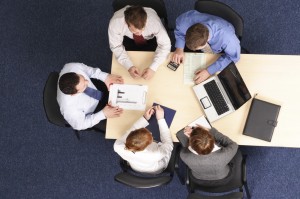 Copyright TIGERS Success Series by Dianne Crampton
The start of a New Year is always a great time to think about the future. Do you have a team development plan or a plan for recruiting, training, and developing employees? Do you know what your employees think is important for improving cooperation on cross function teams and in the organization as a whole? 
Have you reviewed your company culture and created a plan for coordinating your planning and employee performance and commitment into alignment? If so, you are ahead of the game–and you are following a path that successful organizations like Costco, Boeing, Dos Gringos and Zappos.com have blazed.
Like many companies, if you don't have a defined plan, you can start by answering these three questions:
 1) What is your company culture, and how will you strengthen it? What is it like to come to work in your company on a Monday morning? Do employees dread it, are ambivalent or happy to enter the door? According to recent studies, if you were standing with five people in a room only one of you would be optimistic about coming to work in the morning.
Does your culture support your productivity goal and exceptional customer service? Fostering innovation? Team cooperation? What are the quirks or nuances that make your organization unique?
Once you've identified what it feels like to work in your company, it's important to take steps to keep it healthy. Retreats, team-building exercises, and workshops help employees get into alignment with your culture, but to truly grow your culture requires focused energy on a daily basis by committed and engaged employees.
There are tools available to help you improve trust, commitment, engagement, cooperation, honesty, empathy, the spirit of innovation and greater success in your work environment. One tool is the TIGERS Team Wheel team development tool kit. It helps employees define behaviors that build workforce trust, interdependence, genuineness, empathy, risk and success. If this resonates with you, we begin training trainers in March.
2) How will you attract and retain talented people? The key to the future growth of your business lies in the width of your employment funnel and whether you attract high caliber employees to on board.  If the top talent is going to your competitors, your business could be positioned for a slow decline.
How will you attract the best employees? As many studies show, competitive salaries are important to people, but so are many other factors that include benefits, workforce cooperation, flexible scheduling, appealing work environment, and more.
Of course, retention is critical–and that's where a vibrant company culture that demonstrates behaviors that build and maintain trust, interdependence, genuineness, empathy, risk and success comes in. These principles build high levels of cooperation and loyalty among employees.
 Your planning efforts to create a stimulating, fulfilling environment for your employees is the secret sauce that will fill your employment funnel to over flowing and gain you the retention that drives growth.  
3) How will you groom future leaders of your organization?  It is important to plan for leadership transitions with employees who are prepared and trained to take the helm. Where will your next generation of leaders come from? World-class businesses prefer to promote from within, ensuring that their leaders are steeped in the company culture and understand the day-to-day operations of the business.
In our book, TIGERS Among Us – Winning Business Team Cultures and Why They Thrive we discuss how devastating it is to recruit leaders from the outside who split your work culture and environment into factions, which becomes unpredictable and untrustworthy for employees.
 In upcoming posts we will be deepening the conversation on workforce development planning sharing insights from stellar companies and discoveries from current research. Stay tuned.