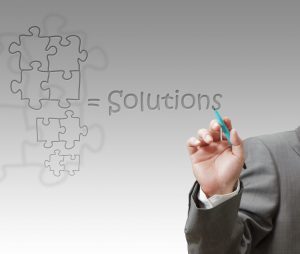 Would you agree to an operation where no X-ray or CAT-Scan was used to determine the need?  Probably not – right?  The same goes for team building to build a strong team. Why tinker with team dynamics without knowing where to start?
The term analytics has been tossed around for years as an important element for organizational success. The practice, however, is often misunderstood and underutilized. It is one thing to conduct a survey with your team members. It's another to interpret the data, implement change based on findings and then track improvement in those areas. In building a strong team, the analytic process is the key to long-term organizational and individual growth and success. Therefore, leaders would be wise to invest in the process.
When fully utilized, analytics are a key strategy for employee performance development. It is also an integral element of any successful workplace culture. Today's employees are looking for ongoing feedback and communication, job clarity and priorities, accountability and opportunities to learn and grow. While the employee is important in performance development, performance development strategies also need to be aligned with team and organizational goals to keep everyone on track and moving in the same direction.
Leaders must learn to work with their team members individually to assess their strengths and identify their areas for improvement. None of this can happen, however,  if leaders don't first understand where their department employees currently stand in the areas of cooperative core principles such as trust, interdependence, genuineness, empathy, risk and success. These six principles impact group performance in predictable ways.  Once known, then leaders know how to target and facilitate improvement in the areas that require attention.
TIGERS(R) metrics give the data needed for strong team improvement 
The TIGERS Workforce Behavioral Profile(TM) offers three surveys in one to assess existing group cooperation and high-performance team behavior. It also points leaders in the right direction to build a strong team. The results offer measurable solutions to  improve and then track the progress of building a strong team.
The six principles of trust, interdependence, genuineness, empathy, risk and success are research-based and validated for building an ethical, quality-focused, cooperative, successful and productive team.  With social psychology at their core, the six principles are anchored by positive behaviors that separate high performing groups from those that are not. These six principles enhance the success of your own organizational vision, mission, and values by strengthening cooperative team behavior that impacts group relationships, group roles and goals. They also shorten the time new teams spend in the stage of team growth called Storming. This is the stage filled with team conflict, misunderstandings, performance hesitation and false starts that cause so many new teams to falter.
When behaviors that support these six principles are present, predictable high-performance team outcomes occur. If any one of the principles is missing or less developed, predictable problems continue to arise. By analyzing your team's collective opinion, leaders are better equipped to laser-focus their time and resources on what will help their team to improve the most.
The profile is effective because it utilizes three surveys, as well as individual guidance and improvement strategies, to assess and track problem areas within your team. The first survey offers reliable information on how to leverage your team's strengths for improvement. After the initial survey, leaders are more laser-focused to develop and deliver their team improvement training or intervention to address the areas that require attention.
Then, six months to a year later, leaders resurvey that same team to compare the first two reports and determine what positive change has developed. The second survey then points out new opportunities for growth and development. Leaders should then deliver another targeted training or team building intervention and then six months to a year down the road, survey the team again to compare.  This three-in one approach encourages teams to tackle one problem and a time. Then success in one area continues to build trust, confidence and success in other areas. This makes building a strong team manageable with growth occurring over time.
Research shows that training and workforce development must transfer to improved skills and attitudes in order to be effective. The TIGERS Workforce Behavioral Profile's three-in-one approach helps leaders track and measure their team improvements over time rather than just once. This approach helps leaders to measure their training and team intervention transference to improved skills and attitudes, as well as ultimately the return on their team improvement investments. Leaders are able to correlate profile results with expense changes in their profit and loss statements to correlate their return on investment.
Data, research and analytics are important requirements for a team to be successful.  When the data and research lead to applied changes and strategies within the organization, return on investment can be analyzed.
Ultimately data alone cannot change an organization's ways. It does expose areas for improvement. It's what you do with the data that matters. This is why the TIGERS Workforce Behavioral Profile is so successful in helping leaders  create a cooperative and strong team within their organizations.
Analytics are a key component for employee performance development, which is an element that top candidates are looking for from their positions. By assessing current levels of trust, interdependence, genuineness, empathy, risk and success, leaders are able to implement change initiatives and track team member progress to lead their teams to success.
Care to take this conversation further?
We found the following helpful in adding to the conversation:
Copyright TIGERS Success Series, Inc. by Jennifer Zimmerman
About TIGERS Success Series, Inc.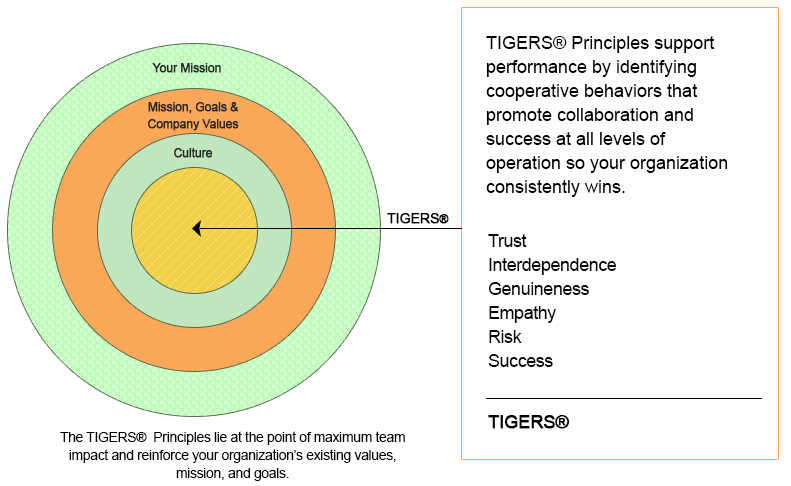 TIGERS® Success Series provides a comprehensive, multi-pronged and robust system for improving both your work environment and profitability.
We specialize in training your managers in group facilitation methods that build workforce cooperation and high performance team dynamics. Scaled to grow as your organization and leadership performance grows, our proprietary Team Behavior Profile and  Management training workshops are based on the six principles we have found to be the right mix to make this happen.
The TIGERS 6 Principles are Trust, Interdependence, Genuineness, Empathy, Risk and Success. Born from our many years of business, psychology, and educational group dynamic research, and subsequent four years of independent evaluation, we instill and sustain behaviors that improve work group performance and talent retention for measurable ROI.
TIGERS serves committed leaders who desire enhanced cooperation among departments, teams, managers and individual employees. This heightened level of cooperation leads to improved revenue, purpose, commitment and impact. Employees quit companies because they don't get along with leaders and co-workers. Work culture refinement and behaviors that build strong relationships erase this trend in fully measurable ways.
For more information or to request a presentation to your group or association,  call 1+541-385-7465 or visit https://corevalues.com