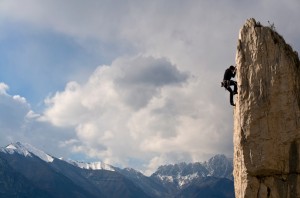 By TIGERS Success Series
In days past, being a supervisor put you in the fast lane for more autonomy and the head of the line for climbing the corporate ladder.
A new survey finds that while workers want overall success, none want to be a corporate executive. In a survey of over 1,000 people, more than half aspired to be entrepreneurs or work as an independent, while not a single respondent aspired to be a corporate executive.
These are the results of Intelligent Office's first Work IQ survey. With unemployment still plaguing the economy, Intelligent Office set out to see if people are working in traditional ways or whether there has been a movement toward a more flexible work style. By profiling both current and aspirational work styles, Intelligent Office created Work IQ to better understand this question.
The results of the survey point to an evolution of work styles and the development of a different type of worker – the New American Worker – that is defined by a desire for mobility and flexibility typically found in the entrepreneur and/or independent business owner.
"We believe there is a paradigm shift happening in our culture as it relates to work style," said Tom Camplese, Chief Operating Officer, Intelligent Office. "We have been watching this shift take place over the course of the last few years at Intelligent Office by talking with entrepreneurs, business owners, and mobile executives on a daily basis. The Work IQ survey put this into hard numbers."
Additional highlights from the Work IQ survey that support this include:
Nearly 65 percent of survey participants desire to work as an entrepreneur or independent
61 percent of people surveyed desire more flexible work hours than the traditional9:00 – 5:00
People are looking for a new balance – work hard/play hard; Nearly half of the respondents want a work hard/play hard work life balance
Technology remains an invaluable resource to more than 45 percent of the respondents
Overwhelmingly, people aspire to have more mobility in their work life
66 percent responded that they aspire to have a laptop or tablet that affords them freedom and mobility
"What we continue to hear from people is that they increasingly need and expect services that will help them grow and be more successful, but they want those services to match this new work style – flexible and mobile," continued Camplese. "Overall, they are seeking more balance and freedom in everything, including the services that support their business efforts."
So what is it?
Work IQ was an online and includes responses from 1,075 people. As part of the survey, four different work styles were analyzed:
Corporate Executive: Someone who aspires to work like a corporate executive wants to wake up knowing exactly what needs to be accomplished and how to do it with a solid path for growth and advancement.
Professional: Someone who aspires to work like a professional often has a career and specialized educational training. Professionals engage in creative and intellectually challenging work where customers come first and receive the highest levels of service.
Entrepreneur: Someone that wants an entrepreneurial work style typically is an idea generator who is passionate, and a risk taker that has the ability to execute against ideas. This person's ultimate desire is to be in charge of your ideas and operate outside of a "traditional" work environment.
Independent: Someone that aspires to work like an independent is looking to be the boss with a flexible work schedule that allows control over they day. This person does not want to be defined by a label, a title, or a company.
Basically it makes sense why employees would be resistant to assuming management positions. If workforce development planning is not the C-Suite radar and senior managers are not providing leadership training or mentorship before employees climb the laddar, why do it? It also makes sense why middle management feels stretched and discouraged. Why not form a collaboration instead?
So, what do you think?