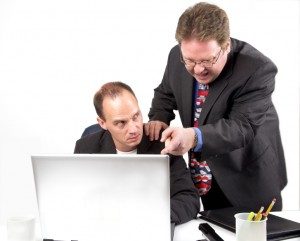 Workplace toxicity can present in many different forms. It also comes from many directions  and from different people. Let's include both peers and managers to the list of people who contribute to workplace toxicity.
Toxic behavior can be anything from narcissistic behavior to bullying to blaming others. Workplace toxicity slowly erodes trust and productivity among team members and all those directly and indirectly involved with the toxic behavior. When it comes down to it, toxic behaviors are at the root caused by a lack of empathy. Fortunately, a culture of empathy can be encouraged through empathy training.  Once empathy is a valued principle supporting  by the work culture, toxic employees tend to either get on board or leave, resolving the issue.
Assess the level of empathy in your workplace to determine if workplace toxicity exists
From the leadership side, you might find it difficult to assess the level of empathy in your workplace. It is, however, a critical step for ensuring an engaged workplace.
Empathy is the desire and ability to understand another person's perspective or circumstance regardless of whether you agree with that person. It is a quality that enables you to imagine what another person feels, desires or needs. Behaviors that are anchored by Empathy separate toxic, ineffective or disengaged employees from truly excellent ones.
Here's why:
Teams that resonate with empathy experience more cooperation among employees and this results in higher productivity.
Employees are resilient when conflict arises, which means that work processes don't get bogged down by people who are angry with one another.
Employees are happier and build better co-worker relationships, which means trust improves.
When you add this all up, overall employee engagement improves. Your best employees want to stay.
With that said, some people may view empathy as a weakness, while others may be struggling to understand exactly what it means to be empathetic in the workplace. A few resources to help you better understand what empathy is and how to assess it in your workplace include the Empathy episode of the TIGERS Training Podcast Series and the free TIGERS Webcast Replay.
The one-hour training broadcast discusses:
What empathy is and what it isn't and how some of the most powerful and tough leaders use it consistently to build high-performance teams.
The value empathy plays in resolving a conflict that doesn't surface again.
How improvements in empathy can be measured against cost savings and productivity improvements in your organization and what this means for improved revenue and employee morale.
What low test scores in empathy mean about your department or work team and how to use this information for workforce development and training initiatives.
Interactive Q and A.
The free TIGERS Webcast Replay teaches:
What empathy is and what it isn't
A 5 point scale for assessing your own empathy level
What happens when managers lack empathy
Why this is an issue for organizations right now
Both resources offer in-depth insight into what empathy is, why it's important and how to improve it within your prganization to correct workplace toxicity issues.
Working with a toxic manager
Sometimes workplace toxicity is a little more complex. Frequently the problem sits with one of the people who are supposed to be working to build a strong workplace environment.
When the toxic employee is a manger, good team members may feel that their only course of action is to leave the workplace entirely. Therefore, it is important to incorporate actionable strategiest to improve your working environment. Leaders who demean and insult their employees, demand unearned admiration and take credit for others' work while taking none of the blame are engaging in toxic behaviors that trickle down and affect all areas of the workplace. Team members who have a toxic boss will likely benefit from the CARS method (connect, analyze, respond, set limits):
Connect with empathy, attention and respect. When you first come into the office, genuinely strive to connect with your leader by asking how their weekend was, asking their opinion or offering praise for a task well done. But keep the conversation brief to avoid time management accusations later on.
Analyze your options. Make a list of your options for dealing with the situation, including quitting, transferring departments or talking to HR.
Respond to hostility in writing. Consider sending brief, informative, friendly and firm emails responding to negative situations to explain your point of view.
Set limits on the poor behavior. This can include pointing to protocol to turn down assigned tasks or asking HR to sit in on a meeting with the involved parties to document the behavior.
As a team member, you may feel limited by what you can do to address a leader's toxic behavior. There are options, however. You can affect positive change through actionable strategies.
When it comes to the root of it, toxic behavior is simply a lack of empathy and this contributes to workplace  toxicity. The ability to imagine what another person feels, desires or needs is one of the most important aspects for a workplace culture to survive and thrive. Without it, toxic behaviors abound.
To improve empathy in the workplace, leaders should assess their current empathy levels by engaging in learning opportunities that are freely available.  If a leader is toxic, team members can implement the CARS (connect, analyze, respond, set limits) method to encourage better behavior from their leaders. With these strategies, both committed leaders and team members can improve empathy and reduce workplace toxicity.
Care to dig deeper into workplace toxicity?
Consider the following articles and resources to add to the conversation:
Empathy – A Critical Element Of An Engaged Workplace Webcast Replay
Copyright TIGERS Success Series, Inc. by Dianne Crampton
About TIGERS Success Series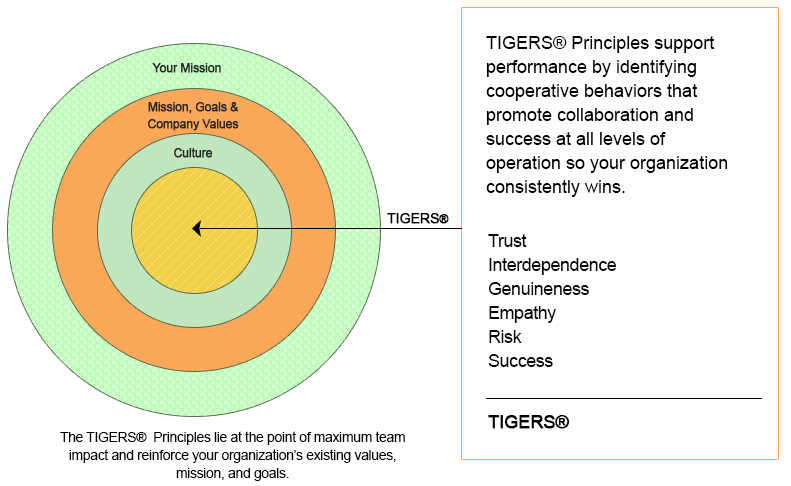 TIGERS® Success Series takes the guesswork out of workforce development. TIGERS provides a comprehensive, robust system for improving both your work environment and profitability.
We specialize in developing high performance work cultures. Scaled to grow as your organization and leadership performance grows, our proprietary Team Behavior Profile and  Management training workshops are based on the six principles we have found to be the right mix to make this happen.
The TIGERS 6 Principles are Trust, Interdependence, Genuineness, Empathy, Risk and Success. Born from our many years of business, psychology, and educational group dynamic research, and subsequent four years of independent evaluation, we instill and sustain behaviors that improve work group performance and talent retention for measurable ROI.
For more information or to request a presentation to your group or association,  call 1+877-538-2822.