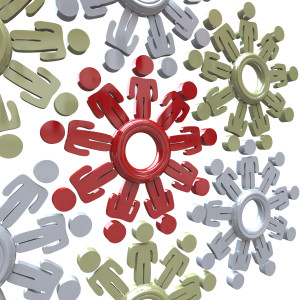 As different as one person is from the next, the world is interdependent. People rely on one another to get by. This is why interdependence understanding is so important.
This world is a diverse place, composed of billions of people with some shared and some differing experiences that make up the whole. As a leader, how you interact with those different from you shapes your workplace and your success in this diverse world. It works out best when you acknowledge that people are different and then stress the value of interdependence and inclusiveness in the workplace.  When you tap into those differences based on strengths, the team can do more with less and be more successful.
Leadership strategies for growing team member interdependence and inclusiveness

With the following four leadership strategies, executives can grow both employee interdependence and team interdependence in the workplace.
Encourage nonconformity to boost interdependence.
Change is sometimes viewed as a bad word. In reality, change is the factor that keeps the world progressing. Important inventions, innovations and improved practices and procedures emerge from change. The workplace (and human) development requires it.
Nonconformists are typically the ones to bring about these changes because they are willing to think differently and are true to their own thoughts and beliefs. This is true even when the nonconformist is faced with adversity.
As a leader, don't worry about what other leaders or other companies are doing to get ahead.  Instead, focus on your own goals and beliefs. Don't be afraid to go against the grain to get there.
Start at the top to improve interdependence.
It might seem logical to create a diverse workforce from new hires at the bottom.  However, if top leadership doesn't reflect a diverse culture, many team members will feel unwelcome and may leave for a more diverse company.
When top leadership is comprised of people with differing backgrounds, ages and experiences, your company is better able to understand and mirror the changing demographics in society. This allows you to serve your customers better as well as your workforce.
On top of hiring diverse candidates for top positions, work on creating a culture of growth that values working with high potential employees to develop them into leaders for the company. Encourage this growth on all levels and provide equal opportunities for all employees, regardless of their backgrounds.
Leverage diversity to improve interdependence.
The optimum way to embrace a diverse culture and use it for the greater good is by leveraging differences. Ask questions about how differing perspectives, skills and experiences can be utilized to change the status quo and create a better system for everyone.
This approach views differences as an asset and it enforces the fact that all human experiences are valid. View your diverse workforce as the asset that it is, and use it to create a better experience for everyone.
TIGERS approach to Interdependence.
TIGERS Success Series teaches leaders how to build cooperative and successful teams by tapping into six core principles required for high performance group performance.  The six principles are  trust, interdependence, genuineness, empathy, risk and success.
So, how do managers leverage strengths to produce successful business outcomes?
TIGERS first level of manager as facilitator training teaches managers how to facilitate the different ways people think and process information to define department and/or company group norms of behavior that quickly build high performance on teams. In this training, participants learn to:
Facilitate their department or project team behavior agreements for maximum accountability and buy-in. This frees them to be able to focus on growth and innovation rather than dealing with conflict and team drama.
Facilitate a tool that teaches teams the behaviors that build strong teams and behaviors that will result in problems for everyone.
Facilitate and correct team-identified behavior problems.
This course is taught online and includes a facilitation manual; a tool to help facilitate diversity; and small group to one-on-one training with Dianne Crampton, founder of  TIGERS Success Series. Training is customized and offers ample time for trainees to discuss their particular team dynamics.  On-site training is available to organizations with eight or more participants enrolled in the program. This means that customized solutions can be development and incorporated into the training design.
In order to grow team interdependence, managers must learn how to facilitate team member differences and deploy individual strengths. When managers learn to facilitate group dynamics the correct way, the team begins to gel rather than fall into "Us versus Them" factions.
Review.
The world is a diverse place, full of differing experiences and opinions. At the same time it's best not to forget that society is interdependent and revolves around people helping one another to get by.
To create a connected and interdependent workplace, focus on building a diverse team and utilize individual strengths to produce successful team results. Some leadership strategies include:
Encouraging nonconformity;
Starting at the top and creating a diverse leadership team;
Leveraging diversity by focusing on and utilizing individual strengths; and.
Developing managers to facilitate team problem solving and decision making the correct way for successful outcomes.
\With these, and other strategies, leaders can create a strong interdependent and inclusive team.
Care to dig deeper into this Interdependence conversation?
We found the following articles helpful in adding to the conversation:
Copyright, TIGERS Success Series, Inc. by Dianne Crampton
About TIGERS Success Series, Inc.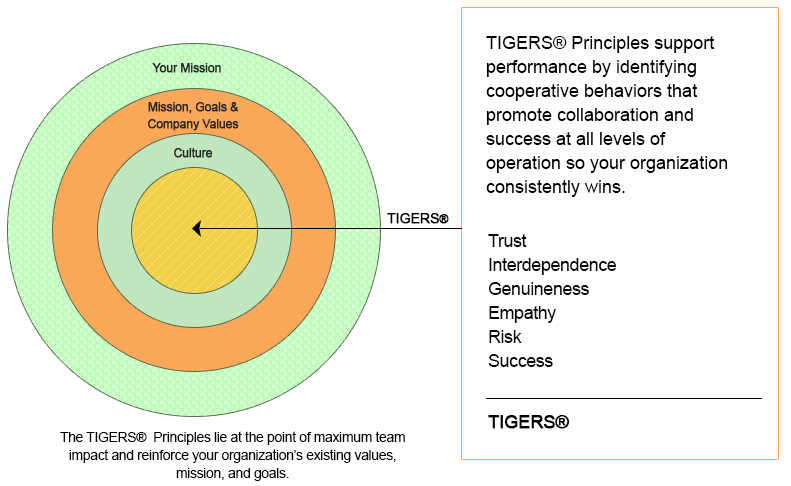 TIGERS® Success Series provides a comprehensive, multi-pronged and robust system for improving both your work environment and profitability.
We specialize in training your managers in group facilitation methods that build workforce cooperation and high performance team dynamics. Scaled to grow as your organization and leadership performance grows, our proprietary Team Behavior Profile and  Management training workshops are based on the six principles we have found to be the right mix to make this happen.
The TIGERS 6 Principles are Trust, Interdependence, Genuineness, Empathy, Risk and Success. Born from our many years of business, psychology, and educational group dynamic research, and subsequent four years of independent evaluation, we instill and sustain behaviors that improve work group performance and talent retention for measurable ROI.
TIGERS has served committed leaders who desire enhanced cooperation among departments, teams, managers and individual employees. This heightened level of cooperation leads to improved revenue, purpose, commitment and impact. Employees quit companies because they don't get along with leaders and co-workers. Work culture refinement and behaviors that build strong relationships erase this trend remarkably fast.
For more information or to request a presentation to your group or association,  call 1+541-385-7465 or visit https://corevalues.com