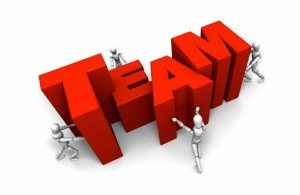 With a growing business, a larger customer base and increasing demand, it's time to hire more team members. When you do need to create positions or add more employees to your team, there's one big area that should not be overlooked: the company culture. When scouting for and interviewing potential candidates, hiring managers need to take a number of factors into consideration, separate from the candidates' experience and qualifications. How the potential employee will fit in with the existing team is one of the most important aspects of successful hiring. This doesn't mean that the new candidates should have the same background or the same interests as the existing team members, but rather that the new candidates have the ability to understand others' strengths and to merge their own strengths in a way that is compatible and not competitive with the existing team members.
Team building tips for finding compatible candidates for your existing team
Hiring managers should implement the following team building tips when recruiting and interviewing potential candidates to ensure the best fit for their organizations.
Aim for consistency.
Consistency may not be as big of a problem when an organization has one hiring manager, but when an organization has a whole team that performs interviews, inconsistency can prevail, affecting the quality of the new hires. Even when new hiring criteria is in place and recruiters understand what skills are required for the position, recruiters may still use subjective processes, such as listening to their gut feelings, to make the final hiring decisions. This leads to inconsistency. To create a more consistent strategy, leaders should train hiring managers on the company's long-term goals to give them a better understanding of the qualifications that desirable candidates possess. Effective sourcing strategies along with clear communication are essential components that help create consistency with the hiring process.
Come prepared to the interview.
During the interview process, potential candidates are often met with questions of a similar nature, such as what are some of your strengths and what are some of your weaknesses? These questions may turn up important answers, but most job seekers have an answer to these common questions prepared and in the holster. Instead, hiring managers should ask strategic questions that cause the candidates to pause and think on their feet for an answer. This strategy will greatly help hiring managers to narrow down the list, Some uncommon questions that hiring managers should consider adding to their list include: Why shouldn't I hire you? Do you follow our mission? and how do you define success?
Pay close attention.
During the interview, there are many subtle signs that hiring managers should be watching out for. You must quickly know what kind of talent and personalities your managers will lead. To establish a baseline confidence level and decide who you'd like to keep on, look at each person's track record, skills, the type of energy they put out and how their values fit with the organization, No company wants to have a toxic work environment, and preventing this type of workplace starts with hiring the right people. Body language, your gut instinct and how the candidate treats others are all important indicators to whether or not a candidate is worthy of being hired. So on top of the answers that the candidates provide, pay attention to how they interact with you and others around them to determine if they have the best personality type to merge with the existing team. When highly interactive team building activities. like the TIGERS Team Wheel™, are deployed before hiring, managers are able to see exactly how people interact with one another in real time.
Engage with employees.
Many young employees have the reputation of constantly switching jobs, and hiring managers may be hesitant to hire employees who have worked at several different companies. But what these employees may be missing is the ability to use their strengths on projects that they are passionate about. Rather than shy away from these employees, hiring managers should take the time during the interview process to determine why they left previous positions and what they are passionate about. This way, they can assess the compatibility of the candidates with the available positions. And once candidates are hired and in the door, leaders need to take the time to personally engage with their team members to determine their job satisfaction and if they are being given the opportunity to use their strengths in the workplace. One way to do this is by using a survey to measure the quality of trust, interdependence, genuineness, empathy, risk and success within the team's culture. This can reduce employee turnover rates, which will save money for employers and increase happiness for employees in the workplace.
Fire when necessary.
One mistake that leaders make after they make a bad hire is to keep that person around for too long. Yes, you need to take the time to properly train and onboard your new employees, and yes, there is typically a learning curve that new hires must get past to perform their best work. Once you know that the employee is a wrong fit for the company,however,  let that person go. Leaders may know that employees are a wrong fit when they consistently fail to meet performance standards, cause problems with other employees or cannot meet deadlines, among several other potential problems. If you have already made your best effort to coach and work with these employees to improve their performances and nothing has worked, then it is time to let that employee go and start looking for a replacement.
In our book, TIGERS Among Us – Winning Business Team Cultures and Why They Thrive, one leader actually gives the employee the option to quit before 90 days, and receive $2,000 for doing so.  This leader only wants dedicated people, knowing that the wrong hire creates more problems that cost more than $2,000 to fix.
Your employees are the biggest asset to your company, and it's better to take the time to make the right hire in the first place, rather than try and rectify the situation as the company grows. If your company does not have a hiring strategy in place, take the time to review these team building tips and to create a strategy now so that hiring managers can create a consistent hiring process. Hiring managers and leaders should also prepare a list of questions for the interview, pay close attention to the candidate's body language and actions, engage with their employees and fire when necessary to keep the team growing and running smoothly.
Want to take your learning further?  Visit the following articles for more information:
5 Things You Need to Know to Stop Hiring Jerks
Copyright TIGERS Success Series, Inc. by Dianne Crampton
About TIGERS Success Series, Inc.
TIGERS® Success Series provides a comprehensive and robust system for improving both your work environment and profitability.  We specialize in workplace enrichment and employee re-invigoration management facilitation methods that builds workforce cooperation and high performance team dynamics. Scaled to grow as your organization and leadership performance grows, our proprietary Team Behavior Profile and  leadership training workshops are based on the six principles we have found to be the right mix to make this happen. The six principles are Trust, Interdependence, Genuineness, Empathy, Risk and Success. Born from our many years of business, psychology, and educational group dynamic research, and subsequent four years of independent evaluation, we instill and sustain behaviors that improve work group performance and talent retention for measurable ROI.
Since 1987, TIGERS has served committed leaders who desire enhanced cooperation among departments, teams, managers and individual employees. This heightened level of cooperation leads to improved revenue, purpose, commitment and impact. Employees quit companies because they don't get along with leaders and co-workers. Work culture refinement and behaviors that build strong relationships erase this trend remarkably fast.  For more information call 1+541-385-7465 or visit https://corevalues.com .