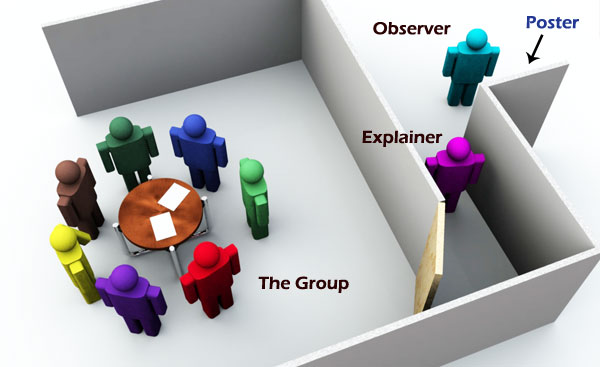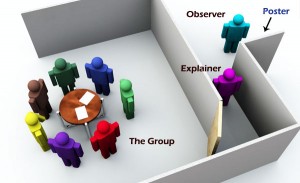 Do Boomer, Gen X and Millennial employees work well together? As the workforce ages, there appears to be a surprising degree of generational harmony, not conflict in the workplace. 
Despite the demographic shift that is making the nation's workforce older, a national survey commissioned by the Fairfax County Economic Development Authority (FCEDA) finds that working Americans from different generations – Baby Boomers and their Gen X and Millennial counterparts – value each other in the workplace to a surprisingly high degree.
Conducted by Ipsos Public Affairs, the national survey of almost 2,000 rank-and-file employees and business decision-makers reveals a striking consensus among older and younger workers that the best workforce contains representation from across generations.
"The way we tend to discuss generational difference in the workplace focuses on just that – our differences – and the issues they present for employers," said Gerald L. Gordon, Ph.D., president and CEO of the FCEDA. "This survey surprised us showing that a majority of employees, regardless of age or station, believes that each generation is valuable in its own right."
Gordon continued, "While the results of this survey provide encouraging news with respect to many of the cultural issues surrounding this demographic shift, the fact remains that employers will need to address – sooner than later – a broad array of issues surrounding our aging workforce, including handling different expectations among older and younger workers, changes in benefits packages, succession planning, physical changes in the workspace and developing new products."
Who are the Baby Boomers?
About 78 million "Baby Boomers" were born between 1946 and 1964, according to the U.S. Census. Every day, 10,000 Baby Boomers turn 50 years old, according to Matt Thornhill and John Martin of the Boomer Project. This rapidly shifting change in the American demographic landscape is also reflected in the workforce. And, according to the Boomer Project, it's not easy to predict when Baby Boomers will retire…if ever.
The U.S. Bureau of Labor Statistics (BLS) has also noted the shifting demographics of America's workforce. According to the BLS, about 39 million Baby Boomers will be working in 2018 and make up 23.8 percent of the workforce. That's up from the 12.4 percent of the U.S. workforce that was 55+ in 1998.
Most of the people surveyed believe that their company's leadership is prepared for an aging workforce, with more managers (70 percent) than rank-and-file workers (59 percent) thinking that is the case. Among the different generations, more younger employees (67 percent) than older employees (59 percent) thought their company was prepared.
More than nine out of 10 of those surveyed agreed with the statement: "the best workforce is one that has a good contingent of younger and older workers," with 92 percent of employees aged 18-34 and 95 percent of employees aged 55+ concurring.
When asked if one group – older or younger workers – was more valuable to the workplace than another, more than two-thirds (69 percent) of employees aged 18-34 and three-quarters (78 percent) of employees aged 55+ said that both were equally valuable in their own right. Employees aged 35-54 also agreed (77 percent).
The Value of Experience
Both workers and their managers (business decision makers) agree that no amount of enthusiasm can replace experience in the workplace. Even younger employees, who arguably can contribute enthusiasm more readily than experience, agree (62 percent) with the statement. Middle-aged (72 percent) and older employees (72 percent) are, perhaps understandably, in even greater agreement.
There was inter-generational consensus as well that experienced employees also are an asset to a company. Younger employees agree only slightly less readily (89 percent) than older employees (97 percent).
Notably, almost one in five older employees (22 percent) conceded that the best ideas at work typically come from younger employees. Overall, 32 percent of American workers believe that the best ideas at work typically come from younger workers and their managers are split – 51 percent agree and 49 percent disagree with the statement.
Some age stereotypes persist. Most managers and workers agree that, in general, older workers are more resistant to change in the workplace. Younger employees are much more likely (80 percent) to think so than their middle-aged (71 percent) and older (62 percent) colleagues.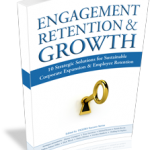 This makes sense given a high requirement to feel safe in the Boomer age group. In the Engagement, Retention and Growth training tele-summit series I address how to engage employees to champion change. Safety and how to achieve it is one criteria I cover.
A majority of business-decision makers (71 percent) and regular workers (61 percent) agree that it's tougher being a young working professional now than it was a generation ago.
About Fairfax County
Time magazine called Fairfax County, just outside Washington, D.C., "one of the great economic success stories of our time." Business growth helps Fairfax County fund the nation's top-rated school system and public services that contribute to the quality of life of residents. Fairfax County offers businesses a state-of-the-art telecommunications infrastructure, access to global markets through Washington Dulles International Airport and a well-educated workforce.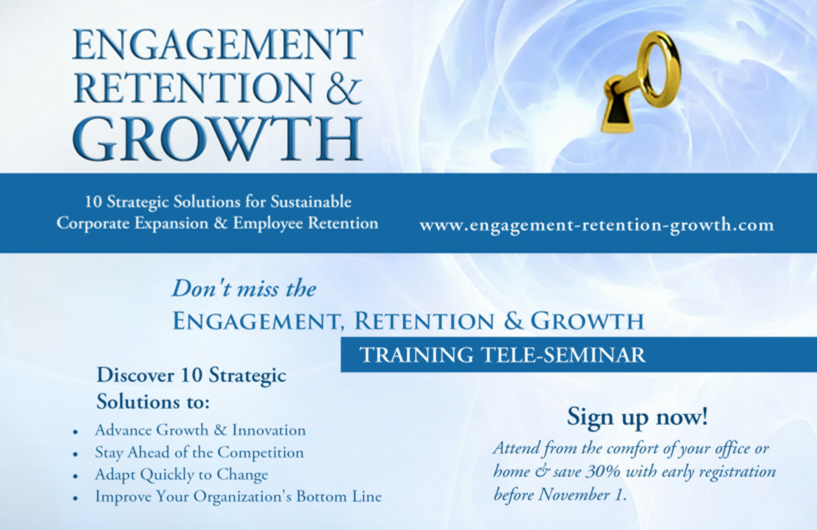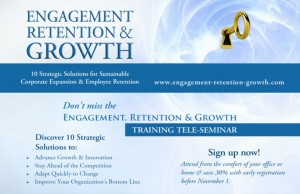 About the Engagement, Retention and Growth Training Tele-Conference Series: