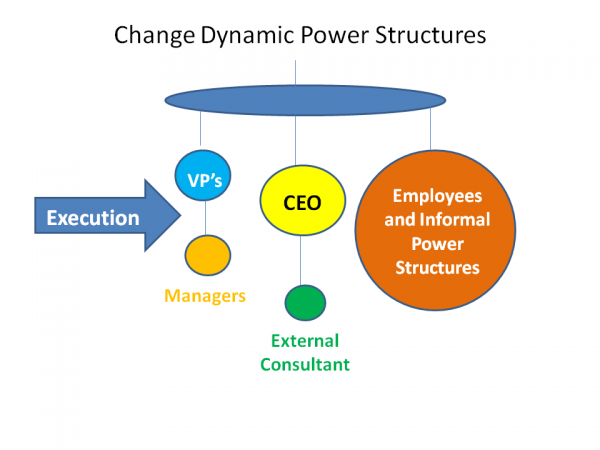 Something needs changing in your organization.  You've identified the problem that you'd like to address. You've even created a plan. But how do you take the change initiative from paper to reality? How do you engage your employees to champion change?
It is not uncommon for employees to resist change.  If the change is not consistently enforced, efforts you have made to change slip back into the the status quo.  But you don't want to be constantly reprimanding employees and enforcing new rules. Therefore, what's the best approach? The answer lies with the very employees you want to make the change. When employees are excited about the change, they are more likely to get on-board and model the desired outcome. This leads the rest of your team members to want to make the change as well. Your biggest challenge at this point is to get out of their way.
Team building strategies for executing a successful change initiative
Change can be difficult for employees to handle. Here are three strategies that get team members engaged and on-board before your goals roll out. When your employees help to champion the change, success comes more quickly and easier.
Address the community of influence.
According to Successful Redesign Strategies for Changing Systems, change initiatives  fall short when leaders believe that a change will be simple to implement. They planned for it in the board room.  It makes sense. Then it flops.  The executives have failed to identify the issues facing the majority of employees and their informal power structures also known as the community of influence. The community of interest, which includes employees, managers, supervisors, executives and supply channels, has emotional anchors with considerable impact and measurable behavior. How the community interacts with one another exemplifies how things are really done, regardless of the formal systems that may be in place. The emotional impact within the community determines a great number of factors, including engagement levels and whether team members stay with the organization or leave during times of change. It also determines whether team members will support or resist change initiatives as they arise. To truly be successful during times of change, leaders need to identify behavior issues within the community of influence and address how things are done, whether formally or informally within the organization. Simply adjusting the organization chart will not always convince team members to follow the new system. Employees must be emotionally on board and this involves knowing how to influence the informal leaders.
Identify your champions.
When making changes within your organization, you may believe that executives are the only qualified people to head up and roll out the change.  While leaders are invaluable for supporting initiatives, other champions are required for your changes to stick. According to the podcast and executive training, Engaging Employees to Champion Change,  as few as 10 percent of your employees need to be on-board prior to roll out to create momentum. This includes modeling the desired behavior before the remaining workforce adapts it. This means that in the beginning of a roll out, focus all of your efforts on training 10 percent of your employees extremely well to create consistent role models for the behavior dynamics you desire to see. All remaining employees will also need training as change rolls out. By identifying champions early on, training them well and ensuring consistency in desired behaviors, the rest of your team will be less resistant to the change. The remaining employee will also model the desired behavior faster. Bring in managers, connectors, informal leaders and those employees who are open to change to build a strong 10 percent.
Invest in a team culture assessment to assess your resilience
It's extremely difficult to roll out change if you do not understand the attitudes and behaviors of your community of interest. If you don't know where you workforce currently stands, it is difficult to design a successful execution plan. This is where a team behavior culture assessment comes in handy. The TIGERS Workforce Behavioral Profile(TM) is a simple, web-based assessment designed to help you monitor your workforce behavior before completing your planning.  The TIGERS Workforce Behavioral profile measures the quality of six principles required for high performance and resilient work groups.  The six principles are  trust, interdependence, genuineness, empathy, risk and success. They are anchored by behaviors that produce work group resilience or predictable problems if the six principles register low.  This researched-based team assessment alerts you early before performance issues and employee resistance disrupt your change goals.  What makes this assessment stand out is that each assessment comes with three surveys for each company. The first survey gives you a benchmark for assessing the resilience of your employees. Then the two additional comparison surveys give you valuable team behavior information for monitoring improvements over time.
Change can be difficult for employees to handle. This is especially true when it is implemented without careful thought and planning. But with well-thought-out planning, team assessment, training and proper implementation, leaders produce the conditions for employees to champion change.  Key strategies for successful roll out include:
Address the community of influence to determine whether there are issues already in place that would disrupt your execution;
identify champions and training them well before change rolls out; and,
Invest in a team culture assessment to determine your employees' resilience and then monitor impacts on your community of interest over time. .
With these, and other team building strategies, leaders can engage their employees to champion change.
Care to dig deeper into this conversation?
Check out the following resources to learn more:
Copyright, TIGERS Success Series, Inc. by Dianne Crampton
About TIGERS Success Series, Inc.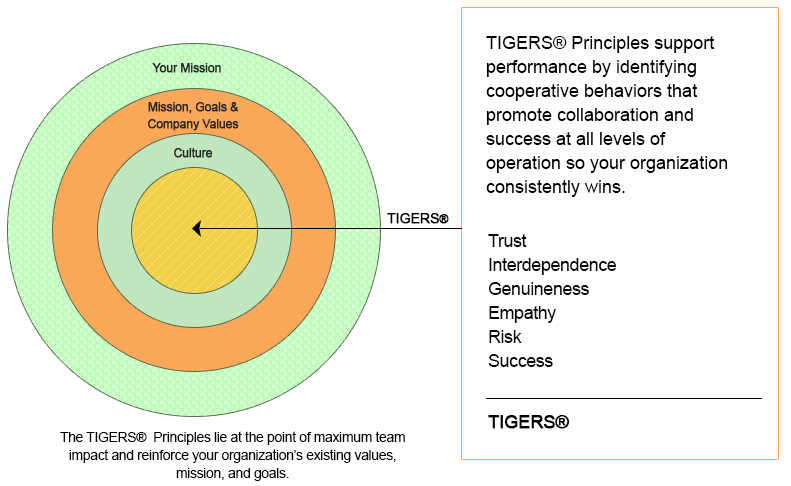 TIGERS® Success Series provides a comprehensive, multi-pronged and robust system for improving both your work environment and profitability.
We specialize in training your managers in group facilitation methods that build workforce cooperation and high performance team dynamics. Scaled to grow as your organization and leadership performance grows, our proprietary Team Behavior Profile and  Management training workshops are based on the six principles we have found to be the right mix to make this happen.
The TIGERS 6 Principles are Trust, Interdependence, Genuineness, Empathy, Risk and Success. Born from our many years of business, psychology, and educational group dynamic research, and subsequent four years of independent evaluation, we instill and sustain behaviors that improve work group performance and talent retention for measurable ROI.
TIGERS has served committed leaders who desire enhanced cooperation among departments, teams, managers and individual employees. This heightened level of cooperation leads to improved revenue, purpose, commitment and impact. Employees quit companies because they don't get along with leaders and co-workers. Work culture refinement and behaviors that build strong relationships erase this trend remarkably fast.
For more information or to request a presentation to your group or association,  call 1+541-385-7465 or visit https://corevalues.com