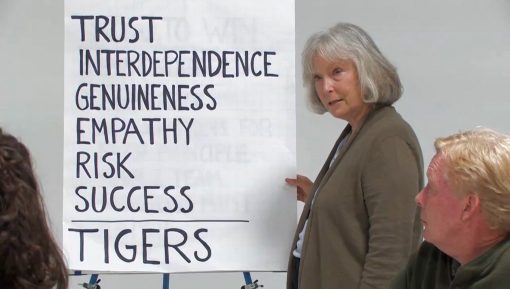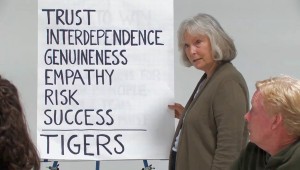 When you walk a mile in someone else's shoes, you understand their situation, feelings, and motives. That's empathy…and today's corporations, leaders, and employees seem to come up short on this basic soft skill.   Empathy is a skill important to building good workforce relationships.
When individuals are empathetic, they recognize emotions being experienced by another,  which is crucial to team work and collaboration.  The ability to make a connection and relate to others is a key cornerstone for businesses to thrive and experience growth.
For years, competitive and aggressive workplace cultures have all but pushed empathy out the door. Leaders and employees have long ceased trying to understand where their coworkers and team members are coming from. Innovation, morale, ethics  and creativity have died with cutthroat practices to reach the top.
Tapping into the Workplace Pulse
Empathetic leaders have the ability to tap into the pulse of workplace and make adjustments as necessary to correct teams and processes that have the potential to derail. Through team building exercises, team surveys, and open discussions with employees, these top executives are able to keep their organization on course.
Leaders who are empathetic also share another common trait – strong ethics. The Management Research Group has been administering the "360 review" process to executives for almost 30 years and have successfully built a database of over 100,000 leadership assessments. Their leadership effectiveness analysis revealed that the strongest predictor of ethical leadership behavior was empathy. Leaders who scored highest on empathy also exhibited the highest levels of ethically effective leadership.
To reap the rewards of higher ethics and improved employee morale, how do leaders begin to instill empathy within an organization? They can start by:
Lead by example – empathetic leadership is contagious. When C-suite management encourages open communication and dialog between employees, team work improves, misunderstandings do not escalate into high levels of relationship conflict, and productivity soars. Individuals are more accepting to differing viewpoints when other's feelings are considered.
Employee Surveys – Managers can periodically gauge the mood of their organization through confidential team surveys. Both weaknesses and strengths within teams and organizations as a whole are revealed. Evaluate early and often to experience real results and lower employee frustrations and workplace conflict!
Team building activities – Team games that are anchored by team goals encourage employees to support each other and create a culture of respect and emotional intelligence. Organizational morale, loyalty, and engagement are improved outcomes and accountability for team success is catalyzed.
Hire new staff based on capacity for empathy – As stated in my book Engagement, Retention & Growth, "Hire for fit, not for fill."  HR staff and managers should ask open ended questions that focus on responses toward empathy in given situations. Potential new hires should be a "natural" fit for an organization's culture not a square peg forced in a round hole.
Actively listen – When employees and managers stop talking at each other and put a little more effort into listening, improved  team work on projects and goals is inevitable. When viewpoints are expressed and acknowledged without fear of criticism from the team, ideas are born and acted on for the better of the whole not the individual.
Promote empathetic employees – According to Craig Dowden (PHD), Managing Director of SPB Organizational Psychology Inc., "many workplaces rewards are structured to encourage self-promotion. If organizations are serious about correcting this problem, make sure empathy becomes a critical part of how key individuals are promoted and recognized."
Organizations that make empathy a part of the workplace culture see team work and cooperation improve in all their processes including management coaching initiatives. Putting leaders in place who make the necessary connection with employees and understand where they are coming from is key to a creative, thriving workplace culture.
Jayson M. Boyers, executive director of the Division of Continuing Professional Studies at Champlain College in Burlington, Vermont has this to say about empathy, "A critical part of developing empathy is learning to understand, respect, and implement another individual's point of view rather than forcing your own."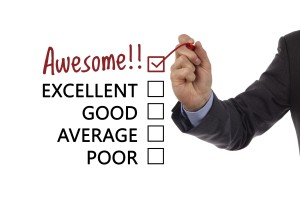 Business coaches and training consultants looking for proven resources to spark higher levels of empathy in the work place, consider certification as a licensed TIGERS facilitator. I am looking for dynamic business coaches, project managers, team leaders, internal and external trainers, facilitators, educators, and leadership consultants who are searching for proven resources and solutions to take their organization or consulting business to the next level.
With ongoing opportunities to "collaborate" with like-minded thought leaders, utilize the proven TIGERS Team Wheel team work game and an arsenal of team-building and action planning resource tools, to improve team dynamics. The "royalty free" TIGERS Facilitation Certification is the solution for the right candidates.
Use proven, research-based resources and assessment tools that reveal behavioral issues, sources of conflict, skill sets, strengths, and weaknesses within a team or organization. If you are a consultant, project manager, HR professional or trainer and fit this scenario, it's worth your time to learn more.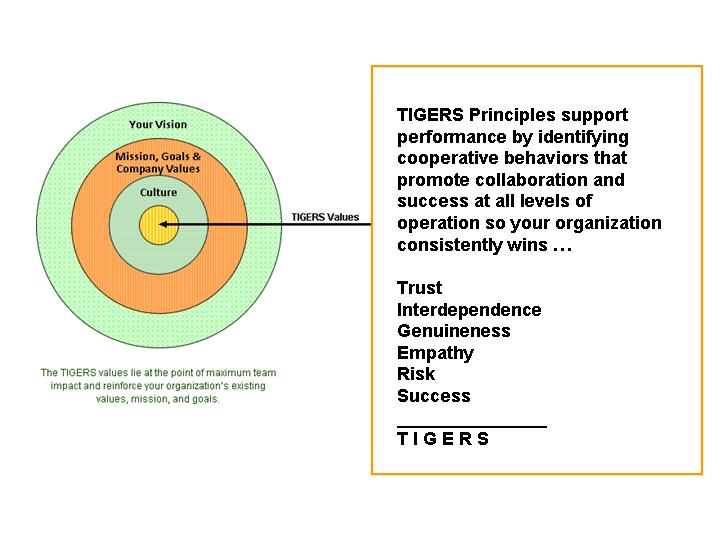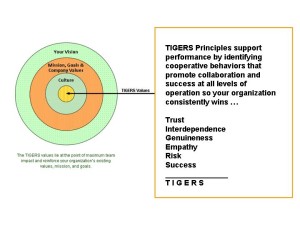 About TIGERS Success Series
TIGERS Success Series is a team development consultancy based on 6 core principles that anchor high performance team dynamics and team work. These principles are trust, interdependence, genuineness, empathy, risk and success. TIGERS offers licensing and certification to team building trainers and consultants interested in expanding their practice to serve organizational leaders from the break room to the boardroom. Schedule a phone call to learn more. Use this link: https://corevalues.com/contact/  or call 1 (877) 538-2822