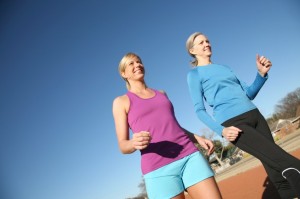 Copyright TIGERS Success Series
By Dianne Crampton
Come walk with me talk with me. This was my rally call when I was a manager and time well spent helping employees resolve their concerns while on the go – literally. It was my view that many people think better when walking and this put a definite spin the concept – leadership while walking around.
It appears my concept was not all that off target.
New Balance, one of the world's leading athletic companies based in Boston, has just released the latest results from its Organizations in MOTION™ program conducted with Wellness & Prevention, Inc.  Organizations in MOTION™ is an experiment in workplace wellness centered around strategic movement to study the impact of small and frequent amounts of physical activity on associate energy levels, cognition, and engagement throughout the day.
After completing an initial pilot program, New Balance broadened the Organizations in MOTION™ program to approximately 750 associates from their Product Management, Marketing, Design, and Human Resources teams in their corporate offices in Boston and Lawrence, Massachusetts. Pre- and post-surveys assessed associate energy levels at the start of the program and then again after 90 days. Of the 750 associates invited to participate, 345 completed the pre-wave survey and 239 completed the post-wave survey.
Key findings support the notion that the incorporation of strategic movement throughout the workday positively contributes to increased energy levels and engagement. Of survey respondents, 53 percent said they increased their level of physical activity and movement at work, and 89 percent of those respondents said they are likely to continue with the changes they have made.
After three months, associates reported an overall increase in energy levels. In particular, 37 percent reported high levels in the middle of the day – an 11 percent increase over the pre-wave. Additionally, 42 percent of respondents reported increased engagement and focus at work since starting the Organizations in MOTION™ program.
When asked how associates feel about work, virtually all measures increased significantly in the post-wave versus the pre-wave. Of note, the largest increases were seen for statements such as "I am enthusiastic about my job," "I find the work that I do full of meaning and purpose," "My job inspires me," "In the morning, I feel like going to work," "At my work, I feel bursting with energy," and "At my job, I feel strong and vigorous."
Throughout the 90-day program, New Balance received ongoing support in the form of a formal kick-off with Dr. Jack Groppel – Co-founder of the Human Performance Institute and Vice President of Applied Science and Performance Training at Wellness & Prevention, Inc. – a program toolkit, bi-weekly rally calls, and daily e-mail tips offering ideas and suggestions for frequent and creative workplace movement.
In addition, New Balance solicited volunteer Movement Champions, who, motivated to help the company live its brand promise to "Make Excellent Happen," continuously assessed participation and encouraged movement on all levels. This included incorporating fitness classes into the workday, designing fun and engaging associate competitions, and encouraging leadership to walk the talk and reassure associates that they had permission to move – at their desks, on calls, and in meetings.
"New Balance is proud to have a strong culture built on teamwork, creativity and innovation," said Joe Preston, Executive Vice President, Global Footwear Product & Marketing for New Balance. "This program enhanced our workplace environment by engaging our associates to collaborate in new ways to increase their energy and focus levels."
Dr. Jack Groppel developed the Organizations in MOTION™ program to help combat the health and organizational issues associated with today's corporate world. The results were shared at ignite365, an invitation-only thought leadership forum held last week in Baltimore, which focused on behavior change and the critical role of employee health in organizational performance.
According to Dr. Groppel, research shows that sitting in one position for too long – which is how the majority of executives and business professionals spend their time in the office – can lead to impaired blood circulation and a lack of movement that causes a decrease in metabolism and energy levels. Low energy levels, in turn, can lead to decreased alertness, pessimism, irritability, and an overall sense of disengagement, which can have a negative impact on employee health, productivity, and performance.
"People have to realize that even if they are extremely fit, sitting for hours in meetings or on conference calls causes the brain to begin shutting down," said Dr. Groppel. "Today's business leaders need to learn from companies like New Balance that strategic and frequent movement throughout the day can have a positive impact on employee engagement, focus, and energy."
Movement also decreases stress hormones. In our e-book action guide, Melting Your Stress Within 30 Days, movement along with nutrition and psychological exercises reduce stress and improve engagement.