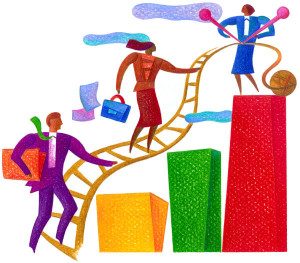 The change in weather, holiday deals and visits from family create a lot of distractions for employees during the holidays. As a result, productivity at work can suffer. All is not lost, however.  Even during such a busy season, Leaders can implement some tips to keep their productivity high during the holidays.
Team building tips to keep productivity high during the holidays
The following team building tips can help keep your employees productive during the busy holiday season.
Create a culture of owners.
Whether your company is employee-owned or corporate-driven, companies that instill an ownership mentality in their employees perform better than their competition.  They are also more capable in re-energizing their workforce after stalls in progress.
One reason employees are more productive and more innovative when they have an owner's mindset is because they are more invested in the company's progress and success.  For example, an owner's mindset can be encouraged through bonus structures and continuous learning opportunities.
Creating an employee-owned business structure is an ideal way to cultivate an ownership mentality among employees because they will actually be owners. Whatever the strategies you implement, encourage your team members to take ownership of their positions to keep productivity high during the holidays.
Allow for flexibility AND keep accountability.
In today's workforce, many employees expect some degree of flexibility. Examples include the ability to come in late one day a week or to work from home on occasion. The key to making flexibility work is accountability. This is especially true when you want to keep productivity high during the holidays.
All employees, regardless of where they are when they sit down to work, need to have access to information they need when they need it to complete their tasks. To improve efficiency, all team members need to be able to view data in real time. This helps everyone stay connected no matter if they are working from home or in the office. Likewise, team members who hold one another accountable encourage regular communication with the goal to keep everyone on track and productive.
Encourage breaks.
It might sound counter intuitive, but breaks are an essential element for productivity. To keep productivity high during the holidays create to-do lists.  To-do lists, for example, are a common tool for getting more done during the day. However, sometimes it's so easy to get lost in the list that you forget to take regular breaks.
If you spend all of your time focusing on your list without taking designated breaks, you will become less productive because it's easy to fall into the "multitasking" mindset. A quick email check or visit to social media might not seem like a big deal, but these distractions can eat up large amounts of the day.
Instead, focus on one task at a time. Take regular breaks where you're free to check social media for a specified amount of time.  Better yet, take a walk.  Take time to clear your head.
Also, avoid checking emails regularly. Instead, schedule designated times throughout the day to check and respond to emails.
Turn off phone notifications.
Smart phones allow you to easily access all that the internet has to offer with the swipe of a finger. However, are all of your apps slowing down your productivity?
Most apps on your phone alert you throughout the day. They also utilize the same tone, making it impossible to differentiate the important from the superfluous.
To become more productive throughout the day, turn off all push notifications from your apps. This includes email and social media. This way you're only notified when you receive a text or phone call. You can still see all of your notifications once you log into the app.  However, you won't be tempted to check your phone every time it dings.
Review
The end of the year is a busy time for most people.  It is easy for productivity to dwindle.
Too many distractions, social engagements and personal matters take up a lot of time and effort. It's easy to forget to focus on work when you're on the clock. The following team building tips can improve productivity and keep productivity high during the holidays:
Create a culture of owners so team members take accountability for the success of the organization;
Allow for flexibility of time, but ensure team members remain accountable for their progress;
Encourage regular breaks throughout the day so that team members can take their mind off of work for a few minutes to recharge; and,
Encourage everyone to turn off push notifications on their phones to remain distraction-free throughout the day.
With these tips, leaders can help team members keep productivity high during the holidays.
Care to dig deeper into this conversation?
We found the following articles to be helpful in adding to the conversation:
5 Things Highly Productive Digital Workplaces Have in Common

Why Not Making a To-Do List Will Make You More Productive

Do These 4 Things Immediately to Make a Productive New Year
Copyright, TIGERS Success Series, Inc. by Dianne Crampton
About TIGERS Success Series, Inc.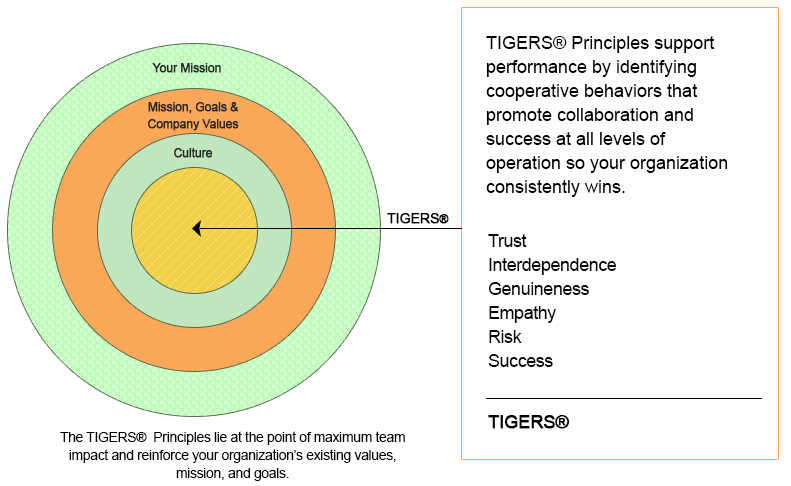 TIGERS® Success Series provides a comprehensive, multi-pronged and robust system for improving both your work environment and profitability.
We specialize in training your managers in group facilitation methods that build workforce cooperation and high performance team dynamics. Scaled to grow as your organization and leadership performance grows, our proprietary Team Behavior Profile and  Management training workshops are based on the six principles we have found to be the right mix to make this happen.
The TIGERS 6 Principles are Trust, Interdependence, Genuineness, Empathy, Risk and Success. Born from our many years of business, psychology, and educational group dynamic research, and subsequent four years of independent evaluation, we instill and sustain behaviors that improve work group performance and talent retention for measurable ROI.
TIGERS has served committed leaders who desire enhanced cooperation among departments, teams, managers and individual employees. This heightened level of cooperation leads to improved revenue, purpose, commitment and impact. Employees quit companies because they don't get along with leaders and co-workers. Work culture refinement and behaviors that build strong relationships erase this trend remarkably fast.
For more information or to request a presentation to your group or association,  call 1+541-385-7465 or visit https://corevalues.com