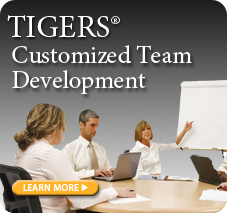 Employee disengagement is still high in the US. The talent retention of Millennials still looks like popcorn exploding out of a hot uncovered skillet. Is the workplace broken? Is leadership broken? If so, what are leadership training strategies to improve a broken workplace?
Here's some facts. The global workplace is in dire need of assistance.  Only 15 percent of employees are engaged worldwide. According to Gallup's World Poll, U.S. statistics are significantly better.  Thirty percent of U.S. employees are engaged at work. This still leaves around 70 percent who are not engaged in the workplace. This points to leadership training strategies that must boost both engagement and talent retention.
Here's why.  Organizations can offer many different benefits and perks to entice top talent to join their ranks. At some point, however, pay and benefits lose their appeal.  When it comes down to it, an employee's direct superior makes the difference in whether the employee is engaged and how likely she stays with the company. Without good leadership training strategies that are implemented BEFORE an employee is elevated to supervisor, employees quit poorly trained bosses. Couple this with poorly designed scopes of work for managers, many managers are in the business of filling out forms rather than engaging in high-development conversations with their employees.
This "leadership training strategies" issue reflects an overall culture problem.  Leaders aren't being properly trained to lead. As a result, employees are responding through disengagement, low productivity and job hopping.
Utilize TIGERS(R) to train leaders and build a better culture
Work culture continues to be a critical topic for leaders in 2018.  Whether or not work culture has been intentionally designed, leadership training strategies are currently on the ropes. The employee experience that the workplace culture evokes plays a large part in both recruiting and retaining top talent. Sure this is obvious. What is less obvious is that the failure to deploy sound leadership training strategies also advances or disintegrates an organization's reputation and success.
TIGERS Manager as Facilitator Training supports sound leadership training strategies
A strong workplace culture is created through intentional strategies modeled by employees throughout every level of the organization. This means that manager buy-in is essential for a workplace culture to be successful. The behavior of poor CEOs attracts poor managers. The trickle down effect is devastating to both culture and employee morale.
One way to get leaders on board and invested in improving both culture and engagement is offering continuous training on how to improve workforce behavior. From facilitating department consensus to releasing employees to serve on cross-functional organizational problem solving and action planning teams, the TIGERS Manager as Facilitator Training improves cooperation among employees and departments for high performance results. Facilitating high performance employee teams does not evolve by chance. It requires intention and commitment on the part of leaders to facilitate group dynamics the right way. When tied to organizational initiatives good facilitation can result in annual cost savings or long term improvements in productivity. Managers who are good facilitators bring people together to work toward solutions.  As a result, groups accomplish more with high levels of employee commitment and accountability.
The three-part program releases tools, resources and templates that streamline how groups perform.  Leaders learn how to apply expert group dynamic facilitation methods for decision-making, problem-solving and planning.
Training provides:
A successful, research-based team development and facilitation system that is sustainable and grows with departments and organizations.
A reliable, systematic approach to team facilitation that continuously improves upon the way teams work.
A system that provides a foundation learning structure for other work group and team development efforts.
Training outcomes that keep work groups engaged in goal achievement while developing leaders who effectively facilitate high commitment team decision-making and problem-solving.
An effective way to measure the return on investment for training and development outcomes.
Validated and reliable diagnostics that get to the core issues facing teams and work culture so that leaders understand exactly where to focus their team development and transformation efforts.
TIGERS Workforce Behavioral Profile(TM) supports targeted leadership training strategies
You can't change your workplace culture if you don't understand where you currently stand. It would be similar to operating on a patient with no Cat-scan or MRI.
If you don't know where you stand, you also have no means to track training transference for return on your training and development investments.  This is where the TIGERS Workforce Behavioral Profile(TM) comes into play.
The six TIGERS principles —-  trust, interdependence, genuineness, empathy, risk and success — work together to produce a cooperative, engaged workforce. This is the type of workforce with positive team relationships and high performance outcomes.  The TIGERS Workforce Behavioral Profile provides the intelligent data that leaders need to build and improve teams and work environments for their organizations. It also brings to attention leadership training strategies that can be tracked and measured over time.
The profile offers leaders the opportunity to utilize three surveys in one: a benchmark survey for targeted development, as well as two comparison surveys to track progress and illuminate next steps. With the three surveys, leaders are able to correlate the information they gather and the interventions they deliver with company financial reports to calculate their workforce development return on investment. The cost of the profile for 550 employees is less that $2.50 per employee as a one time fee. It gives you a company-wide culture behavior report plus department reports comprised of eight or more employees.  A smaller version of the profile for companies with less than 200 employees is also available.
Bottom line. The global workforce is in serious need of repair.  Only 15 percent of global employees are engaged in the workplace. The U.S. workforce fares slightly better, with around 30 percent of employees engaged at work. But this leaves around 70 percent of U.S. employees disengaged in their positions. Therefore, leadership training strategies are one of the most competitive advantages organizations need for attracting and retaining talented employees in this rapidly changing world. Good leadership training strategy implementation measurable effects both cost savings and productivity improvement.
Disengagement numbers are alarming in terms of organizational revenue and profitability. The solution is an overhaul in how leaders approach managing their team members. Most managers are trained in filling out paperwork rather than managing people and driving high impact problem solving conversations with employees. This disconnect represents a problem with how leaders manage their department teams as a whole.  It also impacts the quality of work culture. TIGERS leadership training strategies cure culture and engagement problems in measurable and practical ways. With deploying these strategies, leaders can start to build better workplace cultures. They type of culture that measurable improves employee engagement and productivity, as well as profitability.
Care to dig deeper into this conversation?
We found the following resources helpful in adding to the conversation:
Copyright TIGERS Success Series, Inc. by Dianne Crampton
About TIGERS Success Series, Inc.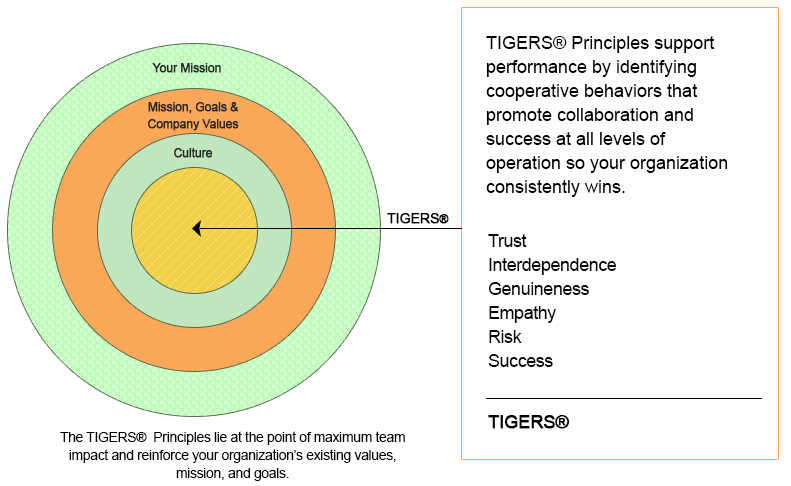 TIGERS® Success Series provides a comprehensive, multi-pronged and robust system for improving both your work environment and profitability.
We specialize in training your managers in group facilitation methods that build workforce cooperation and high performance team dynamics. Scaled to grow as your organization and leadership performance grows, our proprietary Team Behavior Profile and  Management training workshops are based on the six principles we have found to be the right mix to make this happen.
The TIGERS 6 Principles are Trust, Interdependence, Genuineness, Empathy, Risk and Success. Born from our many years of business, psychology, and educational group dynamic research, and subsequent four years of independent evaluation, we instill and sustain behaviors that improve work group performance and talent retention for measurable ROI.
TIGERS serves committed leaders who desire enhanced cooperation among departments, teams, managers and individual employees. This heightened level of cooperation leads to improved revenue, purpose, commitment and impact. Employees quit companies because they don't get along with leaders and co-workers. Work culture refinement and behaviors that build strong relationships erase this trend in fully measurable ways.
For more information or to request a presentation to your group or association,  call 1+541-385-7465 or visit https://www.corevalues.com