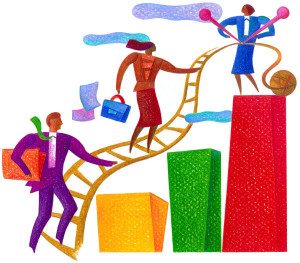 Can you imagine what it would be like to wake up in the morning with the thought, "I know everything. I have nothing new to learn."? What if a new skill learned neutralizes the stress you feel in your leadership position?  What if you could measure the positive impact of growing yourself to grow your business?

We often talk of personal growth and business growth as mutually exclusive concepts, but in reality the two are cut from the same cloth. Training for a marathon, taking an art class or learning a new language might all fall under the personal development spectrum. These skills, however, translate into valuable life lessons that also help you grow professionally. Training for a marathon teaches you planning, dedication and follow through; art teaches you how to be creative and to discover innovative solutions; and a new language opens you up to experiences with other cultures, all of which can be useful in your professional life. So as you wonder how to grow your business, start by looking into ways to grow yourself personally.
Strategies for personal and professional growth
Choose a job that allows you to learn.
College graduates frequently have little career experience and are desperate to find their first job in their chosen profession. It is, therefore, time to carefully choose that first job while understanding that no job will be  pefect. Many graduates mistakenly believe that one position in one company will be the perfect fit for them. The reality is that building a career will likely take many years to perfect. One way to look at it is that the first job is just the first chapter in a long book. Rather than looking for the perfect fit, look for companies that employ people that you look up to. As you grow in your position, you will take on some of the characteristics of the people you work with, so it would be ideal to work in a company that holds your same values, or has values that you can get behind and good management skills designed to coach you as you grow. Aside from those you'll be working with, look for companies that provide ample opportunities for you to learn. Whether on the job, through other learning opportunities or opportunities you discover yourself, if you're learning and growing your time is well spent.
Focus on developing effective writing skills.
Effective writing is one of the most important skills that you can develop for long-term success. How you communicate succinctly in email and through correspondence turns eyes on you. One of the most important aspects of effective writing is focusing on providing quality content over a large quantity of content. In today's world, consumers are constantly inundated with content from every angle and platform in their lives, and the content that truly stands out are the messages that provide in-depth and valuable content that teaches the reader something. To hone your skills, you should be constantly reading and practicing. Start by reading content that interests you and that you find valuable, and mirror your approach to that of top leaders in your industry. Continually practice writing and hone your approach until you find your unique voice that provides value to the reader and your industry.
Find your passion.
The easiest way to grow personally and professionally is by focusing on your passion and what gives you joy. Mindlessly clocking in and out of your day to go home to knock back a beer while watching TV does nothing for your personal development.  It also hurts companies.  This is because being not engaged drops the engagement levels of people around you and leads to higher than normal  turnover.  It lowers productivity and makes your company less profitable, which ultimately puts your job at risk. If you want to grow as an individual, it's important that you find companies, people or projects that inspire you. For example, the co-founders of Digital Trends, a website devoted to comparing and reviewing new technology, is an excellent example of turning passion into career success. Starting their business as a side project, the two leaders have since grown their site into one of the authoritative voices in the consumer tech industry. To grow yourself personally and professionally, don't forget to follow your passion.
Whether you're an hourly employee or the CEO of a rapidly growing company, it's vitally important that you take the time to grow yourself personally and invest in personal development strategies that will grow you as an individual. Whether it's intended or not, if you spend the time growing yourself personally, your efforts can translate to valuable skills that will help grow you professionally, and they may also help to grow your business as a whole. Many skills that we learn on a personal level will benefit your business, and some strategies to focus on include choosing a job that allows you to learn; focusing on developing effective writing skills; and finding and pursuing your passion on a daily basis. What you learn also results in effective team building strategies that move you along your desired career path.
 Here are some additional resources that deepen this conversation:

Passion Grew Digital Trends' Audience to 25 Million Loyal Fans
Copyright TIGERS Success Series, Inc.
About TIGERS Success Series, Inc.
TIGERS® Success Series provides a comprehensive and robust system for improving both your work environment and profitability.  We specialize in workplace enrichment and employee re-invigoration management facilitation methods that builds workforce cooperation and high performance team dynamics. Scaled to grow as your organization and leadership performance grows, our proprietary Team Behavior Profile and  leadership training workshops are based on the six principles we have found to be the right mix to make this happen. The six principles are Trust, Interdependence, Genuineness, Empathy, Risk and Success. Born from our many years of business, psychology, and educational group dynamic research, and subsequent four years of independent evaluation, we instill and sustain behaviors that improve work group performance and talent retention for measurable ROI.
Since 1987, TIGERS has served committed leaders who desire enhanced cooperation among departments, teams, managers and individual employees. This heightened level of cooperation leads to improved revenue, purpose, commitment and impact. Employees quit companies because they don't get along with leaders and co-workers. Work culture refinement and behaviors that build strong relationships erase this trend remarkably fast.  For more information call 1+541-385-7465 or visit https://corevalues.com .