How does adverse behavior reduce your net revenue and bottom line? Why is declaring your organization's values not enough?
Many business leaders have declared their organization's values. Their hope is that by publishing those values, people will treat each other better at work. This rarely happens.
Why?
Values and group behavior norms are two very different things. Values identify what your organization stands for. If being Trustworthy is a value, group behavior norms identify how you know it exists by how employees treat one another, your customers and your organization.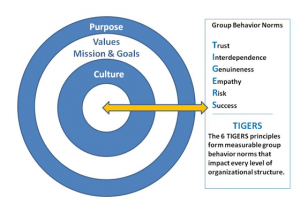 When Dianne Crampton, founder of the TIGERS 6 Principles™, conducted her research into what is necessary to develop high performance work groups, project teams and organizations, 6 principles emerged from the Psychology, Business and Education group dynamic studies. The TIGERS 6 Principles are Trust, Interdependence, Genuineness, Empathy, Risk resolution and Success. These six principles are anchored by behaviors and  are measurable. They reinforce your company values, mission and vision with the necessary and measurable high performance behaviors to support them.
Values state what you stand for. Group behavior norms identify how you intend to treat one another to forge positive work relationships to achieve what you stand for. When all 6 Principles are well developed in group behavior, there are predictable high performance outcomes. If one or more are not well developed there are also predictable adverse outcomes.
The reality is that a purposeful, positive, and productive work culture won't happen by simply naming your values. It happens when every leader and employee demonstrate group behavior norms that you've identified as desirable to reinforce your values and build high performance work groups and departments. The result is behavior that has a positive impact on every interaction.
The Challenge to improving your bottom line.
Work culture behavior improvement is a huge challenge when the only emphasis in businesses is on financial results. This ignores measurable behavior that directly impacts the creation of more revenue than expenses. The reality is that when behavior performance undermines your bottom line with hidden costs such as conflict, disengagement and employee turnover, you make less net revenue.
When you think about it, if leadership and employee behavior discourage high performance outcomes, how is that different than stealing from the till?  Both result in less net income for your organization and your ability to grow. Both are harmful to you. Yet conflict, disengagement and employee turnover are often harder to detect until they stump your ability to grow. They are three sneaky bandits that rob your bottom line.
Measuring the quality of the TIGERS 6 Principles™ in your organization is the first step in improving your group behavior outcomes.  Then when senior leaders identify their least performing principle, they receive the strategic information for change and improvement. This is what results in both desired behavior and a high performance work culture to take hold.
Copyright TIGERS Success Series, Inc.
About TIGERS Success Series, Inc.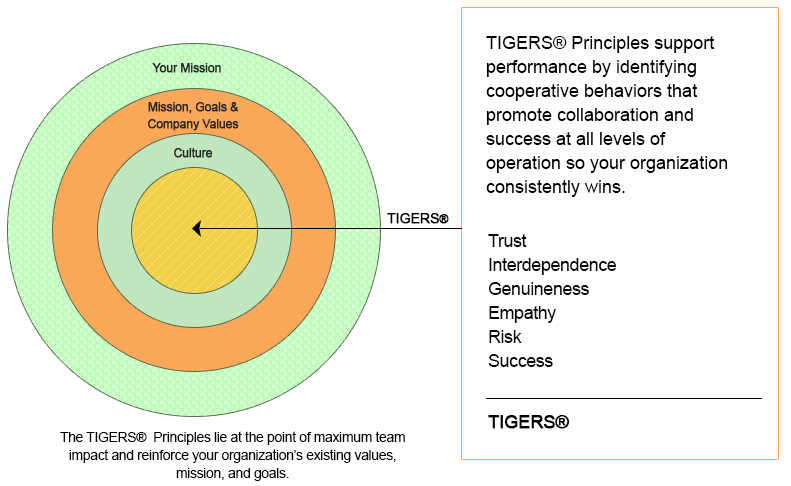 TIGERS® Success Series provides a comprehensive, multi-pronged and robust system for improving both your work environment, profitability and project management team leadership success.
We specialize in training your managers in group leadership skills that build workforce cooperation and high performance project team outcomes . Scaled to grow as your organization and leadership performance grows, our proprietary TIGERS Workforce Behavior Profile, Micro-Training technology that compliments your TIGERS Workforce Behavioral Profile results for high performance change management results, Management and Project Team Leadership  training workshops, and elite consultant/project manager licensing is based on the TIGERS 6 Principles(TM) that our extensive research found to be the high performance mix to make this happen.  Schedule a consultation to learn more.