Many organizations often reach an impressive stage of growth before they think about how they will effectively continue that growth.  It often starts with some very passionate and talented people who can generalize.  They must and do wear all the hats.  But, there is a turning point where specialization and focus prove to be necessary.  This is where employee performance management enters the planning process.
Fortunately, at this stage there is already a wealth of institutional knowledge.  What needs to be done every day, week, month, quarter, and year to keep things moving?  The information is there even if it isn't yet documented.  By putting some forward thinking into action, information can be gathered and tracked at a pace that allows for this important work ON things to happen while the important work of doing things continues.
Whether you have never considered an employee performance management strategy or you know you need one or an overhaul, below are some great ways to get started and create a plan that works for you.  Just imagine, what it feels like to know that everything is covered.  staff and volunteers have a clear way of knowing they are doing a job that makes an impact on the bottom line.
But how do you create tremendous growth?  How do you inspire and encourage people to push themselves and the envelope of success?  The answer is a combination of leadership, support, and touch of structure achieved by setting goals and check-ins.
Building the Foundation for Employee Performance Management:
When adding members to your team, it helps to take a step back and gather the details that make your organization what it is.  How people operate and interact with one another and your target audience.  You may not check all of these items off your list before you move on to the next phase of managing employees but having them in place will make your work easier and reinforce the values of your workplace.  Very little in the world is one-size-fits-all and this is true for systems and structure.
Gather and create:
Mission
Vision
Organization goals/objectives/group behavior norms
Established culture (written and in practice)
Sometimes these are documented when the idea of your organization is first conceptualized. Other times, they are the result of years of successful work.  If already written, it is still worthwhile to review and assess if they are still accurate and especially if what is written is actually happening.  A simple team member survey can bring valuable insight to the surface.
Fine-tune Accountability for Proper Employee Performance Management:
In a perfect world, position descriptions exist before employees.  But often, people are brought in to fulfill a function and there aren't clearly written expectations for what work is to be performed.  This is common in organizations with 10+ people.  As more people are hired, roles are split off, and leadership is designated it becomes necessary to more clearly communicate expectations.
Create or Review:
Position descriptions
Goal setting and support
Knowing exactly what they are accountable for sets a bar that must be met.  This is the position description and an important foundation of the employee performance management strategy.
Often, position descriptions seem like a step backward since the function is already being fulfilled.  But when you consider hiring, training new employees, and reviewing the performance of employees it is a step that will save time, money, and create more value and efficiency in the organization.  Just like with written points of culture, they naturally shift over time.   Action to keep them up to date on an annual basis is important.
But how do you create tremendous growth?  How do you inspire and encourage people to push themselves and the envelope of success?  The answer is a combination of leadership, support, and a touch of structure achieved by setting goals and check-ins.
Goals are big and inspiring but also specific enough that you know when they have been reached.  Plans are created to break big goals into chunkable and more easily achieved mini-goals and actions.  Leadership provides a resource for removing barriers and keeping the big picture in mind during regular meetings.  You don't review them once at the end of the year and decide something went wrong for an entire year!  Think monthly or even weekly check-ins.  By having frequent meetings any problems can be brainstormed, hurdles removed, and efforts doubled down or redirected.  Goals can only create tremendous growth in the person and the organization if they are divorced from firing and salary.  We'll explain more about what this means below.
Create Growth and Success for Effective Employee Performance Management
Annual reviews still have a place directly tied to the non-negotiable accountability in the position description.  Some roles may be extremely encompassing and require that you split pieces off after some time and make them more specialized.  As success creates growth, these roles should be reviewed for how they fit within your organization.
Annual reviews are also the time to talk about how your employees have grown throughout the year.  Their success means success for your organization.  And likely, they are working hard in part for their own motivations; money, success, family, future.  Understanding how the role fits in with their needs and interests can make everyone's life easier.
And what about those goals?  How can someone fail at their goal but still receive a good annual review and even a raise at the end of the year?
Keeping in mind the big picture from all of those check-ins, how did they react during times they couldn't achieve their goals?  Were they persistent, communicative, team-players or did they ignore the conversation and turn tail?  In an organization that pushes for big achievements and removes the barriers of repercussions to goals, the individual goal failures aren't the reason to fire someone.  How they responded, shifted, and changed are the important considerations that can impact their salary, and their future career at this organization and at others.
By divorcing the goal from the repercussions people strive for something bigger.  The things they must do are already in their position description.  The ambitious sales, outreach, or production goals engage team members to work harder and do more for the good of everyone.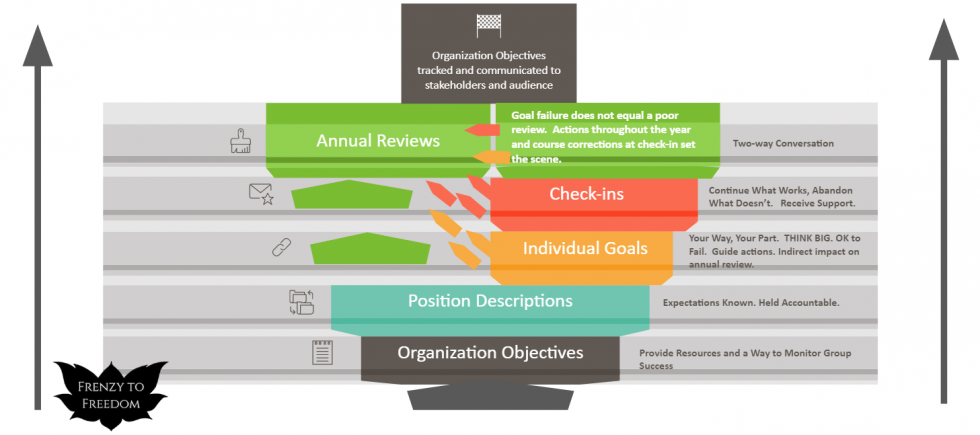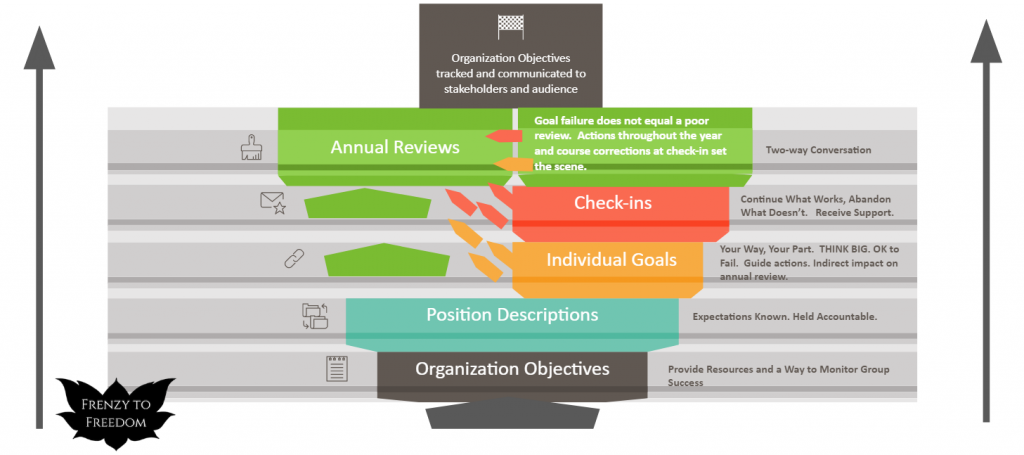 What You Need to Know for Effective Employee Performance Management:
A foundation of resources set the scene for employee engagement, individual and organization-wide growth – the reason you create an employee performance management strategy
Make sure that what you say is what you do – your written standards are what actually happens
Communicate expectations with position descriptions – these must be met and are reviewed annually
Create tremendous growth by encouraging big goal setting and fulfillment – these are big enough to fail and are reviewed regularly to pivot or double-down
Ready to keep more of every dollar you earn?  It starts with a conversation that you can't afford to postpone.  Then together, we will come up with a plan that works for your unique organization.
Schedule a date and time that works for you. https://www.frenzytofreedom.com/contact-us/#getintouch
You aren't alone.
Many of these things you can get started on your own.  Here are some excellent resources to support growing organizations.
Measure What Matters by John Doerr (book)
Atomic Goals by James Clear (book)
TIGERS Workforce Behavioral Profile (team survey)
Copyright, 2020 Megan Fries for TIGERS Success Series, Inc.
Megan Fries is a nonprofit and business consultant certified and licensed by TIGERS Success Series to deliver TIGERS diagnostics, resources and methods to her clients.
Megan uses innovation and an eye for detail to create operational systems for efficiency and profitability.  A hard worker and "doer" by nature, she creates out-of-the-box solutions that allow her and her clients do more with less. With the ability to step into new projects and direct the line of thinking towards problem-solving solutions, she helps organizations get to the next level.
AREAS OF EXPERTISE
• Facilitation • HR Consulting • Finance Consulting   • Nonprofit Consulting • Business Development Consulting • Pricing Strategy • Project Management