Is workforce diversity a threat or opportunity? A Pew Research Center study found that an overwhelmingly amount of Americans (six out of 10) enjoy what diversity delivers to society. In short, the public generally believes that the United States is a better place because of diversity. When you transfer these beliefs to the workplace, however, there is a gap. This gap is failing to keep pace with public beliefs.  It is also being widened by high employee turnover.  The question is, therefore, how will workforce diversity training help leaders build sustainable work cultures that attract and retain talented employees?
Along with the MeToo and Time's Up movements holding strong in 2019, it's now more apparent than ever what leaders must consider in building a positive work culture. It must work well for everyone.
Since International Women's Day is on March 8, it's important to remember that less than 100 years have passed since women were given the right to vote. Highlighting what workplace diversity training can bring to the table through specialized training is the best way to build a talented and diverse workforce going forward.
What workforce diversity training circumstances confront work culture today?
Both men and women have similar viewpoints on how a business should be run. This is one of many findings in a new study from Egon Zehnder. Understanding what diversity means is not as clear. For example, diversity is more than gender, race and ethnicity.  It also considers the different generations available in the workforce today.
Take for example the Millennial and Gen Z generations. These employable generations are the most vigilant supporters of diversity and tolerance in the workforce today.
Millennials are now a larger group of employees than Baby Boomers. The Boomers are retiring daily leaving a widening employment gap of skilled employees. The Gen Z generation that follows Millennials is anticipated to eclipse the size of both the Millennial and Baby Boomer Generations.  For example, Forbes reported in 2015 that Generation Z, which is defined as people born from the mid-1990s to the early 2000s, makes up 25% of the U.S. population. This makes them a largest supporter of diversity and inclusion.  They are entering the workforce now adding to affirmative Millennial diversity endorsement.
Therefore, it's important that workforce diversity training is in place to harness the opportunity workplace diversity provides — from all angles. When there's success in workforce diversity, the work culture benefits. So do talented Millennial and Gen Z employees. Therefore, how do you attract and retain a growing diversity tolerant workforce while filling the skills gap and correcting work culture problems?
Taking the right steps to launch workforce diversity training.
Determining effective group behavior norms is the first step in building a diversity program that works for everyone.  For example, in 1989 TIGERS® Success Series' founder, Dianne Crampton, discovered that there are six universal principles required for high performance work groups.  The six principles were twice independently validated by Gonzaga University and the Washington State Education Association. They are trust, interdependence, genuineness, empathy, risk resolution and success.
The TIGERS six Principles™ apply to everyone regardless of gender, race, creed, age, disability and marriage preference. If one or more are missing or under developed, there are predictable and measurable group performance problems. Low scores in interdependence, for example, would indicate a potential diversity problem. This would be a work culture where differences in how people think, process information, form conclusions, talk to one another, and leverage strengths is under performing or causing problems.
Leaders facing the skills gap and who are also experiencing employee retention problems benefit when their work culture is assessed for the quality of the six principles in their culture behavior. Not only does this provide valid data for workforce development initiatives, it also points to which TIGERS micro-training solutions will help them advance their initiatives.
TIGERS micro-training solutions move behavior improvement forward in incremental and sensible ways over a 52-week period. Once known, employee onboarding, succession leadership development and other important work culture improvement initiatives desired by Millennial and Gen Z employees are also identified.
How workforce diversity training techniques can effectively teach diversity.
Leadership and diversity ambitions are almost identical between men and women. The, Egon Zehnder study found that 31 percent of men and 27 percent of women harbor similar leadership aspirations. That's why micro-training that is cost effective and available to all employees helps leaders determine who the next tier of leaders will be.
When it comes to diversity tolerance and acceptance, it is important to also understand which leadership characteristics are important. The study found that workers are looking for leaders who are ethical (45 percent), strategic (45 percent) and humble (43 percent). The younger generations favored humility. The older generations appreciated resilience.
The older generations, however, are retiring. This further illustrates why resilience is dropping away and why employee retention is such an issue. Millennials and Gen Z employees will leave work cultures they judge to be unethical, non-strategic (short term thinking versus long term planning) and packed with power players who have little desire to develop employees.
The study's conclusion was that training methods that focus on what the different generations want must form the foundation of diversity training. Training that is tied to work culture improvement initiatives that blends universal behavior principles with human cultural understanding is, therefore, important to building work cultures that can survive the test of time going forward.
How digitalization improves workplace diversity training.
Forbes found that digitalization is one of the best ways to pinpoint a strategy that revitalizes workplace diversity. For example, micro-training that is delivered to both work stations and smart phone devices, makes training easier and more cost effective. Employees do not have to be taken away from their jobs to train. At the same time, leaders can use what employees are learning to advance workforce development initiatives.  This is where micro-training meets opportunity for improvement that is measurable in an organization's bottom line.
Other ways digital tools can assist with micro-training is simple. Interactive media and work content can be transferred to other devices. When employees want privacy in their training, they can finish it later on their smart phones or iPads. Bookmarks can be saved so an employee doesn't have to lose their spot.
Unlike receiving the generic employee handbook that everyone's required to thumb through, micro-training that is available to everyone gets all employees on the same page with the same understandings and headed in the same direction. This goes for newly hired employees, too.  There is no reason why training should be available to a select few rather than everyone using digital tools.
When workforce diversity training is ignored, it's problematic.
Even though it's 2019, lack of diversity equity is still a persistent problem festering like a wound in the United States. For example, Walmart was served last month with a huge gender discrimination lawsuit that's been an ongoing problem for the company. Although, Walmart won a Supreme Court case back in 2011 regarding the same issue, good legal arguments did not cure the diversity discrimination question.
According to Vox News, over 100 female Walmart employees recently filed a class action lawsuit. Their complaint is that many of them lost positions or were never advanced to a higher position that favored their male coworkers for over a decade. For 100 women to leave this way is expensive. It also questions whether diversity training for leaders who advance employees into leadership positions was available.
The Equal Employment Opportunity Commission (EEOC) also filed different complaints against Walmart in 2018. Their complaints focused on pregnancy and disability discrimination. Unfortunately, Walmart is only one of many similar organizations. In order to retain the most productive employees in 2019 and going forward, the diversity equity issue is building and not going away.
Compare this with Etsy, an online shopping site. Unlike Walmart, Etsy's Board of Directors and leadership roles are half filled by women. Another interesting tidbit is that a third of Etsy engineers are women. Considering that engineering in general is known as male dominated field, the way Etsy has taken workforce diversity training strides to retain employees while making $3.9 billion in annual sales demonstrates how important diversity is to business growth and profitability.
How chief diversity officers use workforce diversity training to instill values.
Diversity issues are not new in America or across the globe. While many companies scrambled to hire a chief diversity officer, a recent Russell Reynolds Associates study discovered that 97 leaders found their training programs to be inconsistent with business priorities when it comes to workplace diversity and inclusion.
The demand for CDOs comes with rising alarm among company executives who are trying to avoid problems similar to what Walmart is experiencing. One of the biggest training opportunities they have isolated is how to handle implicit bias.
According to the Kirwan Institute at Ohio State University, implicit bias is a social cognition problem stemming from unconscious attitudes and stereotypes that affect understanding, actions and decisions. An example of implicit bias is that Millennials don't like to stick to jobs and would rather job hop. This isn't true. Millennials, when given a work culture that supports their diversity values and opportunities to learn, are fiercely loyal.
Other training opportunities facing CDOs is knowing how to pull together teams composed of employees with different backgrounds. This includes how to facilitate comprehensive group problem solving, planning and decision-making.
In the end, workplace diversity training is not about making the CEO happy while forcing a homogenous group of similar looking employees to embrace diversity. It's about completely integrating workplace diversity through solid training techniques that serve all levels of operation. This makes diversity workforce training align with work culture change strategies that ensure organizations can attract and retain skilled employees.
There's a big difference between something being integrated or forced.  Integration ensures business sustainability in the face of oncoming generational values. The later is simply a short term strategy that puts existing organizations at risk for closing their doors.
Care to dig deeper into the topic of workforce diversity training?
The following resources lend depth to this conversation:
Copyright TIGERS Success Series, Inc. by Dianne Crampton
About TIGERS Success Series, Inc.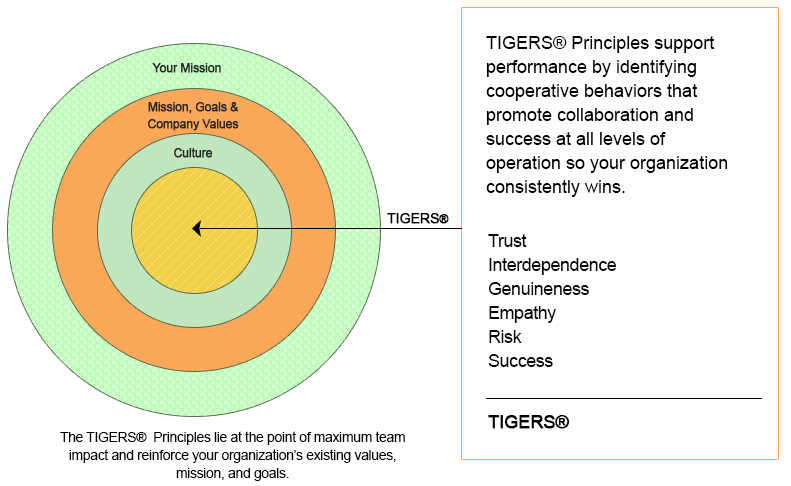 TIGERS® Success Series provides a comprehensive, multi-pronged and robust system for improving both your work environment and profitability.
We specialize in training your managers in group facilitation methods that build workforce cooperation and high performance team dynamics. Scaled to grow as your organization and leadership performance grows, our proprietary Team Behavior Profile and  Management training workshops are based on the six principles we have found to be the right mix to make this happen.
The TIGERS 6 Principles are Trust, Interdependence, Genuineness, Empathy, Risk and Success. Born from our many years of business, psychology, and educational group dynamic research, and subsequent four years of independent evaluation, we instill and sustain behaviors that improve work group performance and talent retention for measurable ROI.