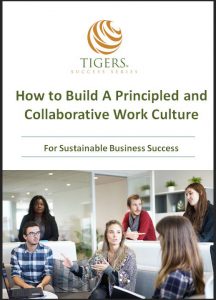 Workplace culture is composed of group behavior norms that determine how you do things in your organization. It is not the super cool perks that your company offers that sets you apart from other businesses. How people treat one another, the organization and your customers is what matters and ultimately gets you known as one of the best organizations to work for in your niche.
While perks are nice, they do not define your workplace culture. Instead, here are a few ways to help you clearly define your workplace culture.
Identify Fundamental Values and Behavior Norms
Behavior and culture are different for every organization. This is because employees are different. They provide different skills, attitudes and strengths. Therefore, take a moment to step back and think about the top three to five values that define your workplace. What behavior is seen daily? Make a list. Your values and norms do not have to be one word. They can be a short sentence describing actions and behaviors seen throughout the organization.  If you do not like what you see, then define what you want to see permeating your company on every level.
Impart Your Vision
Now that you have your handful of simple phrases, it is time to impart that vision to those within your company, providing it with purpose.
A truly strong, clear vision statement helps orient both customers and employees. They know you are a perfect match to what matters most to them.  Creating an authentic display of your values through a vision statement not only helps orient employee decision-making, it also attracts others to your company.
Define Your Workplace Culture By Practicing What You Preach
It is hard to build a strong foundation on behavior principles and values if they are not reinforced by measurable actions. Similarly, you cannot maintain a defined workplace culture without a team that shares and believes in those same fundamental norms and values.
Take action when hiring to make sure everyone is a good culture fit. Then hold private meetings with your employees to review how their work and behavior measures up to company workplace culture expectations. If someone is not a good fit for your company culture, they struggle to thrive and so will your business.
 Measure Effectiveness to Define Your Workplace Culture
Rather than stumbling around blindly in the dark hoping that some method works, measure the effectiveness of your workplace culture. One way is with the TIGERS Workforce Behavioral Profile that measures the qualities of six principles required for high performance work groups and team performance. The six principles are trust, interdependence, genuineness, empathy, risk resolution and success. You can also distribute 5 minute employee engagement surveys. Then track your employee turnover rate and ask customers to rate their experience.
The results either reinforce the fact that you are doing it right or point out something that requires your attention.
Finally, consider creating an annual or monthly award that identifies employees who are going the extra mile to demonstrate your behavior norms and values. What measurable actions are they taking to enhance your workplace culture? Tell a story about it so other employees learn how to demonstrate those behaviors and values, too.
It is important to create a work environment that supports your group norm behaviors and values. This makes your vision come alive and attracts the right people to sustain it. t.
Want to learn more about a healthy workplace culture?
The following resources take this conversation deeper.
Copyright TIGERS Success Series, Inc.
About TIGERS Success Series, Inc.
Why guess what is needed for workforce development when it is completely unnecessary? Our mission is to improve the world of work for millions of employees while their organizations thrive. We accomplish this with a researched and validated comprehensive, robust system for improving both your work environment and profitability.
We specialize in developing high performance work cultures. Scaled to grow with you, our proprietary Team Behavior Profile, consulting and group facilitation services, and online TIGERS micro training packages are based on the six principles we have found to be the right mix to make this happen. Invite us to present at your next conference or association meeting.