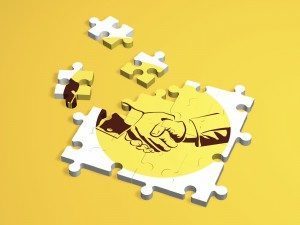 You've worked hard to build your company. It bought you a nice house and college tuition for the kids. And your business is well known in your community.  You now want to retire and are putting the business up for sale.  Is it possible to maintain or improve company culture when selling your company?
According to UBS Wealth Management, USA's latest UBS Investor Watch Quarterly Report, the current business climate looks promising. Most wealthy investors believe that the current business climate is ideal for owning or starting a business.
At the highest level since the financial crisis, 72 percent of respondents report that they are highly optimistic about the state of the current economy.  Forty-nine percent believe that entrepreneurship is one of the most prestigious career paths, says UBS Investor Watch Report Reveals Entrepreneurialism Is Booming, But Millennials Are Reluctant to Jump In.
The quarterly survey included more than 2,000 affluent and high net worth investors, which included 1,085 business owners. As investors are looking to buy, many current business owners believe they have the opportunity to sell their business for a profit. Forty-eight percent, however, do not have an exit strategy in place. They are unsure of who will take their place if they were to leave and how this would impact the existing company culture and employees.
A TIGERS Company Culture and Exit Strategy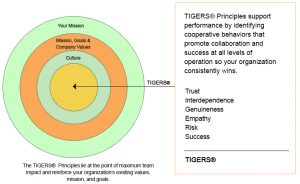 Since a large percent of current business owners do not have an exit strategy in place, TIGERS Success Series offers planning and training opportunities for leaders to successfully transition away from the business. One important approach includes a clear description of the company culture with behavior norms that make transitions smooth. The caveat is that the purchasing investors are in alignment with the TIGERS six principles (trust, interdependence, genuineness, empathy, risk and success).  Ultimately, investors do not want to invest in a company with high turnover and poor retention due to a poor company culture and problematic employees.
Business owners looking at selling have a seven to 11 year window to iron out their company culture and group dynamics for a smooth transition. This timeline also gives them the proper time to get their financials in order. However, productivity and engagement increase with the TIGERS six principles in measurable ways. Now that business is good, it is time to get the company culture kinks out.
If a business buyer is to inherit existing managers and employees, you don't want them inheriting a mess.  TIGERS Success Series provides planning facilitation along with company culture and behavior norm facilitation. These processes put companies on a path to a successful sale.
After Sales Strategies for Promoting a Strong Company Culture 
Mergers and acquisitions are a primary growth strategy for businesses. Before merging companies, the best leaders know what they want their company culture to look like after the merger is complete. But knowing where you want to be and how to get there are two different things. Here are a few strategies can help leaders promote a strong company culture after the sale is complete.
A strong company culture values people.
During a merger and acquisition, every financial detail is shared among companies. The most important aspect, however, is typically overlooked: the people and their will.
If you don't value your people, some existing employees and the recently recruited will find a way to update and distribute their resumes and eventually tender their resignation. On the other hand, when leaders take into consideration the employees and their experiences from the beginning, team members are more invested in the change and are more willing to be productive.
Collaborate with all levels.
During a change, it's easy to focus on just a few senior employees and their needs. To be effective for the long haul, all team members on all levels need to be on the same page. Executives must align their expectations about company culture, aspiration and norms. Human resource managers must also be frank and forthright about company cultural problems that could be overlooked in order to keep everything transitioning smoothly.
Measure progress.
The best way to determine success is by tracking your progress. By evaluating the levels of trust, interdependence, genuineness, empathy, risk and success in departments and the company culture, you are able to remove the guess work from team improvement goals. You also discover department strengths and growth opportunities as well as identifying leadership coaching opportunities.  This helps you to better serve your employees while improving your company culture during the transitional time.
Many investors view the current business climate as promising. Current business owners believe that they can sell their business for a profit. But 48 percent of business owners do not have an exit strategy in place, which leaves many leaders unprepared. Through planning and company culture facilitation, TIGERS Success Series offers planning and training opportunities for the business owner to successfully transition away from their businesses. At the same time, new investors have what they need to  promote a strong company culture for their new teams.
Other strategies for promoting a strong company culture after a sale include:
Valuing your people more than just as a financial commodity;
Collaborating with all levels of the organization to bring everyone onto the same page; and,
Measuring your team's progress in the areas of trust, interdependence, genuineness, empathy, risk and success.
With these strategies, leaders can create a strong company culture, even during transitional times.
Here are some additional company culture resources:
We found the following articles and white papers to be  helpful in adding to the conversation:
UBS Investor Watch Report Reveals Entrepreneurialism Is Booming, But Millennials Are Reluctant to Jump In
Copyright TIGERS Success Series, Inc. by Dianne Crampton
About TIGERS Success Series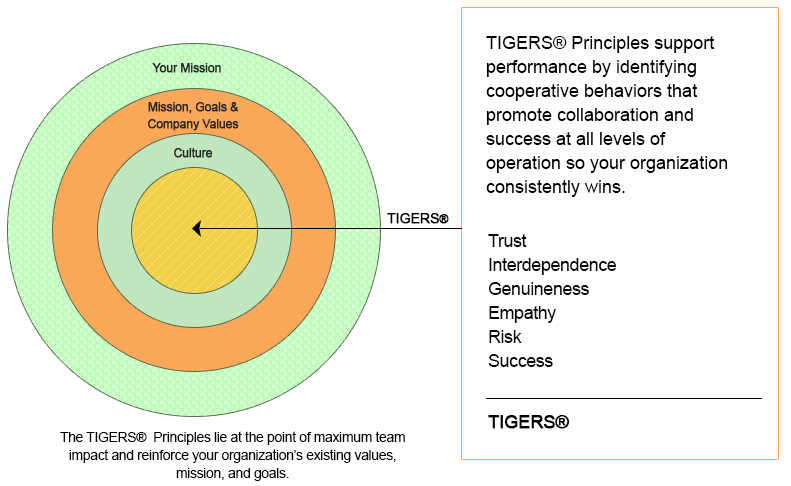 TIGERS® Success Series takes the guesswork out of workforce development. TIGERS provides a comprehensive, robust system for improving both your work environment and profitability.
We specialize in developing high performance work cultures. Scaled to grow as your organization and leadership performance grows, our proprietary Team Behavior Profile and  Management training workshops are based on the six principles we have found to be the right mix to make this happen.
The TIGERS 6 Principles are Trust, Interdependence, Genuineness, Empathy, Risk and Success. Born from our many years of business, psychology, and educational group dynamic research, and subsequent four years of independent evaluation, we instill and sustain behaviors that improve work group performance and talent retention for measurable ROI.
For more information or to request a presentation to your group or association,  call 1+877-538-2822. To sign up for our complimentary newsletter, click here.