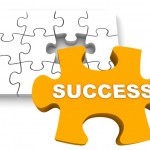 The Department of Veterans Affairs has announced a Badges for Vets contest for creating digital "badge" systems to help Veterans translate their military skills into civilian jobs.
This is good news for team based companies. For one thing, learning how to work on a team in high stress situations is something that military veterans know well. And it is good news for agile IT Teams itching to produce a new innovation with the potential of a $25,000 cash award.
 "We are looking for ways to make it easy for employers to see Veterans for who they are: highly qualified individuals in any job applicant pool," said Secretary of Veterans Affairs Eric K. Shinseki. "We want to help good jobs find Veterans and help Veterans find good jobs."
A "digital badge" recognizes skills obtained through non-traditional learning, such as work-related training, online courses, and experience. Learners display their badges across the Web, resulting in jobs or formal credit.
"Many recently discharged Veterans earned employable skills during their time in uniform," said Jonah Czerwinski, director of the VA Innovations Initiative that sponsors the new contest. "They represent high-quality training and real-life experience. We're looking for new ways for employers to easily identify Veterans who have this training and this experience to fill good jobs in the private sector."
VA is joined by the Departments of Education, Energy, and Labor to sponsor the "Badges for Vets" contest as part of the Badges for Lifelong Learning Competition administered by a consortium supported by the John D. and Catherine T. MacArthur Foundation and the Mozilla Foundation.
VA Innovations Initiative (VAi2) will award up to three $25,000 prizes in five categories to teams that demonstrate they can develop and deliver digital badges representing skills learned in the military that are desired by civilian employers.
Entries in the contest are due byJan. 12, 2012, and winners will be announced at the Digital Media and Learning Conference inSan FranciscoFeb. 28-March 3.
VAi2 solicits the most promising ideas from VA employees, the private sector, non-profit organizations and academia to increase Veterans' access to VA services, improve the quality of those services, enhance the performance of VA operations and deliver services more efficiently.
Information about the Badges for Lifelong Learning Competition to present to your agile IT teams is located here:
http://www.dmlcompetition.net/
http://www.dmlcompetition.net/Competition/4/press-kit.php?menu=badges
Information about the Badges for Vets Competition:
http://www.dmlcompetition.net/Competition/4/badges-projects.php?id=2667
http://challenge.gov/
Information about the VA Innovations Initiative:
www.va.gov/vai2/
If your IT Innovation team responds to this challenge and wins, let us know. We would love to report on how you accomplished it and the team dynamics you deployed to get it done — fast.
 Image credit Istock