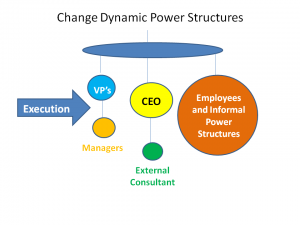 In my business life-time, I have seen CEO rules change twice. The first time was when "great generation" run businesses changed from hierarchical monoliths to flatter and more employee centered organizations. Now we have a new change looming where the soft skills sets of CEO's are again under scrutiny.
A recent study of over 400 of the world's top CEOs located in 11 different countries who lead companies with $2.6 trillion in gross revenue (calculated in US dollars) reports on what these leaders found harder than expected when they took the top job.
Can you guess what it was?
If you answered the human side of the role, you are correct.
It seems common sense. However, one of the easiest ways to fix a work culture that repels good employees is to examine leadership skills from the top down.
Soft Skills Study discoveries
According to the study, this is the laundry list of discoveries:
CEOs found personal and interpersonal issues such as self-awareness, expressing vulnerability, leadership team-building and driving cultural change harder to manage than expected.
While CEOs are confident in their operational and professional abilities, they recognize that developing "softer skills" is essential to successful leadership. So is the ability to adapt and change themselves. They articulated that their own personal development does not stop when they reach the top.
CEOs feel they lack the support they need when making the step up. Likewise they, don't feel they can turn to their Chairman or board members for honest feedback.
CEOs appointed from within the company feel less prepared for leadership than those recruited externally.
The question now is, if you find yourself in a Chief Executive position what strategies can you deploy that fix both work culture and soft skill deficits? This is, of course, if you are able to recognize a short fall in yourself.
Strategies for building soft skills with profit-focused results.
If the findings are true that these top tier CEO's feel that they cannot turn to the Chairman of their board or other board members for honest feedback, does this place them between a rock and a hard spot?  Not necessarily.
Many senior executives are proficient in influencing up the leadership chain. Their failure lies in influencing below their current position in the organizational chart.  The reason is that specific soft skills are missing.
Whether you lead a $10 million company or $2.6 trillion, soft skill leadership development produces profitable results – sometimes through cost savings that enhance the bottom line.
Boards of directors want to see profitability for stockholders and the company. Therefore, profit is the bottom line for them and the positive benefits of soft skill development are not that difficult to analyze.
Measure the impact of soft skill improvement
At TIGERS®, we have been measuring the impact of soft skill leadership improvement on group improvements with correlations on return on investment for nearly 29 years. It all started with the question, "What makes working groups of people exceptional?"  We defined "exceptional" to mean that these groups are ethical, quality-focused, highly productive, cooperative and successful.  We further qualified successful to mean that not only are goals consistently achieved with quality, the people doing the work also experience personal satisfaction for the work they performed.
After a meta-analysis of psychology, business and education group dynamic research, six principles emerged that lie at the heart of every exceptional group. The six principles are trust, interdependence, genuineness, empathy, risk and success. They form the acronym TIGERS®.
The next step was determining whether these six principles could be isolated and measured within group behavior. Four years later and after two independent studies the results were conclusive. Not only could each principle be measured, the principles also predicted what leadership and workforce development focus would transform an adequate group or organization into an exceptional one. It also pointed out problem departments and illuminated opportunities for improvement in leadership and group dynamic issues.
Soft skill improvements associated with the following lead to improvements in the balance sheet:
Leadership team development;
Conflict resolution;
Leader facilitated group problem solving and decision making;
Emotional intelligence; and.
Behaviors that improve trust, interdependence, genuineness, empathy, risk resolution and success.
For example, in one large leadership skill development effort, cost savings were found in self-insurance rates, HR time and efficiency calculations and department productivity improvements. These improvements far exceeded the cost of training and workforce development. They were also sustainable and not the result of beginner's luck.
Strategic and point of the spear leadership and group behavior issues could then be addressed using group and leadership strengths to transform problem areas. The questions facing leaders are:
Does illumination coupled with strategy warrant perseverance?
Can vulnerabilities for growth and improvement be transcended by a strong belief in learning?
Can opportunities to improve be viewed in a positive light rather than a chink in some leader's pride?
The bottom is that the balance sheet can be tracked over time illuminating how soft skill improvements among leaders and teams yield financially positive results. The first step is to assess culture with behavior implications so you know what to strategically tackle first.
Make soft skill improvement a company focus
Be strategic.
After assessing the strengths and weakness of your culture based on trust, interdependence, genuineness, empathy, risk resolution and success results, use strengths to transform weaknesses. For example, when trust and interdependence are  adequate, genuineness and risk and those problem solving systems and processes that support critical thinking and group decision-making are easier to transform.
Then when you take your whole tribe with you as you learn and develop the weakest areas, there are additional strategies for keeping training costs down.Use existing company  initiatives within the training design that require critical thinking, problem-solving and decision-making skills. This is because transformational training is not a one-off event.
To effectively problem solve, many soft skills are required. Listening, responding with empathy and emotional intelligence, facilitating, conflict resolution, trust behaviors, interdependence behaviors, and being patient not knowing what you do not know are a few soft skills that come to mind.
From an agility standpoint, building a team of employees comprised of every leader and employee that touches an initiative onto a problem resolution team is a terrific way to improve soft skills company-wide. Training these team members in strategic soft skills and system problem-solving methods while conquering the initiative, makes learning meaningful and potentially profitable for the company. Everyone is developing new skills which results in self development and initiative resolution. And it takes  pointing out leadership deficits out of the equation because everyone is in the same boat learning the same things.
Leadership and group development work like this can be guided through external help the first time so that guidance is available throughout the project. And it can be developed internally when an organization employs an organizational psychologist with a deep background in high functioning group development, a leadership coach and training department.
Deploy micro-training to support soft skill training transference
When leaders and employees receive weekly bursts of training not exceeding 10 minutes in length that apply specifically to the soft skills being transformed, transformation is easier to achieve.  Everyone ends up speaking the same language. Common understanding develops. People practices skills in small bursts that improve workforce behavior and co-worker relationships. Success stories can be shared during the first 10 minutes of staff meetings. Requests for help and support are encouraged. Mentors can be deployed.
Employees also have an opportunity to practice skills outside work and among family and friends. It is not uncommon for soft skill improvement to impact families in very positive ways. This makes for a more stable and family supported employee.
When micro-training is specific to the skills being transformed, an entire tribe of employees benefits. Positive results impact succession leadership development and employee career enhancement.
What this all means
Ultimately, the pressures facing CEO's today has never been greater. Soft skills drive influencing, advocating, collaborating and innovating. They are challenging for even the best leaders.
To thrive, CEO's must have both hard and soft skills. When leaders and employees remain open to feedback, self-discovery and continuous learning, the entire group dynamic shifts.
Today's CEO's and senior executives must manage a multitude of short and long-term priorities. When short term priorities are deployed within a company-wide soft skills  training design both leaders and employees grow. But ultimately the ability to self-transform is key to transforming an organization. Keep in mind that positive results in the bottom line are measurable. This makes boards of directors very happy.
Care to dig deeper into this CEO soft skill discussion?
Here are some additional resources you might find valuable:
Copyright TIGERS Success Series, Inc. by Dianne Crampton
About TIGERS Success Series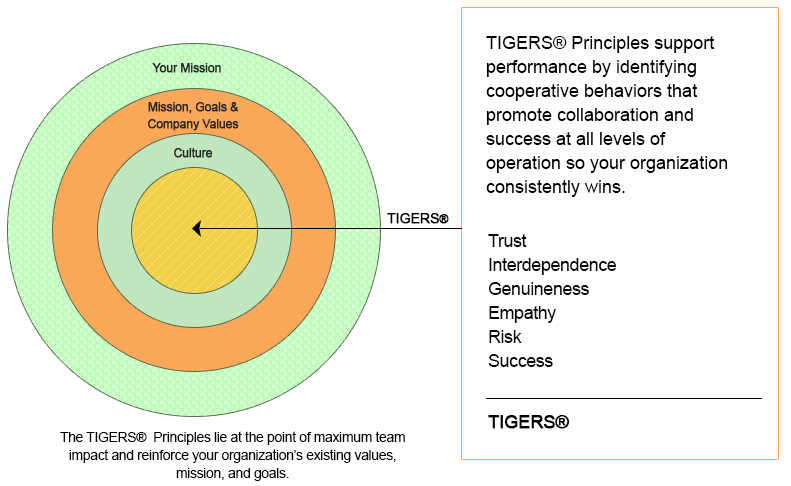 TIGERS® Success Series takes the guesswork out of workforce development. TIGERS provides a comprehensive, robust system for improving both your work environment and profitability.
We specialize in developing high performance work cultures. Scaled to grow as your organization and leadership performance grows, our proprietary Team Behavior Profile and  Management training workshops are based on the six principles we have found to be the right mix to make this happen.
The TIGERS 6 Principles are Trust, Interdependence, Genuineness, Empathy, Risk and Success. Born from our many years of business, psychology, and educational group dynamic research, and subsequent four years of independent evaluation, we instill and sustain behaviors that improve work group performance and talent retention for measurable ROI.
For more information or to request a presentation to your group or association,  call 1+877-538-2822.