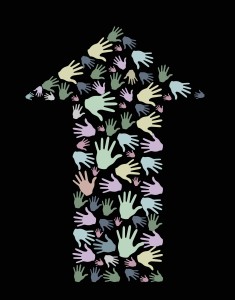 When you are looking for team building ideas for improving team interdependence, imagine stumbling across this conversation:
"Hey Bob, I'm thinking of starting a baseball team."
"Great! I know a few guys who are really good and would love to play."
"Nope. I am playing all positions – catcher, pitcher, short stop, outfield….you name it!"
What?!
Everyone knows this is an absurd scenario, so why is this archaic type of thinking still so prevalent in the workplace? When you don't have a workforce that works together, interdependence and collaboration is all but nonexistent and failure ensues…this includes individuals, organizational departments, and the company as a whole.
So what does interdependence mean? It is where members of a group or team share common goals and know that working together is both individually and collectively beneficial. Success depends on the participation of all the members. These individuals encourage and facilitate each other's efforts in order to reach a common goal, which includes conflict resolution, so the team continues to make progress.
So what about baseball, team building ideas and workplace culture?
As the saying goes….no man (or team) is an island. The same is true for workplace cultures. Organizations and companies depend on employees, vendors, customers, and other stakeholders to thrive and grow. Without committed business relationships, camaraderie and loyalty falls apart and even the most profitable companies lose market share to competitors.
A lone individual or department cannot possibly be the "whole" solution to organizational achievement and success. Without interdependence and cooperation, vital information and resources don't get shared, communication and misunderstandings occur, and mistrust for coworkers and the organization run rampant. Interdependence is the principle behind team building that promotes cooperation on teams. A team with high interdependence experiences skill and information sharing to achieve synergy.

Interdependence is a key aspect of my team culture, values-based model – TIGERS (Trust, Interdependence, Genuineness, Empathy, Risk and Success). It occurs when coworkers and managers alike share ownership of goals and resources to attain success. Without understanding or nurturing the true nature of interdependence, other corporate values are bound to erode such as transparency and ethics.
What behaviors damage interdependence within a workplace environment?
• The belief that someone can change someone else. Change must be self-motivated.
• The belief that leaders hold all the answers.
• The belief that leaders must solve all the problems without input from others.
• Allowing employees to blame co-workers for system problems.
• Allowing employees to minimize co-workers for procedural errors.
• Allowing an Us and Them attitude to thrive in the workplace.
Daniel Goleman writes in his newest book: Social Intelligence: The Revolutionary New Science of Human Relationships, "Our natural pull toward others may trace back to the conditions of scarcity that shaped the human brain." When our unconscious interactions with others fall back on old survival patterns that compel us to compete against others in our own companies, it is impossible to build interdependent relationships.
One TIGERS rule is, "It is better to compete in the market place as a solid company than devour one another with disruptive team behaviors."
To achieve interdependence a business must build a sense of community in the workforce and with this the spirit of team support. The result is synergy, which enhances and strengthens team successes. Success can't always be measured like goals accomplished or quarterly productivity results; it is also about the overall happiness on part of employees. The characteristics of a team with high interdependence include high levels of team member collaboration and service to one another's success.
When this collaborative culture is functioning correctly, interdependence makes a strong appearance. Improvements in team interdependence will increase improvements in trust, genuineness, empathy, risk and success. And companies that screen appropriately during employment interviews to identify behaviors that build effective interdependence tend to hire people with an innate capacity to foster team spirit. The benefit, of course, is lower employee turnover and much higher team cohesiveness.
Interdependence is the Backbone of Cooperative Team Work
Since no organization is an isolated entity, a culture of cooperation is necessary to drive creativity and innovation. Employees count on each other for correct information, to keep commitments on deadlines, and to work in a non-hostile environment. In other words, interdependence must be the backbone of a business in order for cooperation, transparency, and team cohesion to gel.
If you want to learn more on how to improve collaboration in your team, watch my short video 4 Ways to Improve Team Interdependence. Then join us at members.corevalues.com for more team tips – its complimentary and a service of TIGERS Success Series.
Copyright TIGERS Success Series, Inc. by Dianne Crampton
4 ways to Improve Team Interdependence
 About TIGERS Success Series
TIGERS is a research-based and validated team development program that builds high levels of trust, interdependence, genuineness, empathy, risk and success behaviors that correct talent retention and workforce cooperation issues remarkably fast.