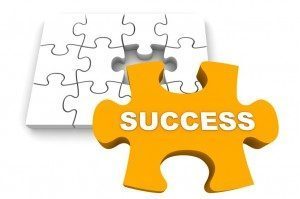 When you take on a new project, do you have a sense of fear, or are you fully committed and excited for the challenge? For many people, achieving success comes with fear. It  is a common first response to tackling a new challenge. This fear, however,  might not be from what you think.
Fear of failure is a common citation for people's hesitance to take on something new. Fear of success, however, is also common. Those people who find themselves hesitant to take the first step because they are fearful that they will succeed  is usually because they do not know how they will be able to handle the success.
But if you're reaching toward a goal, success is your ultimate goal.  And, the psychology of success is much more than reaching milestones or making money.
Achieving success in the "s" in TIGERS®
Success is the sixth TIGERS principle.  From a team perspective, achieving success is more than accomplishing  goals or making a lot of money. It's also the satisfaction the team's members share in their accomplishments, says TIGERS Among Us. Without employee satisfaction, businesses find it difficult to attract and retain employees with talent. Talented employees who do not experience satisfaction from achieving success  use their positions as a stepping stone to advance their careers. This results in higher levels of employee turnover, which can prove to be quite costly for employers.
When taking into consideration the satisfaction of employees, success is highly correlated with the other five TIGERS principles. These principles are trust, interdependence, genuineness, empathy and risk. When an organization improves its financial success and employee satisfaction, the team's perception of trust and the other values will also improve.
In a collaborative work culture where there is high cooperation among departments and employees, there is more opportunity for group members  to experience the psychological satisfaction of success. In these organizations, employees are empowered to solve problems, generate ideas and refine work procedures. As a result, employees have a clearer understanding of their company's operations. They are also more entrepreneurial because they know how their contributions support achieving goals. As a result, employees are more committed and accountable to success.

Work culture behaviors for achieving success
Understanding the role of work culture for achieving success is important. Here is a list of behaviors to look for in your organization.
Commitment and ownership of company goals at all levels of the organization.
Corporate values that align with the employees' personal values.
Involving as many workers' ideas into goal implementation as practical and appropriate.
Establishing and communicating quality standards at all levels of operation.
Establishing and communicating system refinement standards at all levels of operation.
Establishing and communicating plans and work design strategies for all levels of operation.
Evaluating and removing operational barriers.
Celebrating achieving success.
Recognizing team performance.
Committing to excellence.
Understanding the importance of employee happiness.
Behaviors that damage the TIGERS success principle:
Lack of personal commitment and accountability for achieving goals.
Withholding information that frustrates goal achievement.
Lack of understanding of how personal work serves goals.
Poor morale and ambivalence toward work.
Lack of good direction.
Poor procedural communication resulting in process and procedure confusion.
Short-term problem-solving that frustrates long-term strategies.
Inadequately staffed and funded systems and strategies.
Corporate values that conflict with on-the-ground behaviors.
High levels of employee disengagement and apathy.
When the six TIGERS principles function harmoniously, the combined effect produces a dynamic group of people who are inspired, enjoy coming to work, feel they are growing personally and professionally, and who could not imagine working anywhere else.
Manager as facilitator training for achieving success
Successful teams do not evolve by chance. They are lead and facilitated by trained managers. Managers who are good facilitators bring people together to work toward solutions. As a result, groups accomplish more with high levels of commitment and accountability.
Facilitating groups the right way for problem-solving, decision-making and planning creates employee buy-in and commitment. It makes group process bearable by everyone. With training, leaders learn to facilitate groups in the correct order; learn strategies for reducing group conflict and restoring positive behavior that work groups support; and learn to remove closely held positions so that good decision-making is achieved
Achieving success review
Taking  the plunge to achieve goals can be a huge hurdle for many people. Fear holds  people back. One fear is the fear of success.
Success is the ultimate goal for any endeavor. As a core principle, success encompasses so much more than reaching a goal or making a lot of money. Success also includes creating a work environment that encourages employee buy-in and accountability, which ultimately leads to greater employee satisfaction and lower turnover. To achieve this type of environment, leaders who invest in manager as facilitator  training promote group endeavors that ultimately result in success that not only achieves goals but also high levels of employee satisfaction.
Care to dive deeper into this achieving success conversation?
Consider the following resources to add to the conversation:
Copyright TIGERS Success Series, Inc. by Jennifer Zimmerman
About TIGERS® Success Series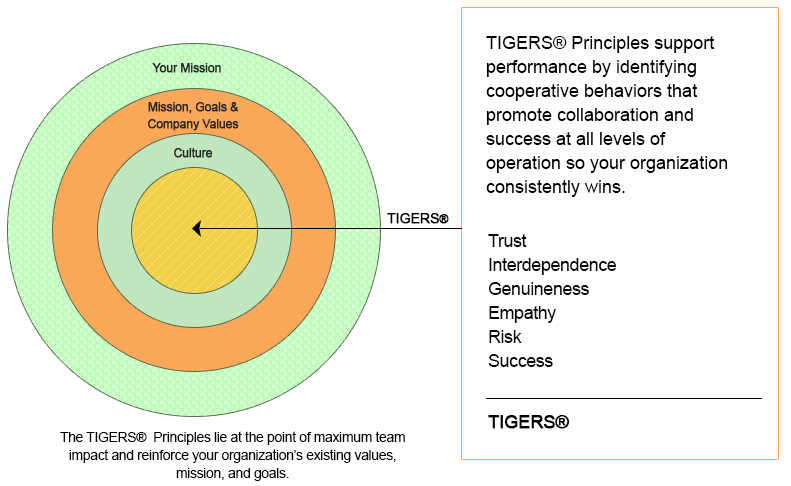 TIGERS® Success Series takes the guesswork out of workforce development. TIGERS provides a comprehensive, robust system for improving both your work environment and profitability.
We specialize in developing high performance work cultures. Scaled to grow as your organization and leadership performance grows, our proprietary Team Behavior Profile,   Management training workshops, and online micro training packages are based on the six principles we have found to be the right mix to make this happen.
The TIGERS 6 Principles are Trust, Interdependence, Genuineness, Empathy, Risk and Success. Born from our many years of business, psychology, and educational group dynamic research, and subsequent four years of independent evaluation, we instill and sustain behaviors that improve work group performance and talent retention for measurable ROI.
For more information or to request a presentation to your group or association,  call 1+877-538-2822. To subscribe to our complimentary newsletter, click here.