I was lucky this year.  A link I opened from what appeared to be a real person on Twitter didn't wipe out my computer systems altogether. But the cyber attack known as the FBI virus did considerable damage.
Almost one-third of U.S. small businesses surveyed by the Ponemon Institute had a cyber attack in the previous year, it was recently reported  in a study sponsored by The Hartford Steam Boiler Inspection and Insurance Company (HSB), part of Munich Re, and nearly three-quarters of those businesses were not able to fully restore their company's computer data.
"This access also exposes companies to hackers, viruses and other computer attacks that can corrupt critical data, shut down their operations and make them liable for compromised information."
"The Internet connects even the smallest businesses to data networks and computer systems around the world," said Timothy Zeilman, vice president for Hartford Steam Boiler. "This access also exposes companies to hackers, viruses and other computer attacks that can corrupt critical data, shut down their operations and make them liable for compromised information."
For small businesses this can be devastating.
The primary causes of cyber attacks on small businesses were computer viruses, worms and Trojans (61 percent) and unspecified malware (22 percent), the Ponemon Institute reported. Following the cyber attacks, 72 percent were not able to fully restore their company's data.
The survey found that 29 percent of the small businesses experienced a computer-based attack. The consequences of those attacks included managing potential damage to their reputations (59 percent); theft of business information (49 percent); the loss of angry or worried customers (48 percent) and network and data center downtime (48 percent). The FBI virus, for example, sent racial and political slurs to all my Twitter contacts.
The report on cyber risks resulted from a two-part study conducted for Hartford Steam Boiler, which offers a suite of products and services to help smaller commercial organizations manage their information exposures. In recently released findings on data breaches, the Ponemon Institute surveyed the same small businesses, health care providers and professionals around the U.S. and found that 53 percent had experienced a data breach and 55 percent of those businesses had multiple breaches.
About HSB
Hartford Steam Boiler (HSB),  is a leading engineering and technical risk insurer providing equipment breakdown insurance products, other specialty coverages, and related inspection services and engineering consulting. Founded in 1866, HSB's difference is grounded in extensive technical knowledge with over 50 percent of its staff engineers, inspectors and technical personnel around the globe.
About the Ponemon Institute
The Ponemon Institute is a leading research center dedicated to privacy, data protection and information security policy. Often cited for its annual consumer studies on privacy trust, the Ponemon Institute's research quantifying the cost of a data breach helps organizations understand the business impact of lost or stolen data.
Copyright TIGERS Success Series by Dianne Crampton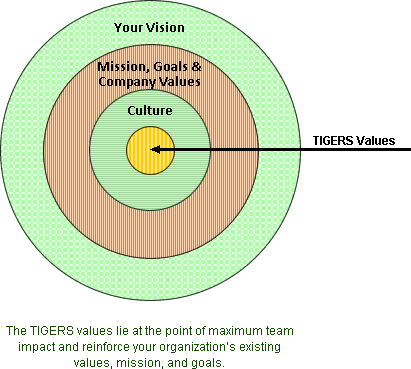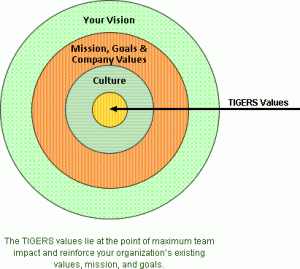 About TIGERS Success Series
TIGERS Success Series is a team development consultancy based on 6 core principles that anchor high performance team dynamics. These principles are trust, interdependence, genuineness, empathy, risk and success.
TIGERS offers licensing and certification to team building trainers and consultants interested in expanding their practice to serve organizational leaders from the break room to the boardroom. .Learn more.
Being an independent contractor brings so many freedoms – but comes with a lot of extra baggage that leaves many feeling stuck and isolated as they grow their businesses.
One-off engagements leave you scrambling to get new clients
It's difficult to prove to clients that your work has brought them concrete savings – or profits
Royalty-based training systems and fixed pricing structures severely limit your earning power
Multiple trainers and consultants offering just one different team-building system leave clients with a "flavor of the month" feeling that damages credibility
Team builders thrive in community… but are left to fend for themselves by other team builders with a dog-eat-dog mentality.
There is a better way though – one that can get you off the roller coaster of rising and plummeting revenues and get you in touch with collaborative, growth-oriented colleagues. It starts by viewing our complimentary Webinar on How To Avoid The 3 Big Mistakes that Keep Your Practice Half Full.