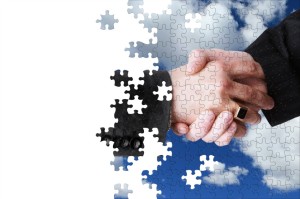 While most people likely view trust as one of the key factors to a well-functioning workplace, according to the Towers Watson Global Workforce 2014 study, only 55 percent of respondents hold trust and confidence in their leaders. While this is a significant increase from 47 percent in 2010, 55 percent is still a relatively low number. Leadership team building is one essential step for increasing this number.
"Given the complexities of today's changing global economy, the need for strong and effective leaders has never been greater," said Marie Holmstrom, director of Talent Management and Organization Alignment at Towers Watson. "And while we are pleased to see that more employees trust and feel confident in their leaders, and that many give high marks on certain leadership qualities, it's disappointing many see their leaders as falling short, especially in their overall effectiveness."
Overall, the study recorded high marks for promoting a positive corporate image (80 percent); displaying urgency in achieving business goals (68 percent); offering clear and consistent messages of company priorities (68 percent); and understanding the important factors that lead an organization to success (68 percent).
On the low end, fewer respondents felt that leaders offer a flexible approach to changing circumstances (47 percent); understand how they affect their employees' thoughts and emotions (52 percent); inspire their employees (54 percent); and effectively develop future leaders (41 percent).
"The results of our study show that organizations and senior leaders themselves need to work on improving their leadership skills," said Laura Sejen, managing director, Rewards at Towers Watson. "We also know from our ongoing research that leadership is the top driver of employee engagement, and trust and confidence in senior leadership is among the top five reasons an employee stays with a company. Those organizations that are able to develop strong and effective leaders will be much better positioned to enhance worker productivity, improve employee engagement, and attract and retain key talent."
To understand what leaders can do to become more trustworthy and stronger in their roles, this article offers leadership team building suggestions from the following sources: 7 Ways to Get People to Believe, Like and Respect You and Become a great listener.
Make honesty a priority. Honesty increases the credibility of your organization as a whole, says 7 Ways to Get People to Believe, Like and Respect You. Misrepresenting facts may seem like a good idea in the short term, but the long-term costs greatly outweigh any benefits you may receive. Part of representing yourself and your organization honestly is keeping your word and admitting when you make a mistake. This includes with clients as well as with your employees to keep everyone satisfied and working toward a common goal.
Learn to listen. Building trust is a valuable side effect of learning to listen, according to Become a great listener. Effectively listening to your team members lets them know that they are valued and that you, as a leader, care about their ideas, concerns and opinions. To increase their listening skills, leaders should:
Make eye contact. Eye contact allows the listener to keep their focus while letting the speaker know that you are giving your undivided attention.
Focus on body language. Keep your body language engaged and receptive by leaning in, nodding, using hand gestures and putting away distractions, such as your phone, paperwork or other items.
Stop talking. Do not interrupt and wait for the speaker to finish completely.
Summarize and ask for clarification. Make sure you understand what the speaker was trying to communicate by summarizing what you heard and by asking for any clarifications.
Keep communication lines open. Once your conversation has ended, new insights may come up later. Let the speaker know that you are approachable.
Evaluate your culture. Large corporate surveys do a great job at identifying trends, but they may not directly pertain to your organization. The best way to determine your corporate culture is by focusing on leadership team building and performing the TIGERS Success Series Online Team Survey to gauge your team's behavior.
"Developing strong, effective leaders is not something that just happens on its own," said Holmstrom. "In fact, HR plays a critical role in building the right set of leaders for an organization. HR can build the profile of success, assess leaders based on their demonstration of those requirements and clarify the path needed to get the right leaders in place today while building the next generation of leadership."
Copyright TIGERS Success Series, Inc. by Dianne Crampton
About TIGERS Success Series

TIGERS is an Oregon team building consultant that licenses and trains HR Executives and Organizational Development Consultants in the use of TIGERS proprietary resources that build and improve workplace trust, interdependence, genuineness, empathy, risk and success.