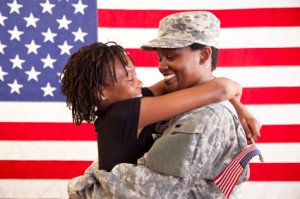 Copyright TIGERS Success Series
By Dianne Crampton
And no… it's not what you are thinking when it comes to leadership style. Unfortunately over the years, many of us have come to view the military as an authoritative, hierarchal organization where Commanders and Generals belt out orders to soldiers on the front lines when nothing could be farther from the truth.
In actuality, top ranking commanders engage in bottom – up communications from troops who are down in the trenches… where all the action is.  Contrary to most organizations and businesses, these commanders rely heavily on the information that comes from the front line so they can perform strategic planning for successful missions.
Soliciting ideas on the front line
According to Bing West, one of the nation's foremost military analysts, General John Allen spends 30% of his time on the battlefield in Afghanistan.  "I learn something every time I visit a line unit", Allen says. "Truth be told, visiting troops in the field recharges my batteries." Allen spends part of his time in the trenches with his troops, gathers information, and actively solicits their ideas.
On the flip side, a recent study conducted by the Boston Research Group revealed that 97% of employees feel as though they are in a workplace with a top-down management chain of command versus bottom–up.  These employees seldom see or speak to "Suite C" executives and management teams, let alone work side by side with them. Despite the mountain of data and case studies on employee engagement, there remains detachment and frankly…disinterest from upper management.  
Falling from Ivory Towers
More CEOs and key managers should take stock in how top military officials engage with troops, regardless of rank, and apply those same principles to employees. Engagement, communication, and getting down on the front lines from time to time should be a principal focus of upper management; otherwise, the C Suite execs may find themselves tumbling from their ivory towers.
If organizational leaders take away one lesson from the military, it would be to listen to the employees who take the disgruntled phone calls, calm irate customers, assemble and package product, order inventory, etc. These employees are the eyes, ears, spokespersons, and heart and soul of all organizations. Where else can leaders glean valuable information on their company if not from these hardworking individuals that fill the orders and keep business rolling along day after day?
To good to get a little dirty?
Unfortunately, there is a distinct separation between management and employees and most business leaders won't roll up their sleeves or get a little dirty. Without ever taking an occasional customer call, following the order process from start to finish, or gathering information from front line employees, how does management expect to know what works and what doesn't within their organization? 
It takes a very engaged leadership team that actively seeks out ideas, input, and maintains open communication from employees.  Here are several reasons for leaders to dedicate the time and energy to get in the "line of fire" with their employees:
Gaining a better understanding of what team members go through on a daily basis.
Letting employees know management is dedicated to the success of the company and that the employee's job duties have meaning.
Understanding the tasks employees routinely undertake so future task or project requests are possible and reasonable – not a theoretical brainstorm created at a board room table.
 Simply put, CEOs and top managers that engage with employees gain valuable insight and a reality check on what is happening in their organization's front lines. Utilizing the bottom-up communication style of the U.S. military, business leaders remove the segregation that separates top management from employees.
What's your management style? If communication in your organization doesn't include front line employees, you may want to take a look a hard look at at employee empowerment program.  TIGERS offers employee engagement training for leaders interested in bottom up employee engagement to support change and action planning. http://corevalues.com/tigers-team-wheel-game-with-training
TIGERS® Success Series, Inc. is a team development consultancy that has served leaders and their teams since 1989. TIGERS® helps leaders build teams of employees that are committed and loyal to the success of their organizations.