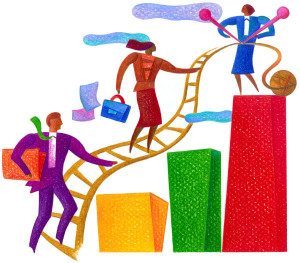 The beginning of the New Year offers time for reflecting on the past year as well as the opportunity to look ahead to new ideas and strategies for the upcoming year. To start out the New Year looking ahead, The Workforce Institute at Kronos Incorporated recently identified the top five workforce trends that will impact the global workforce this coming year.
A think tank focused on empowering organizations through education and research, Kronos addresses human capital management issues and offers practical ideas for driving performance and engagement in the workplace. The Institute brings together thought leaders to research and identify strategies to balance the needs of organizations with the needs and desires of diverse employee populations. This directly  aligns with the work of the TIGERS Success Series.
The TIGERS six principles of trust, interdependence, genuineness, empathy, risk and success are necessary to build an ethical, quality-focused, productive, cooperative and successful workforce. Trends evolve from year to year, but the TIGERS approach can address new strategies head-on.
TIGERS Strategies for the Top 2018 Workforce Trends
The TIGERS approach to workforce development addresses key points and utilizes team building strategies to keep teams productive and engaged in an ever-changing workplace environment.
Employee engagement is a 2018 workforce trends financial strategy.
Despite many leaders' best attempts, worldwide employee engagement levels have remained stagnant. This has caused many C-level leaders to question the effectiveness of culture-driven investments.  One reason is that many do not provide ways to measure and quantify a return on investment.
HR team members and other leaders must utilize operational data to better connect employee engagement levels with business challenges. Better productivity and retention of top performers are just two operational factors that can positively affect the bottom line. Many have found that these improvements may not be easily tracked in terms of ROI. It doesn't have to be that way.
TIGERS Success Series views employee engagement as one of the top factors for a successful workplace. TIGERS works with leaders to create an engaged workforce through Manager Facilitation Training. Managers who are good facilitators bring people together to work toward solutions. As a result, groups accomplish more with high levels of commitment and accountability. But like many management training initiatives, practical skills have not translated to improved performance and ROI.
To track the return on investment for Manager as Facilitator Training, TIGERS provides the TIGERS Workforce Behavioral Profile™. This profile boasts three surveys for the same team and tracks the quality of trust, interdependence, genuineness, empathy, risk resolution and success improvements in a company's culture and department dynamics – over time.  Leaders are encouraged to track improvements in business cost savings and in productivity improvements to determine the correlation between leadership and group performance improvement.  When managers facilitate proper planning and team decision-making, cost savings occur. Just like Ben Franklin said, "A penny saved is a penny earned." Both cost savings and productivity improvements improve revenue. The TIGERS Workforce Behavioral Profile helps you keep track.
Employees desire accessible and applicable workplace data.
Society in general is expecting instant access to information.  Whether breaking news stories or highly rated nearby restaurants, instant access is the new normal.
This same attitude is carrying over into the workplace. Employees are expecting one-touch access to helpful information for their positions.  As a result, employees expect transparency and easy access to pertinent information from their employers. They also expect systematic approaches to team decision making, problem solving and planning.  They expect that improvements are sustainable and continuously improve upon the way teams work.
The human side of leadership takes top focus in 2018 workforce trends.
At TIGERS Success Series, the human side of leadership has always been a top focus. In 2018, others will soon catch up. The shift this year is likely to be caused by increased technologies that streamline and automate daily tasks. This gives leaders more time to focus on their people-leadership skills rather than administrative tasks.
Good managers makes all the difference in employee loyalty, productivity and overall job satisfaction.  TIGERS has always advocated for leading through the human side first. At TIGERS, we believe that workforce behavior must be intentional. When it is not, conflict and confusion are outcomes.  And, managers spend too much important work time dealing with drama. Constructive behavior supports roles, goals and relationships, and it is measurable.
High performance organizations are powered by engaged employees who are facilitated by managers and supervisors who are skilled in building commitment, accountability and success. The benefit is  that employees are just as invested in the success of the organization as the leaders are.
The landscape for retirement changes.
More and more baby boomers are retiring each day. This leaves many organizations unprepared for the loss of inherent knowledge.
While some boomers plan on staying in their organizations in a reduced capacity, others are contracting back with their former companies to mentor and coach employees.  Others are seeking different, more personally fulfilling positions in other industries.
TIGERS equips leaders for all transitional periods by focusing on group dynamic issues that new leaders will face with existing teams.  The TIGERS Workforce Behavioral Profile prepares transition teams and executive recruiters with valid team dynamic information to understand the behavioral issues facing departments and the work culture at large.  The assessment process provides needed "hiring for fit" information that helps executives get the right leaders with the right skills in the right spot.  This saves time and reduces new leadership uncertainty.
With the New Year in full swing, it's a great time to reflect on the past and look toward the future. There are  five workforce trends that will impact the global workforce in 2018. TIGERS Success Series is well equipped to tackle industry trends as they come and go.
Some of the top workforce trends to watch out for in 2018 include:
Employee engagement is a financial strategy,
Leaders should focus on creating great manager facilitators for the greatest ROI;
Employees desire accessible and applicable workplace data to better perform in their positions;
The human side of leadership should take top focus for leaders, as new technologies can handle more administrative tasks; and,
The landscape for retirement is changing, so leaders should focus on all generations of employees within their workplace to build great teams.
Here are some additional resources you might find helpful.
Learn how TIGERS can help your organization.
Copyright, TIGERS Success Series, Inc. by Dianne Crampton
About TIGERS Success Series, Inc.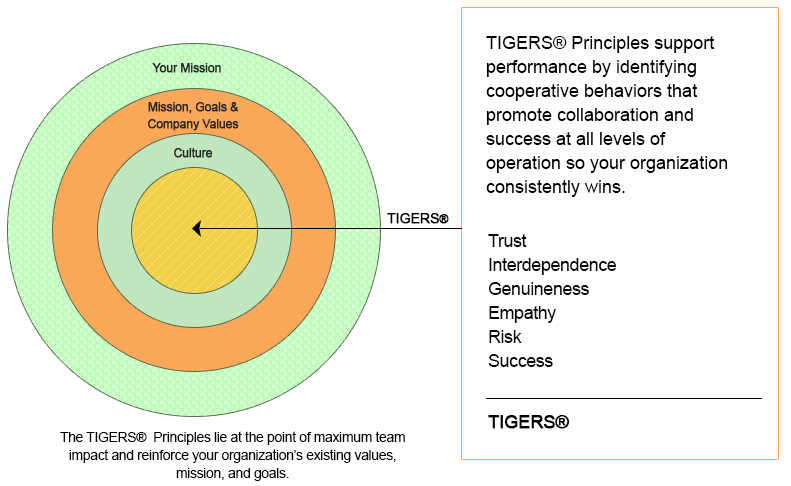 TIGERS® Success Series provides a comprehensive, multi-pronged and robust system for improving both your work environment and profitability.
We specialize in training your managers in group facilitation methods that build workforce cooperation and high performance team dynamics. Scaled to grow as your organization and leadership performance grows, our proprietary Team Behavior Profile and  Management training workshops are based on the six principles we have found to be the right mix to make this happen.
The TIGERS 6 Principles are Trust, Interdependence, Genuineness, Empathy, Risk and Success. Born from our many years of business, psychology, and educational group dynamic research, and subsequent four years of independent evaluation, we instill and sustain behaviors that improve work group performance and talent retention for measurable ROI.
TIGERS has served committed leaders who desire enhanced cooperation among departments, teams, managers and individual employees. This heightened level of cooperation leads to improved revenue, purpose, commitment and impact. Employees quit companies because they don't get along with leaders and co-workers. Work culture refinement and behaviors that build strong relationships erase this trend remarkably fast.
For more information or to request a presentation to your group or association,  call 1+541-385-7465 or visit https://www.corevalues.com