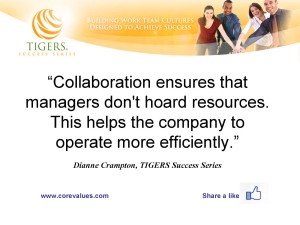 It's a Monday morning in the year 2020 and employees are strolling into work with their cup of coffee. A solar-powered fiber optic ceiling fluctuates in color and intensity, thermally active furniture offer touch screen capabilities, and workspace layouts accommodate multi-functional purposes. Sound far-fetched?
Hardly….
The near future promises office spaces and work areas where employee comfort and health take precedence and allows for the natural progression of corporate team building.
A recent architectural design competition, Workplace of the Future, sponsored through Business Interiors by Staples and Metropolis magazine of architecture challenged architects, designers, and industry professionals to "reimagine" the work place of the future. They applied elements of natural and artificial lighting, furniture design and placement, and technology advancements to create a work culture of comfort, aesthetics, functionality, and most importantly….collaboration.
At TIGERS Success Series, we recognize and applaud foresight and innovation. Realizing the need to create workplace environments that contribute to the well-being of employees and upper management alike, these designers are taking companies from the sterile, isolated work environments of the 19th and 20th century into a visionary 21st century where aesthetic spaces promote collaboration and creativity.
Designers focused on a number of trends including:
Hyper-collaboration: "Pushing workspace layouts beyond conventional collaborative models to focus on interdisciplinary, multi-company, and multi-functional arrangements take the co-working trend to the next level."
This ultimately leads to cooperative employee communications and engagement. Multi-functional design allows diverse groups of people to come together to exchange ideas, brainstorm, and create sustainable solutions.
"The Workplace of the Future means different things to different people – but maximizing productivity, health and wellness and sustainability were at the top of the list in this contest," said John Michael, vice president and general manager, Business Interiors by Staples.
"I was gratified to see how many firms, both young and mature, entered the competition and presented many excellent ideas about working in a tech society. The winner…is of the generation of architects that will, literally, give shape to the 21st century," said Susan S. Szenasy, editor in chief, Metropolis Magazine. "He took a broad, systemic look at working and re-imagined the container of work itself, the whole building, from inside out. What's even more exciting about his proposal is that everything he suggests can be done today; we don't need to wait for 2020. The future is actually happening now!"
When placing comfort, aesthetically pleasing spaces, and technology at the forefront, organizations stand to benefit from the team building ideas generated from happy, cooperative employees. The future is looking bright as this generation of architects and designers envision a workplace environment that focuses on comfort and multi-functionality.  Employee-centric work spaces ultimately maximize productivity, a clear win-win for everyone.
Copyright TIGERS Success Series, Inc. by Denise McGill
About TIGERS Success Series
TIGERS helps leaders and consultants build high performance teams of employee who enjoy coming to work on Monday Morning.  We do this with our proprietary and research-based team development model composed of six universal principles. These principles are trust, interdependence, genuineness, empathy, risk and success. They form the acronym TIGERS and are measurable in group behavior.  We offer the TIGERS 360 Team Diagnostic Survey and a series of facilitation methods designed to bring out the very best in your team.