Zappos, Adobe, Southwest Airlines and Twitter are some of the companies that are notorious for instilling a strong workplace culture. This is the type of work culture  that leaves a positive impact on the employees that work there. In fact, the list is far more extensive. But what if your company hasn't focused on positive workplace culture before? What culture improvement would support you?
True culture improvement is vital to any business that is growing. A study conducted by Deloitte found that 94 percent of executives and 88 percent of employees believe a distinct workplace culture is important to business success. Improving culture involves more than one initiative. It's a combination of leadership, camaraderie, diversity and engagement initiatives.
Companies that fail to produce a productive workplace that engages their workers are bound to make less money in the long run. When there's less money to be made, expect high turnover as well. However,  improving  workplace culture can be handled sensibly and with good assessment that helps you track your progress over time.
TIGERS® Success Series help you manage the intangibles such as group norms and the behavior that supports them. The TIGERS Workforce Behavioral Profile™ is a work culture behavior assessment that shows you the quality of trust, interdependence, genuineness, empathy, risk resolution and success in your department and work culture behavior.
Coupled with 52 weeks of micro-training for all your employees that shores up your least performing  principle identified in the report is also helpful. It gets everyone on the same page as you roll out your plans and while your employees learn important skills. This helps  you move forward with work culture improvement in a sensible, cost effective and responsible way. You can also tie what your employees are learning  to important culture initiatives. Then track your productivity improvements and cost savings over time.
By encouraging behaviors that support trust, interdependence, genuineness, empathy, risk and success  in each department, a company encourages engagement while reducing turnover. When you include high performance teams and work groups, work culture improvement evolves sensibly. Plus, you'll start saving money in your bottom line.
Why does true culture improvement matter in the workplace?
Without true culture improvement, a business won't sustainably prosper in this day and age. Working on culture improvement does pay off in the long run. A study conducted by Washington State University determined that customer satisfaction is directly linked to employee satisfaction. The study also concludes that that financial success is directly linked to customer satisfaction.
When employees are happy, they are better workers. This is a simple fact. Employees who enjoy coming to work are vital to running your business. Those who enjoy your workplace care more about the quality of their work.
A study from IZA World of Labor and Dr. Eugenio Proto, who represents the Department of Economics at the University of Warwick, found that happiness in the workplace is not only linked to higher workplace productivity, but it also brings more financial fulfillment.
Focusing on true culture improvement means that your business will also attract great talent, garner trust amongst your employees, and build a strong employer brand.
Assessments like the TIGERS Workforce Behavioral Profile™  should not be one-off events. TIGERS developed the TIGERS Workforce Behavioral Profile with three surveys for the same team to tackle work culture improvement over a three to five year period. Three to five years is the average time it takes for work culture improvements to fully materialize as the new way people treat one another, your company and your customers. This gives your business the performance information to make change realistic and manageable.
How can leaders help with true culture improvement?
True culture improvement depends on leaders to model and demonstrate positive behavior. But what are some of the most effective ways to train leaders for their management roles?
TIGERS 6 Principles™ leadership micro-training helps employees with leadership potential learn behavior skills that make participating on projects more successful. This training teaches potential leaders how to build trust, interdependence, genuineness, empathy, risk resolution and success in their own performance and in work groups.
Gallup found that leaders who focus on respecting their employees drive true culture improvement in the workplace. One report finding is that employees feel a strong disconnection from their leaders. Closing that gap by being human and treating employees respectfully goes a long way in making true culture improvement.
Another report finding is that leaders who promote accountability and fairness make the greatest headway with true culture improvement. Being transparent and reducing diversity bias also makes inroads. According to Gallup, if a leader doesn't respect employees, they should be punished just like any other employee would be for the same thing.
Diversity drives true culture improvement in a growing workplace.
Not only does true culture improvement attract better talent to the workplace, it also promotes diversity. For example, in 2018 women earned 85 percent of what men made. While the gender gap is smaller, focusing on driving diversity is highly beneficial to any workplace.
Almost 47 percent of the general workforce is women, according to the United States Department of Labor. Another statistic found that women are more likely to earn a bachelor's degree by age 29 than men. It's clear that every company should heavily invest in what diversity can bring to the table with an educated and competent employee.
Creating a positive work culture starts with important factors like diversity and inclusivity. Gender, sexual orientation and race should never matter when it comes to hiring employees. It's also important to always include, when practical, employees with disabilities.
Every employee should feel welcomed and valued while they are working for your business. Make it loud and clear that everyone is supported and included.
Investing in employee perks can help drive true culture improvement in the workplace.
Inc found that Facebook, Google and Netflix are known for investing in employee perks in order to help drive true culture improvement in the workplace. For example, maybe you want to host a therapy dog day during lunch. Or maybe you want to give you employees certain perks like gym use, casual Fridays, week day laundry pick up or free parking.
Other perks that can be incorporated into your business include:
Company Happy Hour – Apple is known for their annual "Beer Bash" that they throw for employees. While you don't have to do exactly that, there some times where you can offer an off-site meeting to your employees that includes grabbing a quick beverage. After a long day at work, those that enjoy it would definitely love to grab a beer, glass of wine or mock-cocktail . Hosting a happy hour event every once in awhile can help drive up company morale, as well as help with coworker bonding and the building of relationships.
Wellness Program – When an employee is healthy, they are happier. That means fewer sick days and performing better work. Sick employees cost companies money. However, that doesn't mean its right to discriminate against those that are chronically ill. Wellness programs bring your employees together and promote good health.
Free Snacks – Hungry employee aren't productive employee. Many minimum wage employees skip meals to save money. By offering complimentary healthy snacks to employees, you promote true culture improvement through wellness. You will also find that employees are not as susceptible to colds and minor illnesses that result in sick days.
But you can't just keep offering your employees things in hopes that it's going to drive a positive work culture. Businesses must focus on employee burnout as well.
Employee burnout inevitably impacts true culture improvement.
Employee burnout can create a toxic work environment. This stalls true culture improvement in the workplace. Even if you're giving an employee everything that they desire, it means nothing if they're completely burnt out with their job.
While there's ways to combat employee burnout, the best way is by promoting understanding and giving your employees the space they need. Train your leaders to recognize the signs of burnout. This kind of mental health advocacy and awareness makes a huge difference when it comes to true culture improvement. Once example includes offering Sabbaticals. Sometimes an employee needs time to regenerate.
Employees who burnout are frequently underpaid or not properly trained. Therefore, proactively providing support and training promotes true culture improvement. In some instances it is enough to drive away employee burnout.
True work culture improvement combines a variety of strategies to make it sustainable. Assessing the quality of high performance group behavior norms such as trust, interdependence, genuineness, empathy, risk and success is the first step.
Shoring up your least performing group behavior norm with 52 weeks of micro-training for all your employees is the second. Becoming more transparent and diverse is the third. Then investing in employee perks that build relationships, promote wellness and reduce burnout are other strategies work considering. True work culture improvement is possible, measurable, and provides positive outcomes for your bottom line.
Care to dig deeper into the topic of true culture improvement?
Twelve Stats About Working Women 
Copyright TIGERS Success Series Inc. by Dianne Crampton
About TIGERS® Success Series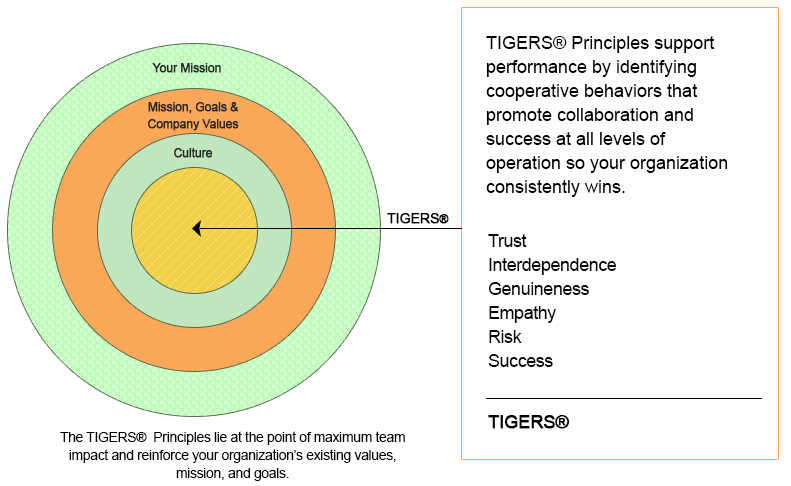 TIGERS® Success Series takes the guesswork out of workforce development. TIGERS provides a comprehensive, robust system for improving both your work environment and profitability.
We specialize in developing high performance work cultures. Scaled to grow as your organization and leadership performance grows, our proprietary Team Behavior Profile,   Management training workshops, and online micro training packages are based on the six principles we have found to be the right mix to make this happen.
The TIGERS 6 Principles are Trust, Interdependence, Genuineness, Empathy, Risk and Success. Born from our many years of business, psychology, and educational group dynamic research, and subsequent four years of independent evaluation, we instill and sustain behaviors that improve work group performance and talent retention for measurable ROI.
For more information or to request a presentation to your group or association,  call 1+877-538-2822. To subscribe to our complimentary newsletter, click here.