Work culture can be messy for many small and medium-sized businesses. Not every job starts with positive onboarding, which is needed to perform well in a new position and for work culture success. Studies on work culture support this.
One 2016 study found that 94 percent of executives and 88 percent of employees believe a distinct and well-defined work culture is important to business success. But here is where the rubber meets the road. A global network of firms also conducted a study. They found that only 12 percent of executives believe their companies are driving the "right culture." This leaves a large number who do not (you can read both studies in the "Care to dig deeper" section of this article).
If work culture success is so crucial to a business, how do leaders transform a so-so work culture into an exceptional one?
At TIGERS® Success Series, we hold the belief that it's not ethical or practical to ignore measurable work culture improvements when turnover is high and when employee engagement is low. A measurable improvement process comes down to a few factors:
Accountable leaders;
Identifying a positive work culture practice; and,
Work on teams.
We understand that not everyone enjoys work on a team. Work culture success, however, is a company-wide issue that relies on everyone to correct.
What is a measurable solution?
More often than not, one measurable solution is short, focused team meetings. Also known as team huddles, these meetings are essential for both work culture improvement and business growth.
Whether you have two employees or 200, incorporating team huddles into your weekly business practice is beneficial for work culture success.
How team huddles improve work culture success.
Collaboration and employee discussion are needed for positive work culture success.The team huddle is a time for managers to prepare their team for their weekly workload. It is also a time to boost enthusiasm for the work to be done. A good huddle makes work clear, emphasizes how departments can support the week's goals, and clarifies roles and assignments.
Huddles also build emotional connection to the organization. When performed correctly, they build a strong sense of team and family level support for one another.
Huddles also focus employees. Frequently, workers are caught up in their own lives. When they return to work after the weekend, the team huddle:
Focuses them on the work they are performing that week;
Boosts understanding on how the work they do supports goals; and,
Emphasizes how to support one another.
Ultimately, for leaders who are responsible for transforming their work culture, it shifts perspectives on why a project such as improving work culture is important.
Team huddles are also a time when leaders can discuss company wins and future challenges. When done correctly, the team huddle is a time where leaders recognize employee success and are open and authentic. Keeping it real with employees goes a long way in building trust and work culture success.
It is also important to note that a team huddle is not a one-way conversation. A huddle is like a discussion board. Everyone is welcome to provide input. For example, discovering the answer to a problem is far easier when everyone is involved. This builds commitment and accountability.
Effective huddle habits improve work culture success.
It's one thing to get everyone on track to be productive, but it's another thing to actually stay productive. Gallup found that about 13 percent of workers are actively engaged in their job while 26 percent are tentatively checked out. Obviously, checked out employees do not contribute to success.
To ensure that a team huddle is effective across the board for all workers, here are key practices:
Never walk into a meeting unprepared. Effective leaders write their thoughts into an outline and bring that to the huddle. This agenda is something everyone can work from and keeps conversations on topic.
Adding value goes a long way. Once last week's accomplishments have been discussed with recognition delivered, bring up new weekly goals and challenges. Ask for input on how to resolve the challenges. Then follow through on ideas that make the best sense to everyone.
Always pay attention to detail. The better the detail, the more context can be provided to employees. Some employees simply need to know why. In other situations, detail is a great way for employees to really feel like they are a part of the team.
Let employees provide input. This practice is incredibly effective at promoting value and two-way communication. It builds commitment and accountability. It also builds employee satisfaction.
Instill the notion that working together is better than working separate. Team huddles are a highly effective way to get employees started on their projects. If a leader promotes the importance of teamwork to their employees, it will further reinforce effective habits that result in a positive work environment.
Allow employees to bring up other concerns.  Sometimes work huddles aren't just about work projects for the week. Maybe there's a company policy that is making work more complicated than it need be. Team huddles are a great time for these types of problems to come up.When there are no repercussions for bringing problems to light, iIt gives people the opportunity to talk about issues that negatively impact their success.
How team leaders impact work culture success.
Another study found that 86 percent of employees in a strong work culture felt that senior leaders listen to them. The study also found that 70 percent of employees in a poor work culture feel that their voices are not equally heard.
Teamwork is about the team. Leaders are not separate from their teams. When a leader fosters consistency in their team huddles, it benefits everyone.  When bolstering employee engagement and reducing turnover, a leader must focus on what can be done to bring work culture success to the company.
Core leadership principles that make huddles a work culture success.
Here are some core principles to use in a team huddle to make it beneficial for everyone:
Clear intentions reduce miscommunication. A leader should step back and decide what the main goal of the team huddle is going to be. Clarity produces success by reducing procedural errors and misunderstandings.
Make sure everyone understands. Not everyone is going to be excited for a weekly meeting. However, if employees do not understand what is required of them, they can't perform their job effectively.
End with a recap and reinforce ideas that were discussed during the meeting. This is the time when employees take any last minute notes, ask last minute questions and get any further clarification that's needed.
Ask questions that make employees think about the future. A question such as, "Once we resolve this problem, how will that benefit the work you do?" Ask employees what their thoughts are. Get them thinking about the future and how the future will benefit them.  For example, another good question for the end of the team huddle is, "Now that we know everyone understands our workload this week and how we can help one another be successful, how will this success make your coming weekend more fun?" Long story short, a good vision of the future makes it easier to work through problems that surface during the week.
Team huddles can be short. But, they are highly effective. The huddle clarifies goals and provides interactivity by building both team and a sense of family. When employees know how to support one another, they will.
A highly engaged workplace and successful work culture provides a 10 percent increase in customer ratings and a 20 percent increase in sales. The team huddle is one of the best ways for a company to take themselves to the next level.
Care to dig deeper into this conversation about successful work culture?
The following are resources that lend depth to this conversation:
Happy Employees Are 12 Times More Productive At Work
Company Culture and Employee Engagement Statistics
Copyright TIGERS Success Series, Inc. by Dianne Crampton
About TIGERS Success Series, Inc.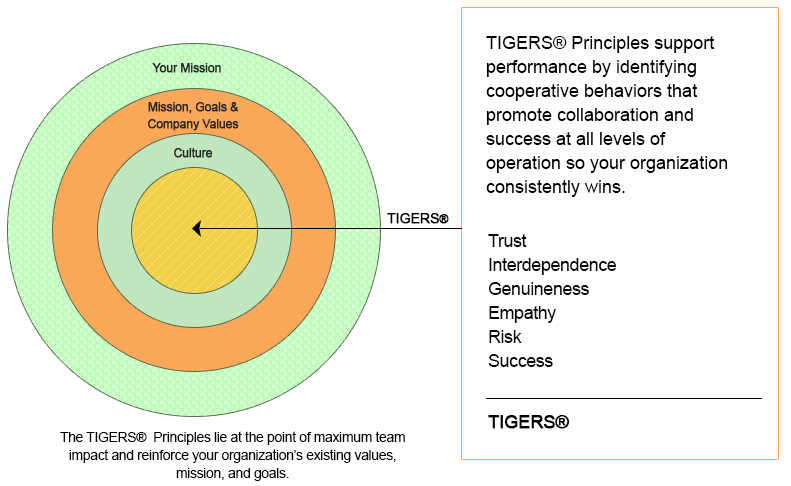 TIGERS® Success Series provides a comprehensive, multi-pronged and robust system for improving both your work environment and profitability.
We specialize in training your managers in group facilitation methods that build workforce cooperation and high performance team dynamics. Scaled to grow as your organization and leadership performance grows, our proprietary Team Behavior Profile and  Management training workshops are based on the six principles we have found to be the right mix to make this happen.
The TIGERS 6 Principles are Trust, Interdependence, Genuineness, Empathy, Risk and Success. Born from our many years of business, psychology, and educational group dynamic research, and subsequent four years of independent evaluation, we instill and sustain behaviors that improve work group performance and talent retention for measurable ROI.