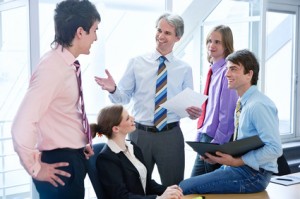 Business coaches and consultants with team building expertise have their work cut out for them in today's corporate culture. 70% of American employees aren't working to their full potential and they're slowing economic growth.
According to Gallup's State of the American Workplace: 2010-2012 report: out of the 70% disengaged employees – another 18% are actively disengaged. These employees are emotionally disconnected from their companies and actively working against their employers' interests due to loss of productivity, disruption in team work, engagement in harmful activities such as rumor mongering, excessive absences, and driving customers away. Gallup estimates that actively disengaged employees cost the U.S. $450 billion to $550 billion in lost productivity per year.
Instill six research-based principles to build positive team relationships

To combat disengagement in organizations and build a strong, engaged workforce, organizations must instill the principles of trust, interdependence, genuineness, empathy, risk, and success into their culture. These principles are the hallmark and acronyms of TIGERS Success Series. Over the next series of blogs I will be focusing on how to "gain and sustain" harmonious teams through collaborative team work based on these six researched-based principles. We will delve into each principle individually to help external consultants as well as internal trainers build a fully engaged workplace culture.
Fortunately for us, a branch of psychology called "positive psychology" is also being embraced by several Fortune 500 companies. 'Positive psychology' recognizes and reinforces individual and organizational strengths and today's team building exercises compliment this very train of thought. Instead of using psychology to analyze and "fix what's broken", positive psychology removes fear and instills a sense of well-being. By combining positive psychology and proven team building tools that provide improved team relationships, consultants and business coaches can:
Build employee resilience and remove defense barriers
Encourage creativity and risk taking without fear of repercussion
Teach how to give and receive constructive feedback – not criticism
Curb incivility in the workplace
Develop a positive, solution-oriented workplace environment
Develop an emotionally intelligent workforce
Boost an employee's sense of security and safety in the workplace
Consultant psychologist and Professor Neil Frude states: "Learning to manage your emotional well-being through positive psychology is like teaching a man to fish–a skill that will keep you going for a lifetime."
With the right team building exercises at their disposal, consultants and business coaches can help organizations turn around a culture of discontented employees. Use your team building activities to:
1. Create a team culture where "we" and "us" are the norm
Unfortunately many organizations are ingrained with the notion of "I" instead of "we." Individual accomplishments are recognized and rewarded especially at the executive suite level. When executives incorporate the word "we" into their vocabulary, employees at all levels feel included and a part of the organization's success. Michael A. Olguin, president of Formula PR adds, "When counseling clients, use terms like "we believe…" or "our recommendations include…. This eliminates an employee's fear of standing alone and shows that the entire organization is thinking about."
2. Acknowledge success from the CEO level to employee front lines
The most employee-deflating organizations to work for are those that think great ideas come only from the executive management level. While conversely, the most employee-oriented and progressive organizations encourage input from all levels of the organization. They give credit where credit is due and in turn reap the rewards of high employee morale and low turnover rates. These winning team business cultures have mastered collaborative team work within their organization.
3. Explore the challenges, strengths, and weaknesses of a workplace team or entire organization
Team building exercises such as the TIGERS team wheel game provides a non-threatening environment that encourages engagement and problem solving. Individual strengths, skill sets, and natural talents are revealed to benefit the employee and company as a whole. Powerful team building exercises remove the guesswork and help create team buy-in and commitment for a successful teamwork culture within an organization.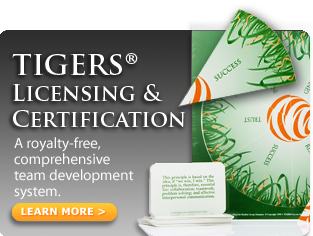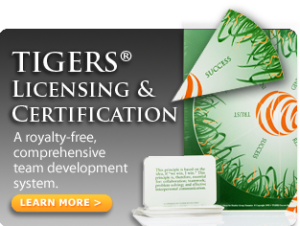 Business coaches and consultants: Expand your team building exercises and join other professionals as a licensed TIGERS facilitator
I am looking for dynamic business coaches, internal and external trainers, facilitators, educators, and leadership consultants who are searching for proven resources and solutions to take their organization or consulting business to the next level. With opportunities to "brainstorm" with like-minded thought leaders, utilize the proven TIGERS Team Wheel and an arsenal of team-building resource tools, the "royalty free" TIGERS Facilitation Certification is the solution for the right candidates. Use proven, research-based resources and assessment tools that reveal behavioral issues, sources of conflict, skill sets, strengths, and weaknesses within a team or organization. If you are a consultant or trainer and fit this scenario, I would like to hear from you.
About TIGERS Success Series
TIGERS Success Series is a team development consultancy based on 6 core principles that anchor high performance team dynamics. These principles are trust, interdependence, genuineness, empathy, risk and success. TIGERS offers licensing and certification to team building trainers and consultants interested in expanding their practice to serve organizational leaders from the break room to the boardroom. .Learn more.