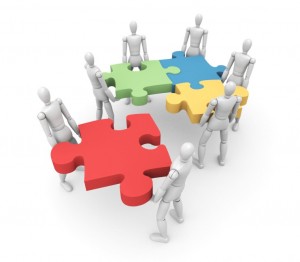 To enhance the lives of all age groups in communities throughout the U.S. can be a daunting task.  I have found this to be true whether I was building Neighborhood "Ward" programs for cities or facilitating intergenerational conferences. Without effective team building activities that teach good norms and protocols, efforts can be sketchy at best.
With effective team building activities, community leaders can find ways to address challenges and engage residents at local and state levels. To join in this effort, MetLife Mature Market Institute recently released planning tips with viable solutions on meeting the needs of an aging population, Creating a Livable Community: Engaging All Generations and Improving Quality of Life. These tips provide communities with simple and low cost indicators to determine if their services meet the needs of a multi-generation populace.
The new publication contains specific solutions for intergenerational living in the areas of housing, transportation, safety, health care, support services, retail services and social integration. It was produced in conjunction with Generations United to provide guidance for those at the local level – community leaders, residents, students and more – so they can find new ways to implement programs to enhance the lives of all generations and to create a livable and positive environment.
"While all communities are unique and have varying degrees of resources, every community can actively engage residents across the generations in addressing community challenges," said Sandra Timmermann, Ed.D., director of the MetLife Mature Market Institute. "There are simple ways to get this started. For example, appoint an intergenerational community advisory council to offer multiple perspectives and unique solutions for a given locality."
Donna Butts, executive director of Generations United pointed out that making sure people are connected to each other is a great way to foster intergenerational reciprocity. "Communities that create opportunities for people of all ages improve the quality of life and strengthen the community. We've witnessed great success in those that understand how to use an intergenerational lens to develop and implement policies and programs for all generations," she said. "As recently noted by the Mayo Clinic, 'good friends are good for your health' and a recent report by the OECD (Organization for Economic Cooperation and Development) pointed out that those who volunteer tend to be more satisfied with their lives than those who don't."
The tip sheet asserts that, in a livable community, policies and practices increase cooperation and interaction among the age groups. Livable communities provide services that allow individuals to survive and thrive. In a truly intergenerational community, residents of all ages have ample opportunity to share their expertise and resources, and to support each other and their community. Examples of some of the advice and policy suggestions in the publication are:
Housing – A program that supports the efforts of older people to keep living in their homes might engage groups of students to rake leaves, shovel snow and do light home repairs for older neighbors.
Example: The Home Safety Program at the Volunteer Center of the Virginia Peninsula sends teens to visit older adults living independently. They perform a safety assessment and provide safety and disaster kits.
Transportation and Safe Neighborhoods – Transportation is a critical service for all generations, especially those who are aging who must rely on light rail, buses, taxis and on-call vans. Neighborhoods can use volunteers to help older individuals learn how to take advantage of public transportation.
Example: In Hesston, Kansas, older adults are utilized as crossing guards to help students cross busy intersections. In Chanute, Kansas, older volunteers greet students at the front door of their elementary, middle and high schools, and wish them a wonderful day at school, with a smile, handshake or high-five.
Health Care and Supportive Services – Livable communities require adequate medical facilities, trained medical personnel, community education, wellness programs, doctors and specialists. They also need support services for residents of all ages. Communities might create a shared space for residents of multiple generations to interact daily.
Example: At the JEWEL Program in New York's Westchester County, daily interactions occur between children in day care and older adults in a non-residential day program. The older adults benefit from the center's wellness activities, personal care, transportation and nutrition – and from the daily engagement with children.
General Retail and Services – Ideally, communities have stores to buy necessities, opportunities to purchase healthy foods, restaurants and community activities. Recognizing the importance of healthy eating and how it correlates to healthy and long lives, localities can connect children, teens and older adults through gardening and cooking.
Example: At the Marion Street Intergenerational Garden in Washington, DC, gardeners of all ages create and participate in a gardening experience that has become an outdoor classroom for residents of all ages.
Social Integration – Communities can connect the generations to enhance each other's lives and that of the larger community. Through these interactions, relationships are formed, stereotypes and biases are reduced and communities take advantage of the strengths of all their residents.
Example: The Allegheny County Library Association in Pennsylvania has held book clubs for high school students and older adults aimed at fostering intergenerational discussion and connections.
The guide also contains a list of additional resources that can be tapped by community leaders, government officials, and individuals working together to enrich their communities. With the diversity and rich heritages an intergenerational population brings to a community, proven leadership training games give community leaders and stakeholders the tools needed to build sustainable communities of increased cooperation and engagement.
Copyright TIGERS Success Series by Denise McGill
We believe that when employees come to work on Monday morning with a sense of thrill and excitement to see their coworkers and to dive into another successful week that the business they work for probably rocks!  We help leaders build those teams and work cultures. And, we certify consultants to offer the TIGERS Team Development Success System to their clients, too.