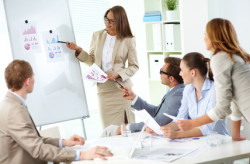 Are you tracking the trends?  Articles are popping up everywhere making business and social projections for 2015 and beyond. Two business projections I have noted  are transparency and sustainability.
Recently, the International Data Corporation (IDC) held a Web conference, which highlighted their predictions based on a new IDC Future Scape report. It featured IDC Government Insights analyst, Alison Brooks, Ph.D., among others. This conference was designed to help company leaders capitalize on emerging market opportunities and plan for future growth.
Of note in their report is an emphasis on sustainable Smart Cities where it is projected that local government will "drive more than 25% of government spending to deploy and realize the business value of Internet of Things (IoT) by 2018."
IDC reasons that several external drivers — political, economic, social, environmental, legal, and business related — are reaching crucial tipping points. According to IDC, "They can potentially alter the ecosystem of multiple industries globally, including governments in 2015 and beyond".
Does this mean change?
Case Study
One example of a business enterprise that is floating in the surf now ready to catch the wave is Open for Change. In an interview with Michael Lavigne, CEO and Co-Founder of Open for Change, Inc., we explore a new Social Enterprise with a mission to provide seed capital for business or social ventures focused on sustainable environmental and social up-lifting businesses, systems and strategies.
I find the membership-based voting rights for investment decisions and growth very interesting. A five dollar life-time membership gives you the right to vote for which business proposals are accepted.  You can listen to the conversation here.

Transparency Predictions
Transparency is a Business-related driver. Over the past years, trust in leadership has plummeted and talent retention is still keeping HR Directors and their problem solving teams awake at night.
With seats at the strategic direction table, HR has access to culture and leadership diagnostics to support high potentials and assess Executive performance.  If trustworthy leadership is assessed, transparency is one criterion.
For example, one quality of a successful entrepreneur is that they are truly genuine. Entrepreneurs who are adored by their staffs are authentically themselves. They're consistent. They are not holding up a mask, putting up a front or manipulating for self-gain. Whether they are at home, at leisure or in the office, they stay true to themselves and this is consistent with what some one else sees.  They also have systems in place that reduce how relationship conflict is expressed at work so that work culture learning is positive and root cause oriented.
I would think this would apply to respected managers, too, if the work climate is compatible.  Some of the larger organizations are now encouraging their HR Directors to license workforce development tools that are less training oriented and more consulting, coaching, and facilitation-based to support high potentials and engage employees.
How to Repair Trust if It Is Broken

Copyright TIGERS Success Series, Inc. by Dianne Crampton

About TIGERS Success Series
TIGERS Success Series, Licenses HR professionals and consultants in the use of the TIGERS proprietary resources that improve workplace trust, interdependence, genuineness, empathy, risk and result.  When these six principles are strengthened so is employee engagement and retention. This is because employees enjoy not only the work environment but their colleagues, too.
Learn how these six principles build high performance teams and the behaviors that support them in the  6 Principles  Self-study Leadership Program. Learn at your own pace in the privacy of your office or home.