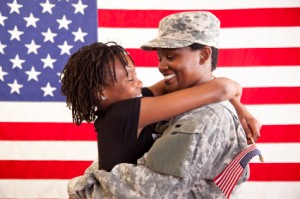 According to a recent survey by Accenture, veterans transitioning out of the military and seeking civilian employment say it's been a "mixed bag." Although employed veterans say they are earning more now than when in the military, challenges still remain for those veterans who are unemployed – especially post 9/11 veterans. To ease the way into the private sector, companies must provide team building activities and additional education to welcome service men and women into the fold.  With a portfolio of strong work ethics and team collaboration, military veterans have a lot to bring to the corporate table.
"And there is a clear need for greater support and training programs from the private sector."
The survey also found that nearly three-out-of-four employed veterans (69 percent) said they received additional training or education following their military service, underscoring that the combination of military experience plus education and training have a critical impact on helping veterans find work.
As a total population, veterans have experienced lower unemployment than non veterans for the past decade, according to the U.S. Department of Veterans Affairs (VA) and the Bureau of Labor Statistics (BLS). And, veterans also out-earn their civilian counterparts. Research from the VA estimates that male veterans earn roughly 11 percent more than their civilian counterparts and female veterans about 19 percent more than non-veterans. Additionally, according to the Accenture survey, almost half of those with jobs (46 percent) said their salary increased when they made the transition to the civilian workforce.
Challenges Remain for Unemployed Veterans
But challenges exist for unemployed veterans, especially for younger ones who separated from the military more recently. Among the unemployed respondents in the survey, 70 percent of those who were deployed overseas said they had served in Iraq or Afghanistan or both, compared to about 50 percent of the employed veterans. In fact, data from the BLS shows that the average unemployment rate for post-9/11 veterans in 2012 was approximately 10 percent, about two points above the national average, and for unemployed veterans under the age of 25 it was closer to 20 percent. In some cases, unemployment is a hardship that impacts the whole family, as more than a quarter (26 percent) of the married jobless veterans surveyed also have an unemployed spouse. Despite the fact that the vast majority of unemployed veterans (96 percent) say they are willing to make sacrifices to get the job they want – such as accepting a position with lower pay or benefits, changing their occupation or going back to school – about a third (34 percent) said they have been looking for a job for more than a year.
"Veterans offer employers superior skills and an outstanding work ethic, and we've made a commitment to hiring them at Accenture," said Stephen J. Rohleder, Accenture Health & Public Service group chief executive. "However, with 260,000 service members a year expected to separate from the military over the next four years, the national challenge will be helping them translate their military experience to private-sector jobs. This challenge is addressable if the government and companies work together to match veteran skills with employer needs."
Adding to the challenge, more than a third (36 percent) of unemployed veterans surveyed said they were unsure how their military background translates to landing a job in the civilian workforce, and 32 percent said they are finding it difficult to know where to search for job openings. The unemployed survey participants said they had applied for 30 positions, on average, which led to just six interviews but no jobs.
"The reality is that many former members of the military are having a hard time searching for a civilian job," said Joe Chenelle, who leads Accenture's defense and intelligence agency business. "And there is a clear need for greater support and training programs from the private sector."
To help meet this need, Accenture has developed Military Career Coach, an online tool to help veterans better translate their skills to civilian jobs, and the company is conducting employment workshops across the country, including at U.S. Chamber of Commerce Foundation Hiring Our Heroes job fairs. The workshops help former service members and their spouses with résumé writing, job searching, personal branding and employment interviewing. Through its "Hiring 500,000 Heroes" campaign, the Chamber hopes to secure commitments from businesses of all sizes to hire half a million veterans and military spouses by the end of 2014.
"Companies need to have an unwavering commitment to hiring former members of the military who bravely served their country," added Chenelle. "Because, at the end of the day, one unemployed veteran is one too many."
When it comes to onboarding veterans, frontrunners in corporate team building and training can successfully merge transitioning military personnel into their workforce. Along with transferable military skills, veterans bring a work culture of discipline and sustainable team cooperation with them. By making training programs and resources available to service men and women, transitioning from a military service career to a civilian job can be less stressful for our military heroes.
Copyright TIGERS Success Series by Dianne Crampton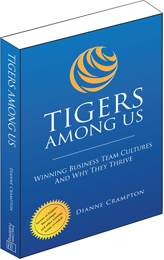 About TIGERS Success Series
We believe that when employees come to work on Monday morning with a sense of thrill and excitement to see their coworkers and to dive into another successful week that the business they work for probably rocks!  We help leaders build those teams and work cultures. And, we certify consultants to offer the TIGERS Team Development Success System to their clients, too.